Pogge (Agonus cataphractus)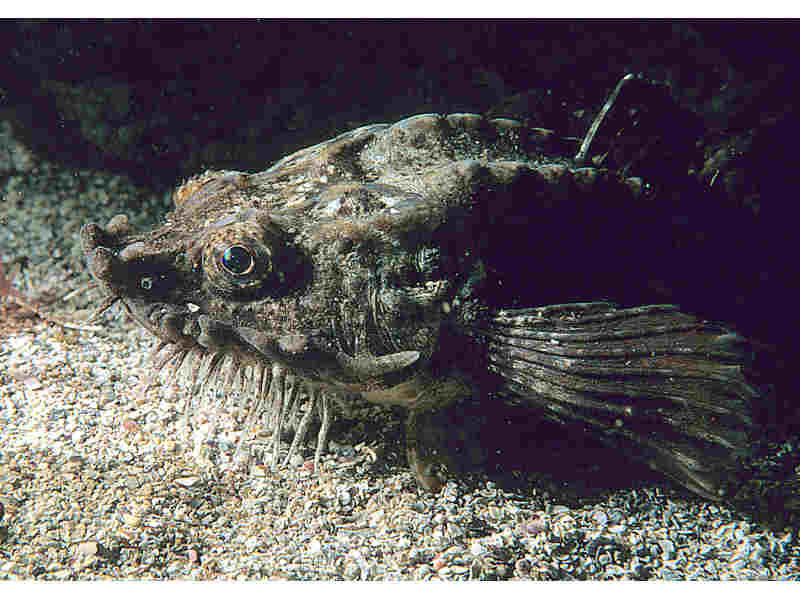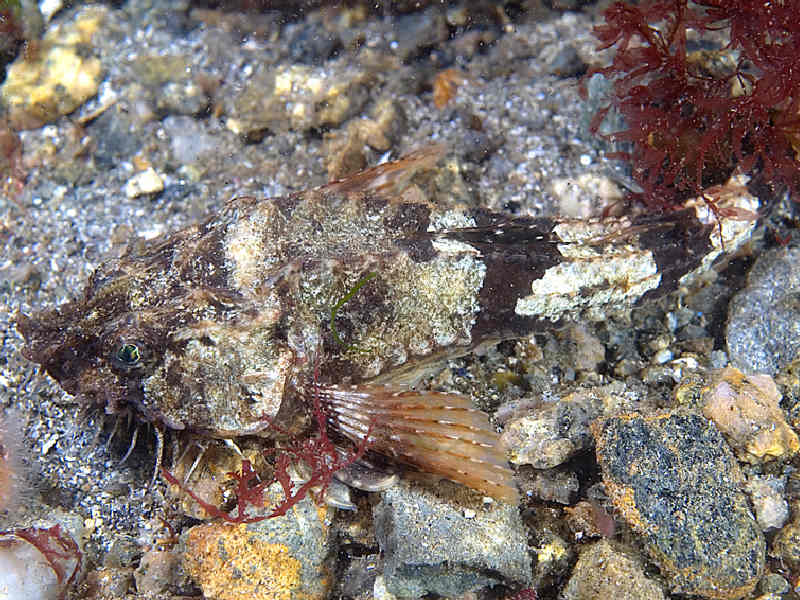 Researched by
Rose Edwards
Refereed by
Admin
Authority
(Linnaeus, 1758)
Other common names
-
Synonyms
-
Summary
Description
Agonus cataphractus has a wide, flattened, triangular head (around 3.5 times the body length) with an elongated, tapering body. Instead of scales this fish is completely covered in hard bony plates, that form lateral rows of sharp spines. This fish typically grows to 10-15 cm but has been recorded at a length of 21 cm. The upper parts of the body are greyish-brown in colour with 4-5 darker saddles across the back, and the lower parts are lighter sometimes with grey spots. The fins are yellow with dark stripes and spots, and the underside of the fish is a creamy white colour. There are two pectoral fins located close together; the first with 5-6 spines and the second with 6-8 soft fin rays, and an anal fin, which is short with 6-7 fin rays. The snout has a pair of strong, sharp spines, and a very sharp spine on each gill cover. The underside of the head has many small barbels extending from the tip of the snout to the edge of the gill covers. The mouth is located beneath the head.
Recorded distribution in Britain and Ireland
Recorded in inshore waters all around Britain and Ireland, and the Faeroes.
Global distribution
Recorded along the Atlantic coast from the English Channel to the coast of Norway and the White Sea, the southern and south west coasts of Iceland; and into the southern Baltic.
Habitat
Agonus cataphractus spend most of their lives partly buried in sand, mud and gravel deeper than 20 m, down to 500 m, although the young have been found in as little as 2 m of water.
Identifying features
Two dorsal fins.
Armoured body.
Numerous small barbels under the head.
Additional information
The pectoral fins can have an orange tint in the breeding season. This species is also commonly known as the 'hook-nose' or 'armed bullhead'.
Bibliography
Dipper, F., 2001. British sea fishes (2nd edn). Teddington: Underwater World Publications Ltd.

Howson, C.M. & Picton, B.E., 1997. The species directory of the marine fauna and flora of the British Isles and surrounding seas. Belfast: Ulster Museum. [Ulster Museum publication, no. 276.]

JNCC (Joint Nature Conservation Committee), 1999. Marine Environment Resource Mapping And Information Database (MERMAID): Marine Nature Conservation Review Survey Database. [on-line] http://www.jncc.gov.uk/mermaid

Wheeler, A., 1969. The fishes of the British Isles and north-west Europe. London: Macmillan.

Whitehead, P.J.P., Bauchot, M.-L., Hureau, J.-C., Nielson, J. & Tortonese, E. 1986. Fishes of the North-eastern Atlantic and the Mediterranean. Vol. I, II & III. Paris: United Nations Educational, Scientific and Cultural Organisation (UNESCO).
Datasets
Citation
This review can be cited as:
Edwards, R.V. 2005. Agonus cataphractus Pogge. In Tyler-Walters H. and Hiscock K. Marine Life Information Network: Biology and Sensitivity Key Information Reviews, [on-line]. Plymouth: Marine Biological Association of the United Kingdom. [cited 11-12-2023]. Available from: https://marlin.ac.uk/species/detail/1992
---
Last Updated: 04/11/2005