A sand star (Astropecten irregularis)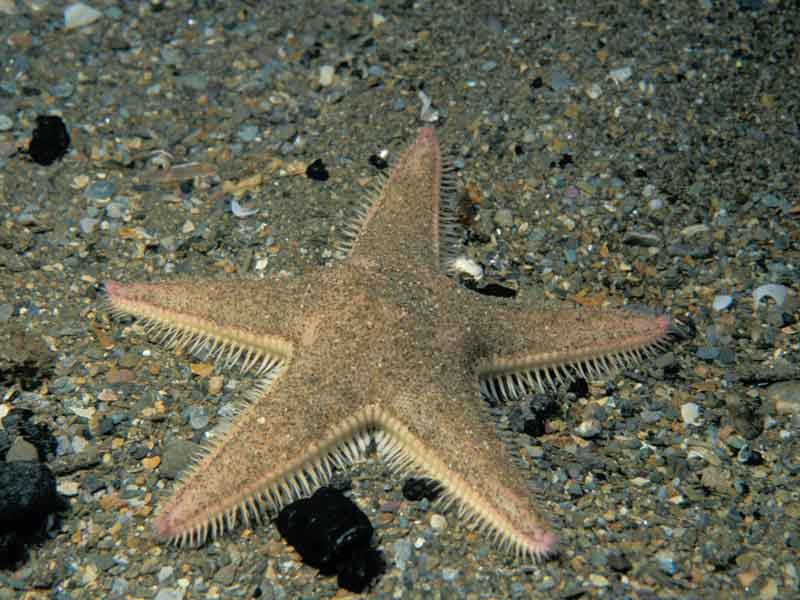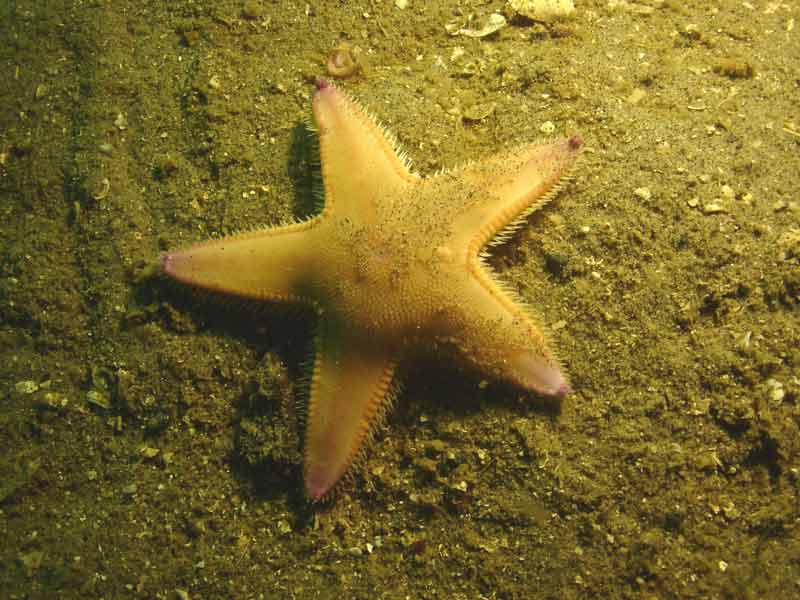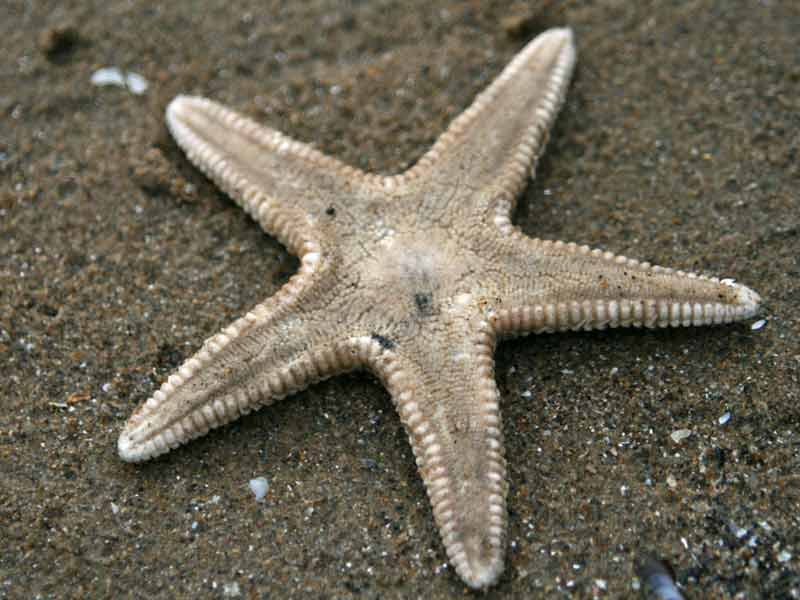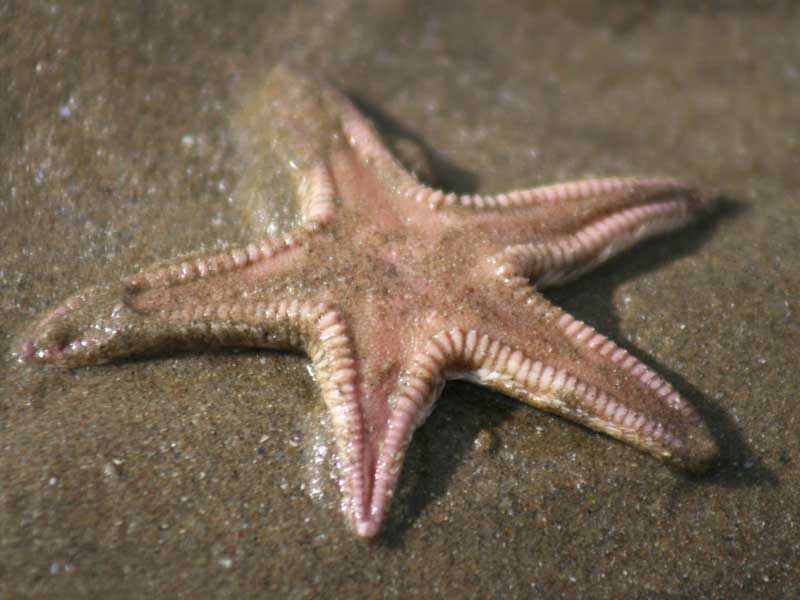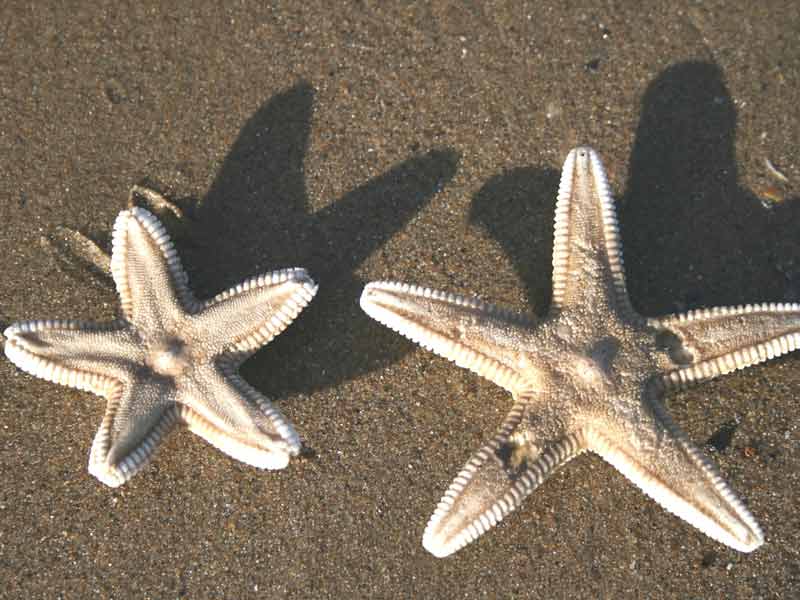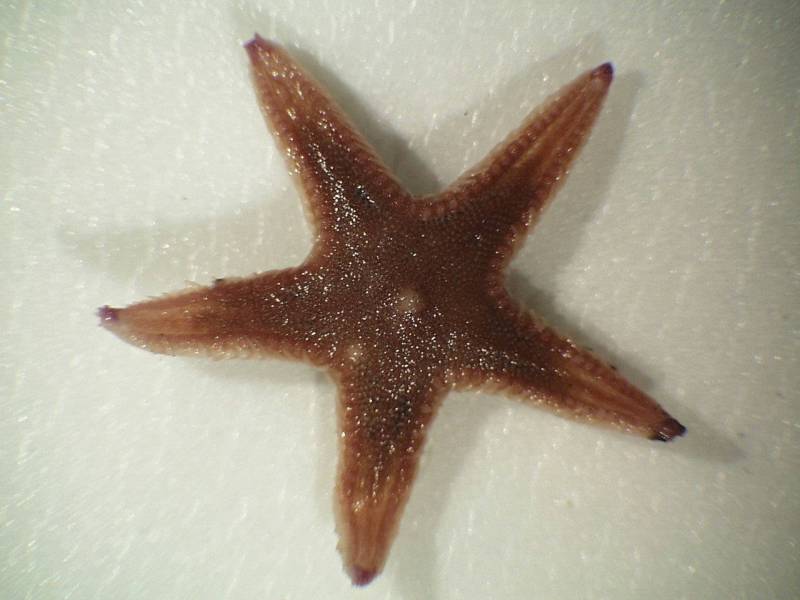 Researched by
Marisa Sabatini
Refereed by
This information is not refereed
Authority
(Pennant, 1777)
Other common names
-
Synonyms
-
Summary
Description
Astropecten irregularis has a stiff flattened body. It can grow up to 20 cm in diameter. The dorsal surface appears finely granular. The under surface of this starfish is pale, however the upper surface can appear sandy, yellow orange, pink or brown. It often has purple tips at the end of each arm and a purple spot at the centre of the disc. At the edge of each arm there is a double series of large marginal plates. The upper marginal plates have a larger conical spine. It has pointed tube feet without suckers.
Recorded distribution in Britain and Ireland
Recorded from the Shetland Islands, the Orkneys, the west coasts of England and Scotland and around the coast of Ireland. It has also been recorded near Aberdeen, St Andrews Bay and along the Northumberland coastline.
Global distribution
Found on the west coast of Norway to Morocco. It is also found throughout the Mediterranean.
Habitat
Found partly buried on clean sand or sandy mud. Occurs in the sublittoral to depths of about 1000 m. Specimens can often be found washed ashore after storms event.
Identifying features
Stiff star shape.
Five rather short tapering triangular arms meeting at distinct angles.
Horizontal row of long pointed spines along edges of arms with large marginal plates.
Additional information
No similar species occur in shallow water. Astropecten irregularis usually lies part buried in the sediment and maintains contact with the surface through the tips of the arms.
Bibliography
Bergmann, M., Beare, D.J. & Moore, P.G., 2001. Damage sustained by epibentic invertebrates discarded in the Nephrops fishery of the Clyde Sea area, Scotland. Journal of Sea Research, 45, 105-118.

Fish, J.D. & Fish, S., 1996. A student's guide to the seashore. Cambridge: Cambridge University Press.

Hayward, P., Nelson-Smith, T. & Shields, C. 1996. Collins pocket guide. Sea shore of Britain and northern Europe. London: HarperCollins.

Hayward, P.J. & Ryland, J.S. (ed.) 1995b. Handbook of the marine fauna of North-West Europe. Oxford: Oxford University Press.

Howson, C.M. & Picton, B.E., 1997. The species directory of the marine fauna and flora of the British Isles and surrounding seas. Belfast: Ulster Museum. [Ulster Museum publication, no. 276.]

JNCC (Joint Nature Conservation Committee), 1999. Marine Environment Resource Mapping And Information Database (MERMAID): Marine Nature Conservation Review Survey Database. [on-line] http://www.jncc.gov.uk/mermaid

Mortensen, T.H., 1927. Handbook of the echinoderms of the British Isles. London: Humphrey Milford, Oxford University Press.

Picton, B.E. & Costello, M.J., 1998. BioMar biotope viewer: a guide to marine habitats, fauna and flora of Britain and Ireland. [CD-ROM] Environmental Sciences Unit, Trinity College, Dublin.

Picton, B.E., 1993. A field guide to the shallow-water echinoderms of the British Isles. London: Immel Publishing Ltd.
Datasets
Citation
This review can be cited as:
Sabatini, M. 2008. Astropecten irregularis A sand star. In Tyler-Walters H. and Hiscock K. Marine Life Information Network: Biology and Sensitivity Key Information Reviews, [on-line]. Plymouth: Marine Biological Association of the United Kingdom. [cited 02-12-2023]. Available from: https://marlin.ac.uk/species/detail/2013
---
Last Updated: 08/05/2008