Compass jellyfish (Chrysaora hysoscella)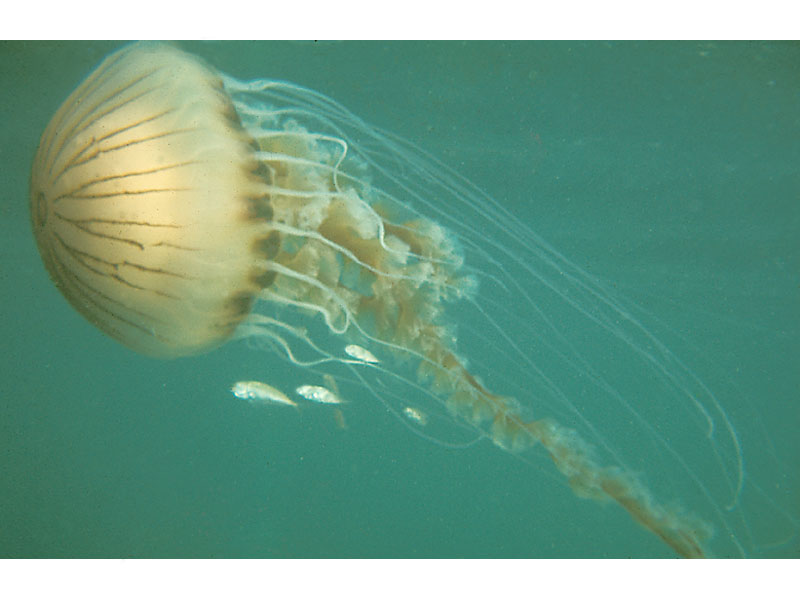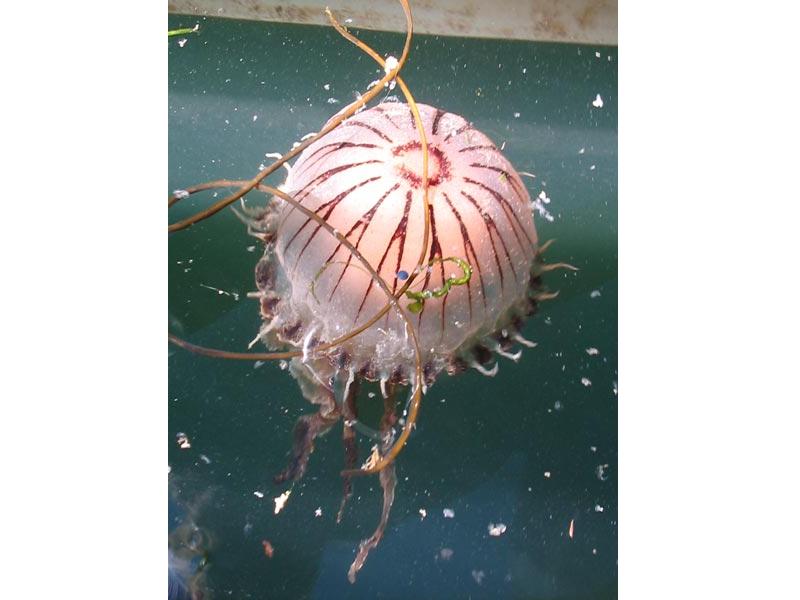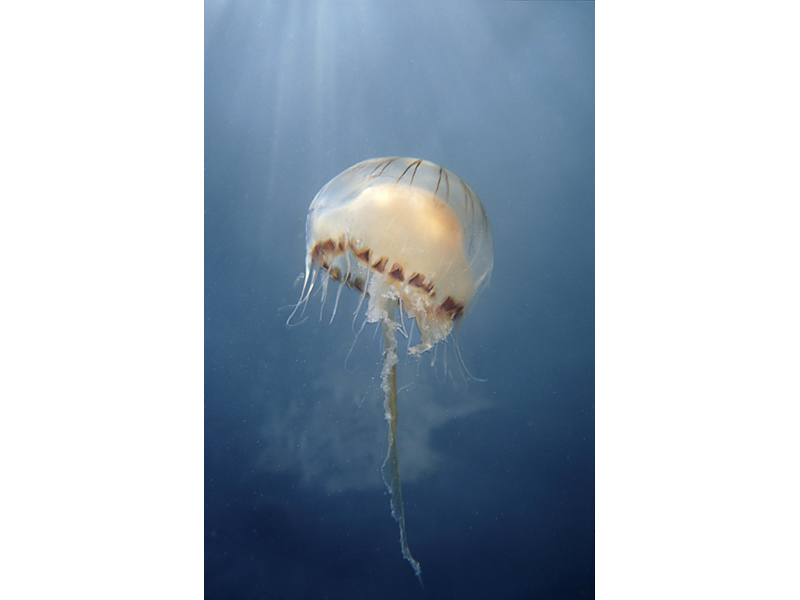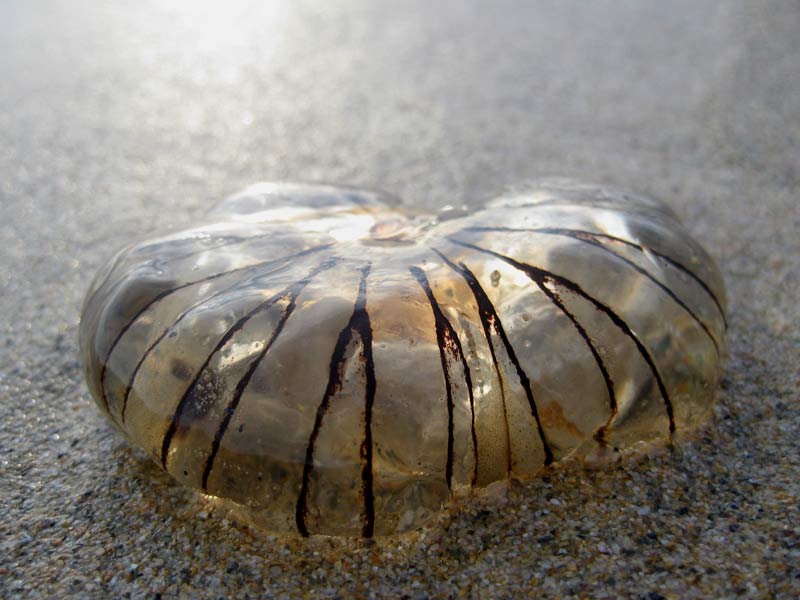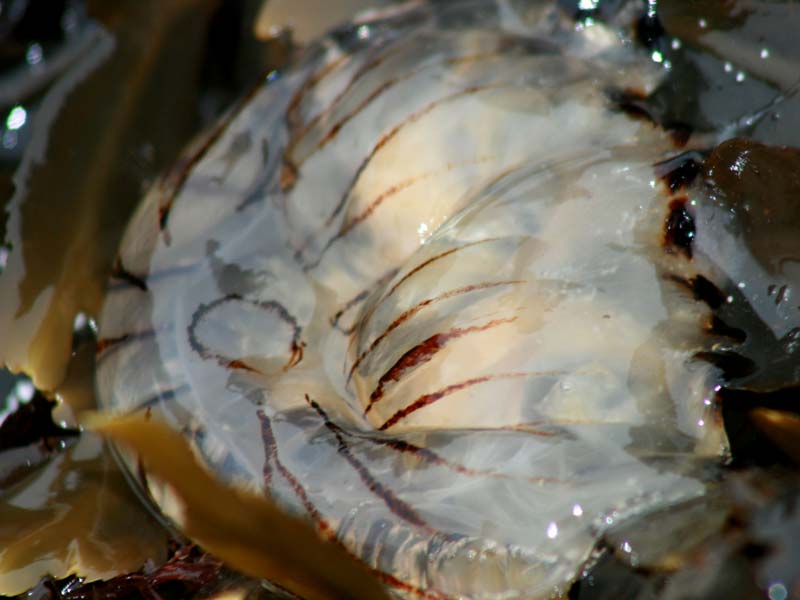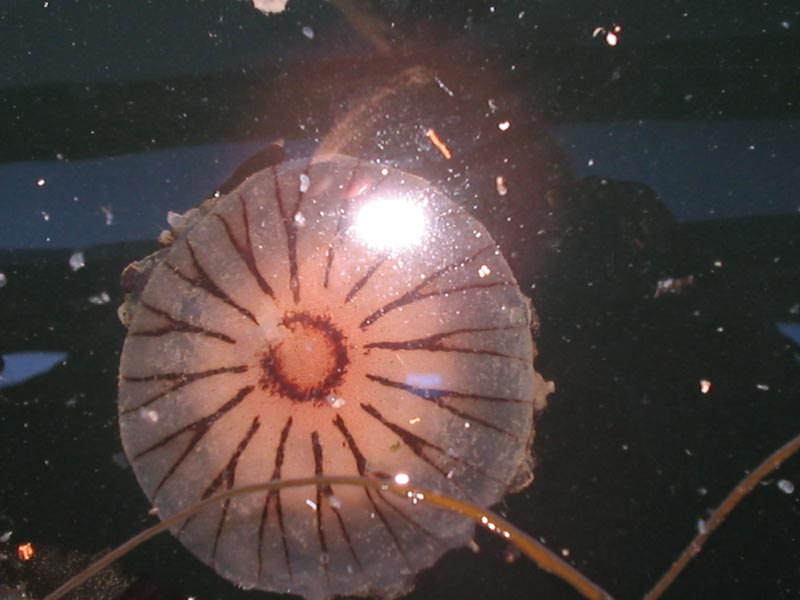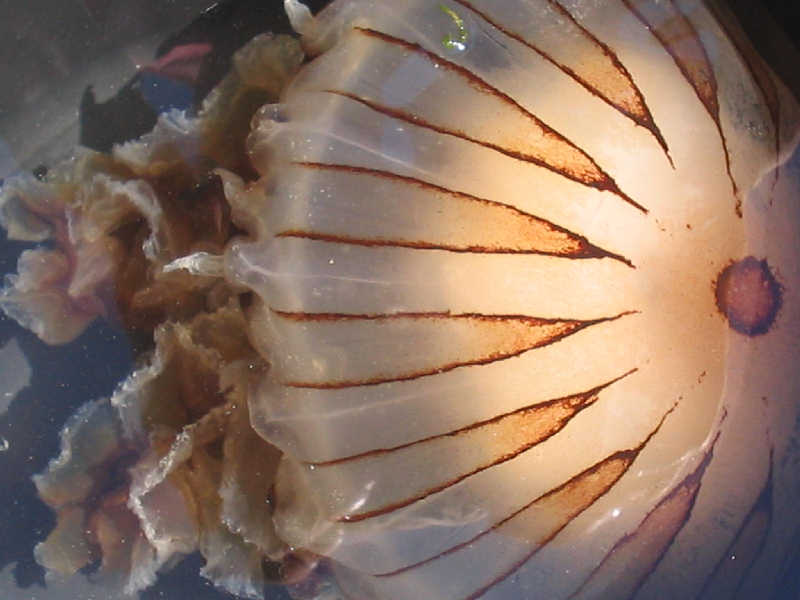 Researched by
Marisa Sabatini
Refereed by
Admin
Authority
(Linnaeus, 1767)
Other common names
-
Synonyms
-
Summary
Description
Chrysaora hysoscella has a thickened bell (manubrium) that can grow up to 30 cm in diameter. The edges of the bell are developed into 32 lobes and bear 24 marginal tentacles. These are arranged in eight groups of three which alternate with eight sensory organs and are capable of great elongation. The marginal tentacles are conical in shape with a flattened thicker base giving the jellyfish a fluted appearance. They are also covered with clusters of stinging cells (nematocysts). It has a long and slender manubrium which leads onto 4 oral arms that are fused for a short distance at its base. Typically Chrysaora hysoscella is yellowish white in colour with a highly distinctive brown pattern like the radii of a compass.
Recorded distribution in Britain and Ireland
Chrysaora hysoscella occurs in coastal waters all round the British Isles. It is prevalent off the south and west coasts of England and Wales. It has been recorded off the Cumbrian coast, the Isle of Man and off the north coast of Ireland.
Habitat
Chrysaora hysoscella is a pelagic species. Young Chrysaora appear in British waters in May.
Identifying features
Flattened umbrella or saucer shaped bell.
Four frilly oral arms that are longer than the bell tentacles, these may also coil up at their tips.
Upper surface of the bell has 16 v-shaped brown markings radiating from a dark apical circle or spot at the centre.
Additional information
May be confused with the common jellyfish
Aurelia aurita
when stranded.
Aurelia aurita
however, has shorter tentacles with no brown v-shaped markings on the bell. Instead it has 4 purplish-blue horseshoe shaped gonads that are easily distinguished through the upper surface of the bell. The stinging cells and venom of
Chrysaora hysoscella
are strong and can produce painful, long lasting weals in humans.
Bibliography
Bruce, J.R., Colman, J.S. & Jones, N.S., 1963. Marine fauna of the Isle of Man. Liverpool: Liverpool University Press.

Fish, J.D. & Fish, S., 1996. A student's guide to the seashore. Cambridge: Cambridge University Press.

Gibson, R., Hextall, B. & Rogers, A., 2001. Photographic guide to the sea and seashore life of Britain and north-west Europe. Oxford: Oxford University Press.

Hayward, P., Nelson-Smith, T. & Shields, C. 1996. Collins pocket guide. Sea shore of Britain and northern Europe. London: HarperCollins.

Howson, C.M. & Picton, B.E., 1997. The species directory of the marine fauna and flora of the British Isles and surrounding seas. Belfast: Ulster Museum. [Ulster Museum publication, no. 276.]

MarLIN (Marine Life Information Network), 2005. SEArchable BEnthic Data (SEABED) Map [on-line]. Data Access Sub-programme, Marine Life Information Network for Britian and Ireland http://www.marlin.ac.uk,

Russell, F.S., 1970. The medusae of the British Isles. Vol II - Pelagic Scyphozoa, with a supplement to the first volume on hydromedusae. Cambridge University Press
Datasets
Citation
This review can be cited as:
Sabatini, M. 2008. Chrysaora hysoscella Compass jellyfish. In Tyler-Walters H. and Hiscock K. Marine Life Information Network: Biology and Sensitivity Key Information Reviews, [on-line]. Plymouth: Marine Biological Association of the United Kingdom. [cited 11-12-2023]. Available from: https://marlin.ac.uk/species/detail/2020
---
Last Updated: 08/05/2008