Montagu's blenny (Coryphoblennius galerita)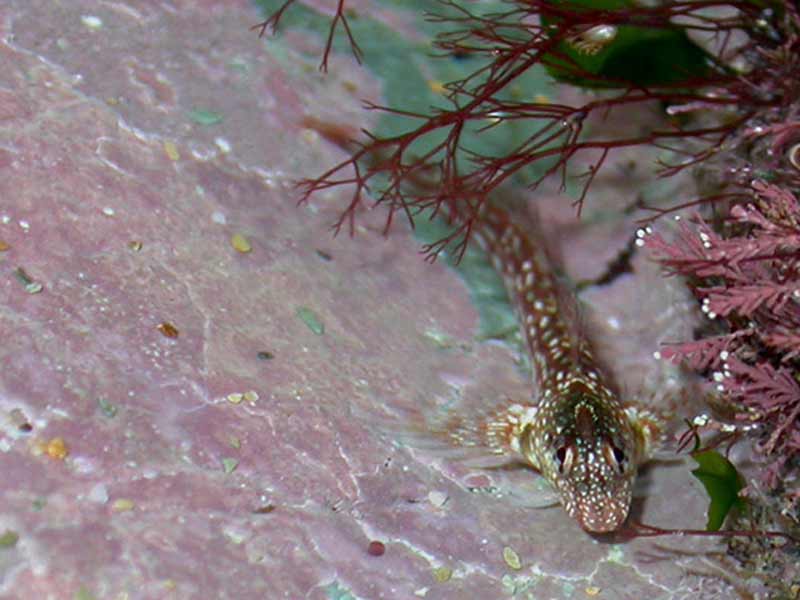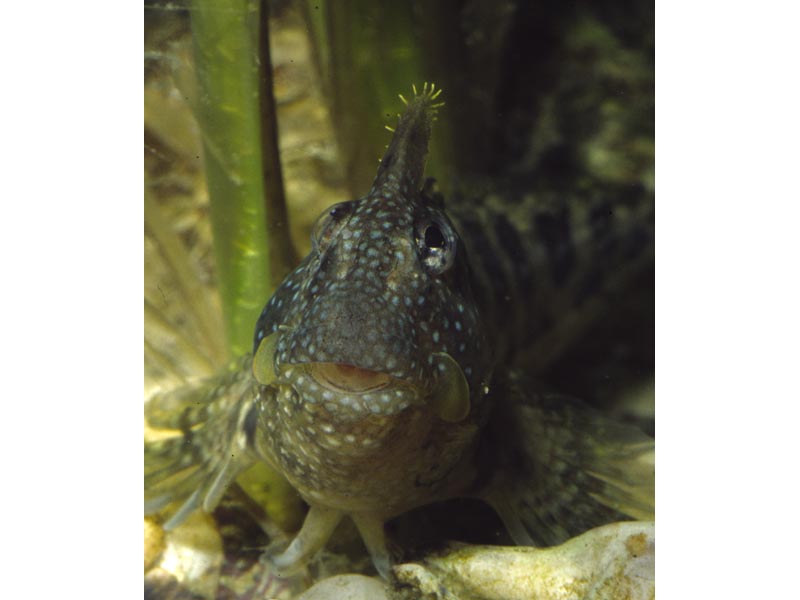 Researched by
Ken Neal
Refereed by
Admin
Authority
(Linnaeus, 1758)
Other common names
-
Synonyms
-
Summary
Description
Coryphoblennius galerita is a small, scaleless, elongate blenny with eyes on top of its head and a down-turned mouth. It reaches 8.5 cm in length and is pale brown in colour with olive green vertical stripes and pale blue spots. It has a single dorsal fin that stretches the length of the body with a distinct notch part way down. It is distinguishable from other British blennies by the fringed fleshy crest between its eyes, continued by a series of short fleshy tentacles along the dorsal surface. As with all blennies, the pectoral fins are large and the pelvic fins are modified into thin 'limbs' that are used to grip rock in the intertidal zone.
Recorded distribution in Britain and Ireland
Recorded around southwest Britain from Pembrokeshire to Dorset and the south coasts of Ireland.
Global distribution
Southwest Britain to northwest Africa. Occasionally in the Mediterranean.
Habitat
Occurs around mid-tide level in the rocky intertidal where it feeds on the limbs of barnacles. It prefers pools without much foliose seaweed cover and is most often found in pools with substantial amounts of coralline algae.
Identifying features
A crest on the head commences with an erectile fringed flap between the eyes and continues with a line of short tentacles along the dorsal surface.
The single long dorsal fin is divided unequally by a conspicuous notch.
Blue-white spots cover the body, which is pale brown with green patches/stripes.
Additional information
Coryphoblennius galerita
may be confused with the shanny,
Lipophrys pholis
, as they co-occur in the range of
Coryphoblennius galerita
. With close examination they can be distinguished by the fleshy crest and blue-white spots of
Coryphoblennius galerita
.
Bibliography
Dipper, F., 2001. British sea fishes (2nd edn). Teddington: Underwater World Publications Ltd.

FishBase, 2000. FishBase. A global information system on fishes. [On-line] http://www.fishbase.org, 2001-05-03

Hayward, P., Nelson-Smith, T. & Shields, C. 1996. Collins pocket guide. Sea shore of Britain and northern Europe. London: HarperCollins.

Hayward, P.J. & Ryland, J.S. 1990. The marine fauna of the British Isles and north-west Europe. Oxford: Oxford University Press.

Howson, C.M. & Picton, B.E., 1997. The species directory of the marine fauna and flora of the British Isles and surrounding seas. Belfast: Ulster Museum. [Ulster Museum publication, no. 276.]

Picton, B.E. & Costello, M.J., 1998. BioMar biotope viewer: a guide to marine habitats, fauna and flora of Britain and Ireland. [CD-ROM] Environmental Sciences Unit, Trinity College, Dublin.

Wheeler, A., 1969. The fishes of the British Isles and north-west Europe. London: Macmillan.

Whitehead, P.J.P., Bauchot, M.-L., Hureau, J.-C., Nielson, J. & Tortonese, E. 1976. Fishes of the North-eastern Atlantic and the Mediterranean.
Datasets
Citation
This review can be cited as:
Neal, K.J. 2005. Coryphoblennius galerita Montagu's blenny. In Tyler-Walters H. and Hiscock K. Marine Life Information Network: Biology and Sensitivity Key Information Reviews, [on-line]. Plymouth: Marine Biological Association of the United Kingdom. [cited 11-12-2023]. Available from: https://marlin.ac.uk/species/detail/2040
---
Last Updated: 06/07/2005