Saddle oyster (Anomia ephippium)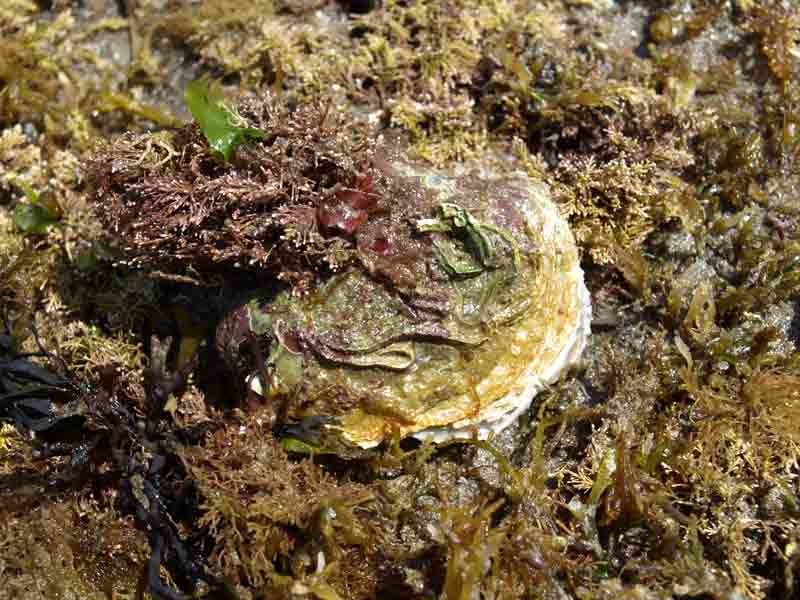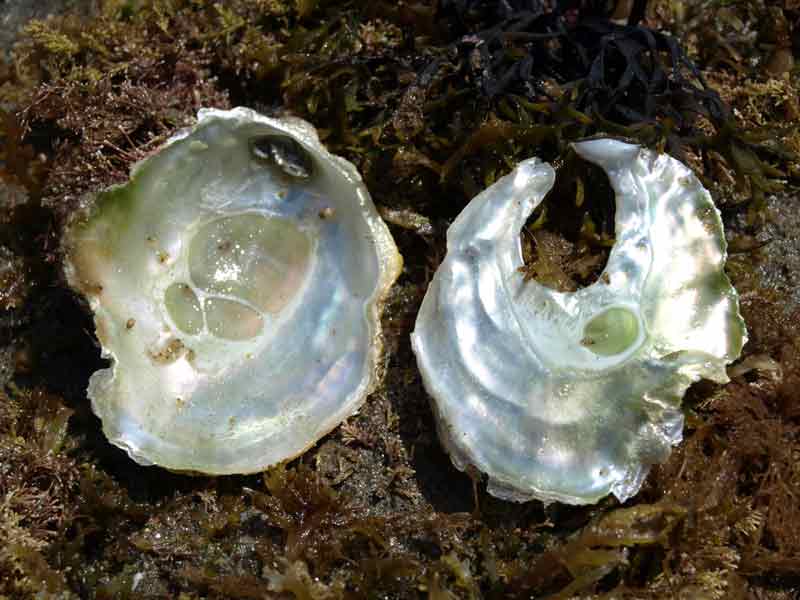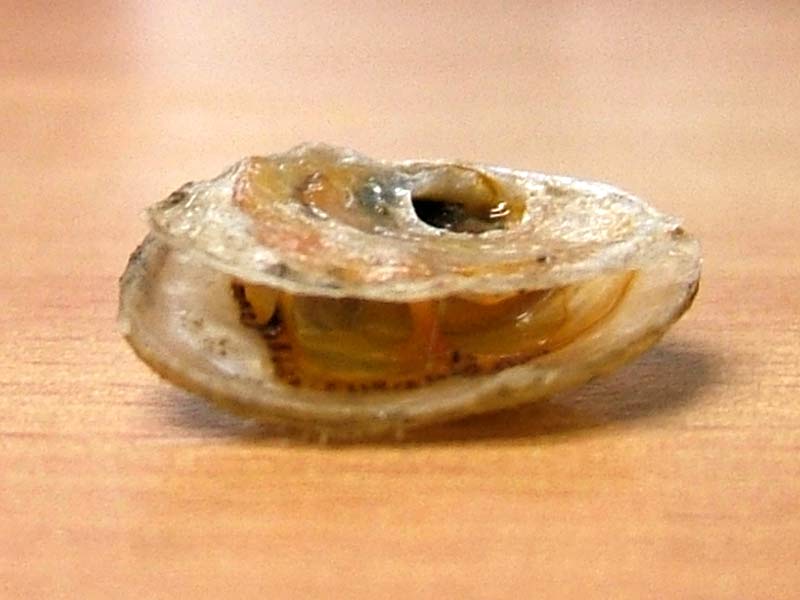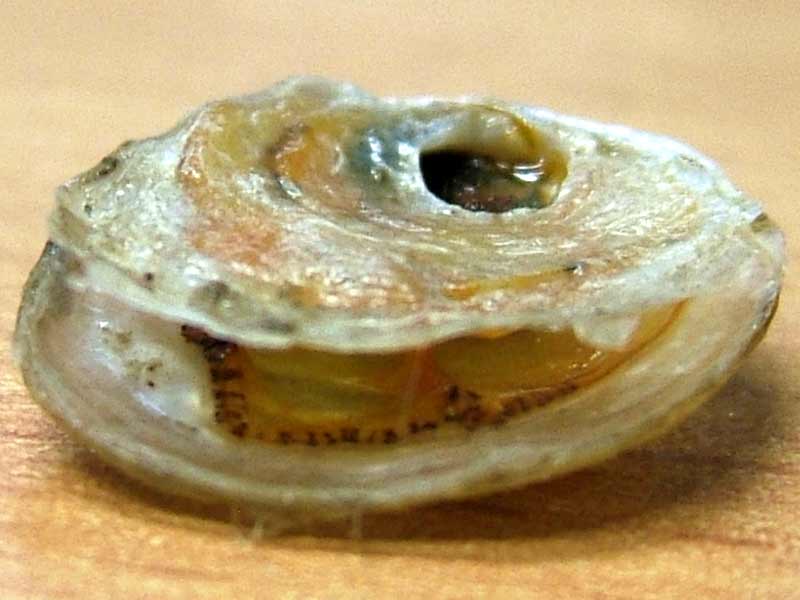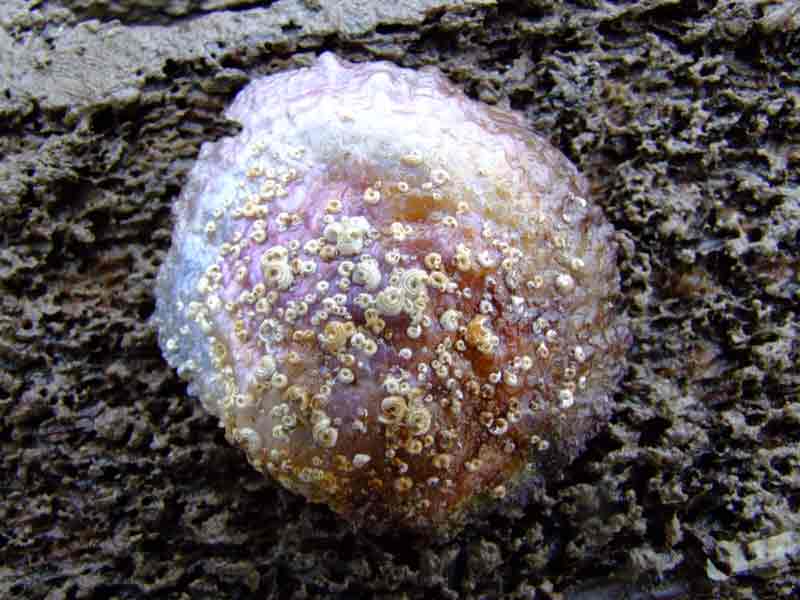 Researched by
Ken Neal
Refereed by
Admin
Authority
Linnaeus, 1758
Other common names
-
Synonyms
-
Summary
Description
Anomia ephippium is an irregularly shaped bivalve with a thin shell, found attached to stones and to other bivalve shells. It is approximatelty circular and up to 60 mm in diameter. The right valve is lowemost and adjacent to the substratum, the left valve is uppermost. It attaches to the substratum by byssal threads though a hole in the right valve. The right valve often takes on an impression of the substratum and this is most obvious when an individual has been attached to a scallop. The edge of the left valve is often shaped to fit exactly onto the substratum. The shell is very thin and brittle, usually white with a blue or pink tinge. The left valve has irregular growth lines on its surface although these can be worn off in older individuals.
Recorded distribution in Britain and Ireland
Common on all coasts of Britain and Ireland.
Habitat
Found from the intertidal to depths of 150 m on rocks , bivalve shells, often scallop shells and algal holdfasts.
Identifying features
Shell valves unequal. Left valve is convex often overlapping the right valve and has a sculpture of wavy growth lines. The right valve is flat, often taking on the topography of the substratum it is attached to, with a large hole through which the byssum passes for attachment to the substratum.
Left valve has three muscle scars in the concavity of the shell.
No hinge teeth.
Shell white, occasionally with blue or pink tinge.
Additional information
The four species of saddle oysters are easy to recognise as a group but it can be difficult to separate the species. Anomia ephippium is distinguished from other saddle oysters (Anomiidae) by a line of three muscle scars on the inside surface of the convex valve.
Bibliography
Gibson, R., Hextall, B. & Rogers, A., 2001. Photographic guide to the sea and seashore life of Britain and north-west Europe. Oxford: Oxford University Press.

Hayward, P., Nelson-Smith, T. & Shields, C. 1996. Collins pocket guide. Sea shore of Britain and northern Europe. London: HarperCollins.

Hayward, P.J. & Ryland, J.S. 1990. The marine fauna of the British Isles and north-west Europe. Oxford: Oxford University Press.

Howson, C.M. & Picton, B.E., 1997. The species directory of the marine fauna and flora of the British Isles and surrounding seas. Belfast: Ulster Museum. [Ulster Museum publication, no. 276.]

Picton, B.E. & Costello, M.J., 1998. BioMar biotope viewer: a guide to marine habitats, fauna and flora of Britain and Ireland. [CD-ROM] Environmental Sciences Unit, Trinity College, Dublin.

Tebble, N., 1966. British Bivalve Seashells. A Handbook for Identification. Edinburgh: British Museum (Natural History), Her Majesty's Stationary Office.
Datasets
Citation
This review can be cited as:
Neal, K.J. 2004. Anomia ephippium Saddle oyster. In Tyler-Walters H. and Hiscock K. Marine Life Information Network: Biology and Sensitivity Key Information Reviews, [on-line]. Plymouth: Marine Biological Association of the United Kingdom. [cited 30-11-2023]. Available from: https://marlin.ac.uk/species/detail/2053
---
Last Updated: 14/06/2004