Common goose barnacle (Lepas (Anatifa) anatifera)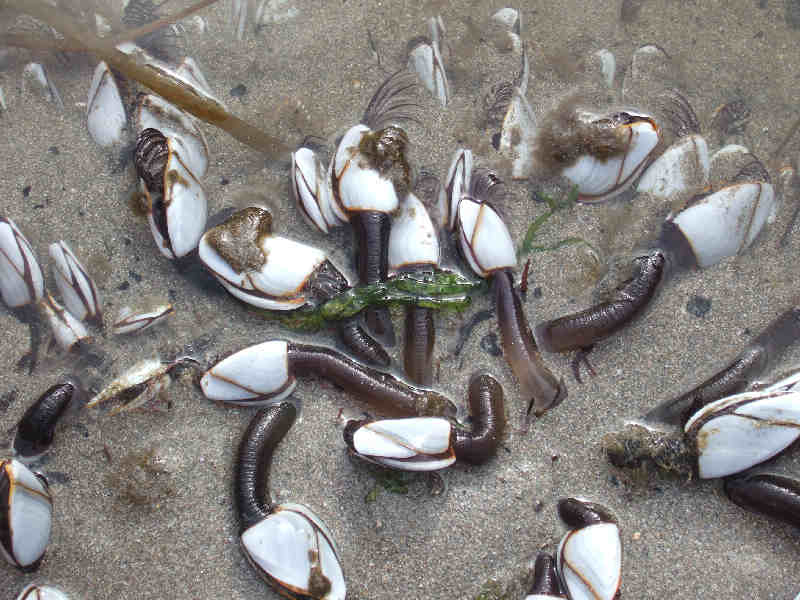 Researched by
Ken Neal
Refereed by
Admin
Authority
Linnaeus, 1758
Other common names
-
Synonyms
Lepas anatifera
Summary
Description
Lepas anatifera is made up of two parts; the capitulum, 4-5 cm long, bears the feeding tentacles and body of the barnacle, and the peduncle, 4-85 cm long, which is a flexible, contractile stalk that attaches the barnacle to floating objects. The capitulum is roughly oblong with five smooth white plates, separated by red/brown or black tissue. If Lepas anatifera is observed underwater, the brush-like feeding appendages may be seen protruding from lower end of the animal.
Recorded distribution in Britain and Ireland
Found washed up on the shore on western coasts of Britain and Ireland especially after westerly gales but poorly recorded in surveys. Rarely found on east coasts of Britain. Otherwise, a pelagic species in the Atlantic and western English Channel.
Habitat
A pelagic species attached to hard floating objects such as logs.
Identifying features
Body divided into two parts: the capitulum which bears the body of the animal and a flexible peduncle.
Capitulum has five large calcareous plates.
Plates on the capitulum are smooth or at most finely marked.
Additional information
A guide to the identification of the various species of Lepas is given by Bassindale (1964).
Bibliography
Bassindale, R., 1964. British Barnacles. London: The Linnean Society of London.[Synopses of the British Fauna, no. 14.]

Gibson, R., Hextall, B. & Rogers, A., 2001. Photographic guide to the sea and seashore life of Britain and north-west Europe. Oxford: Oxford University Press.

Hayward, P.J. & Ryland, J.S. 1990. The marine fauna of the British Isles and north-west Europe. Oxford: Oxford University Press.

Howson, C.M. & Picton, B.E., 1997. The species directory of the marine fauna and flora of the British Isles and surrounding seas. Belfast: Ulster Museum. [Ulster Museum publication, no. 276.]
Datasets
Citation
This review can be cited as:
Neal, K.J. 2007. Lepas (Anatifa) anatifera Common goose barnacle. In Tyler-Walters H. and Hiscock K. Marine Life Information Network: Biology and Sensitivity Key Information Reviews, [on-line]. Plymouth: Marine Biological Association of the United Kingdom. [cited 11-12-2023]. Available from: https://marlin.ac.uk/species/detail/2058
---
Last Updated: 13/08/2007