Tiny risso snail (Rissoa parva)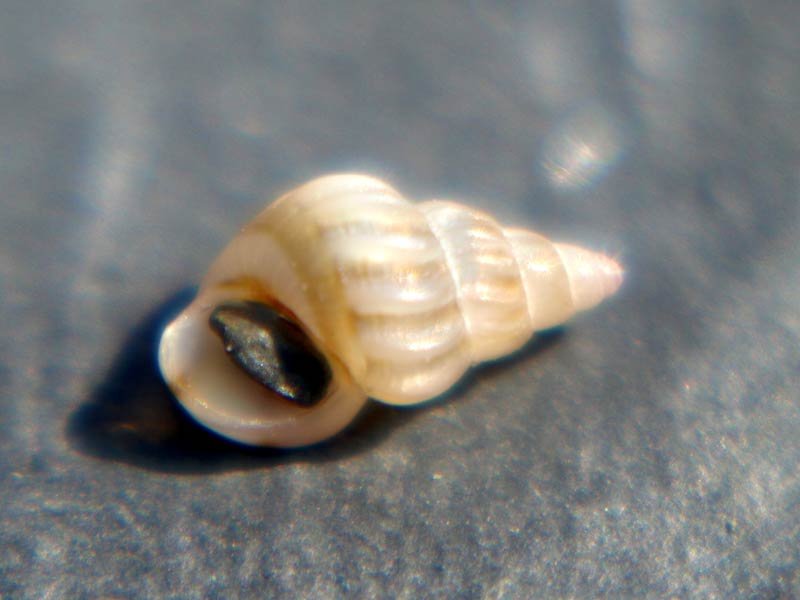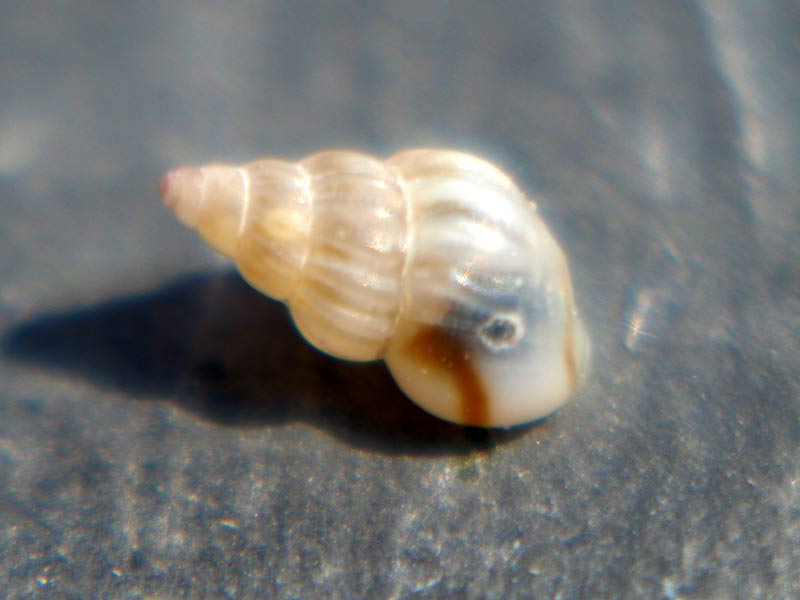 Researched by
Ken Neal
Refereed by
Admin
Authority
(da Costa, 1778)
Other common names
-
Synonyms
Pusillinia parva , Turboella parva (da Costa, 1778)
Summary
Description
Rissoa parva is a small snail up to 5 mm high and 3 mm wide. There are 7-8 whorls, which have a convex profile. It occurs in two forms, one with smooth whorls (var. interrupta) and one with vertical ridges (costae) on and after the 5th whorl. The shell is cream coloured to pale brown and has a lilac tint around the aperture. The body of the snail is yellow with black streaks and has long slender tentacles with an eye at the base of each.
Recorded distribution in Britain and Ireland
Common on all coasts of Britain and Ireland.
Habitat
On rock from mean tide level to 15 m depth but most common around mean low water springs. Also found on algae, in kelp holdfasts and under rocks.
Identifying features
Small snail up to 5 mm high.
Shell with raised spire of several whorls.
Aperture not wider than widest part of the shell.
Shell dextral.
Largest whorl makes up less than three quarters of the shell height.
Shell without ornament apart from growth lines.
Whorls of shell have a slightly concave, swollen appearance and bear vertical ridges, known as costae.
Dark comma shaped mark on the last whorl adjacent to the lip of the aperture.
Additional information
No text entered
Bibliography
Bruce, J.R., Colman, J.S. & Jones, N.S., 1963. Marine fauna of the Isle of Man. Liverpool: Liverpool University Press.

Crothers, J.H. (ed.), 1966. Dale Fort Marine Fauna. London: Field Studies Council.

Graham, A., 1988. Molluscs: prosobranchs and pyramellid gastropods (2nd ed.). Leiden: E.J. Brill/Dr W. Backhuys. [Synopses of the British Fauna No. 2]

Hayward, P.J. & Ryland, J.S. (ed.), 1995. The marine fauna of the British Isles and north-west Europe. Volume 2. Molluscs to Chordates. Oxford Science Publications. Oxford: Clarendon Press.

Howson, C.M. & Picton, B.E., 1997. The species directory of the marine fauna and flora of the British Isles and surrounding seas. Belfast: Ulster Museum. [Ulster Museum publication, no. 276.]

Picton, B.E. & Costello, M.J., 1998. BioMar biotope viewer: a guide to marine habitats, fauna and flora of Britain and Ireland. [CD-ROM] Environmental Sciences Unit, Trinity College, Dublin.
Datasets
Citation
This review can be cited as:
Neal, K.J. 2004. Rissoa parva Tiny risso snail. In Tyler-Walters H. and Hiscock K. Marine Life Information Network: Biology and Sensitivity Key Information Reviews, [on-line]. Plymouth: Marine Biological Association of the United Kingdom. [cited 06-12-2023]. Available from: https://marlin.ac.uk/species/detail/2061
---
Last Updated: 19/08/2004