Small brittlestar (Amphipholis squamata)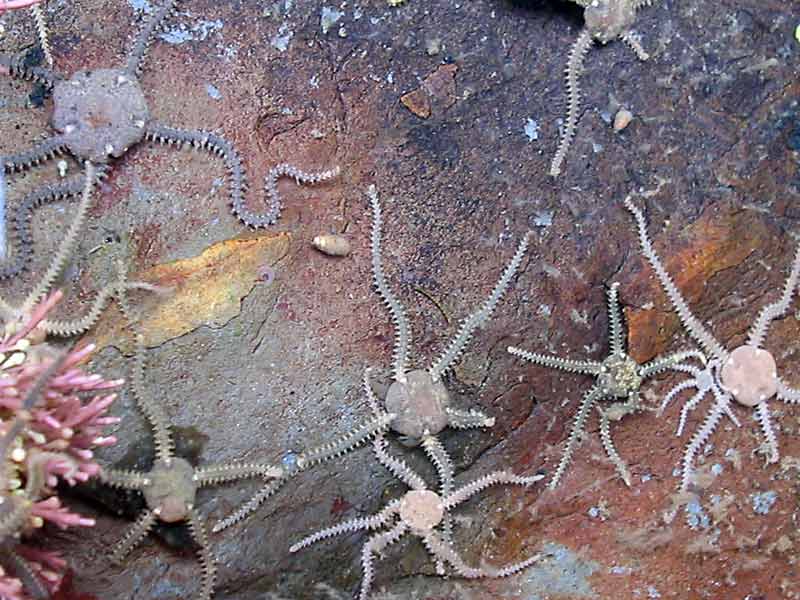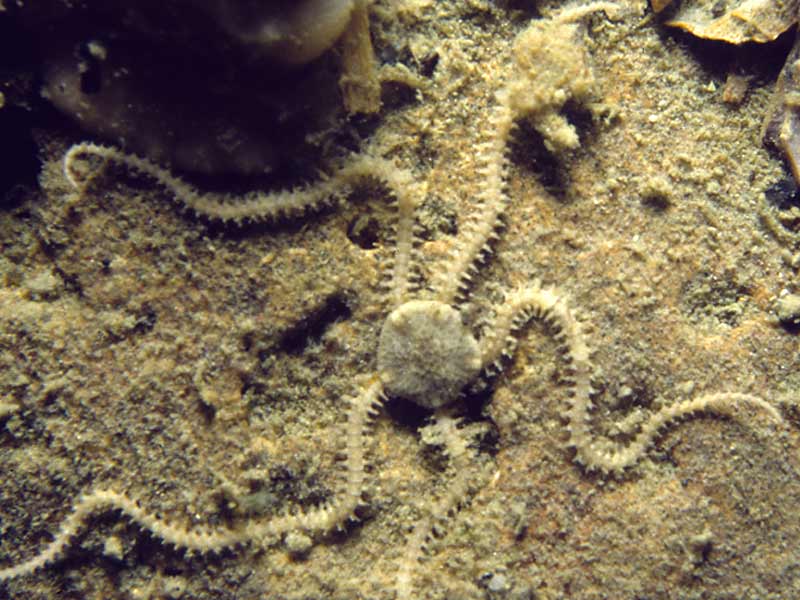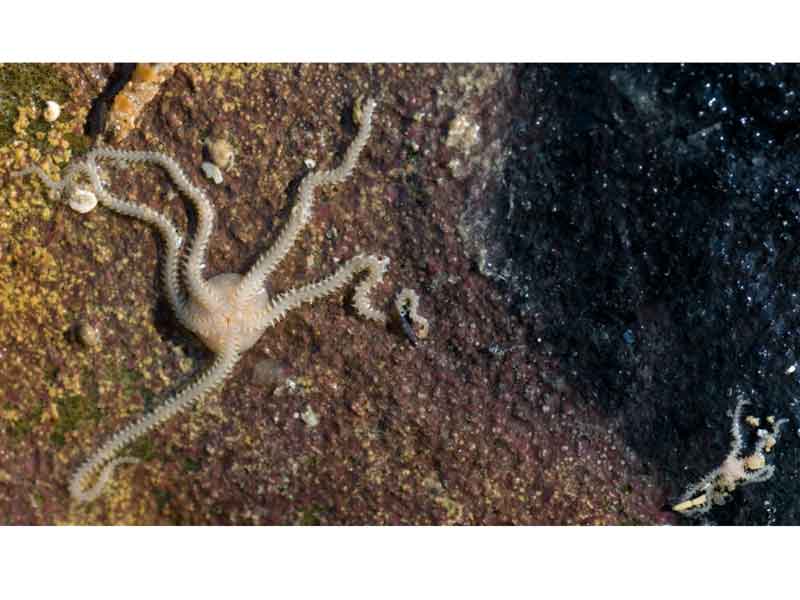 Researched by
Sonia Rowley
Refereed by
Admin
Authority
(Delle Chiaje, 1828)
Other common names
-
Synonyms
-
Summary
Description
Amphipholis squamata is a small inconspicuous brittle star, with a circular disc and spindly arms. It is grey/bluish-white in colour. The disc has a diameter ranging between 3-5 mm, with its dorsal surface covered in small scales. The arms are up to 20 mm in length (approximately 4 x the length of the disc) and consist of numerous marginal plates each with 3 or 4 conical arm spines. The mouth shields are small rhomboids, with very broad mouth papillae.
Recorded distribution in Britain and Ireland
This species is widely distributed throughout the British Isles and Ireland. It is often overlooked, and therefore probably under recorded.
Habitat
Amphipholis squamata can be found intertidally and in shallow water; under stones, amongst rockpool weeds and occasionally on sandy bottoms. It is also found amongst algal and bryozoan turfs.
Identifying features
Small inconspicuous brittle star.
Circular disc 3-5 mm in diameter, with small scales covering dorsal surface.
Thin arms 20 mm in length.
Grey/bluish-white in colour.
Additional information
This species is a deposit feeder collecting particles within its tube feet, and a suspension feeder via trapping detritus in mucus. It is hermaphroditic and the eggs are brooded and hatched as juveniles.
Bibliography
Emson, R.H. & Whitfield, P.J., 1989. Aspects of the life history of a tide pool population of Amphipholis squamata (Ophiuroidea) from south Devon. Journal of the Marine Biological Association of the United Kingdom, 69, 27-41.

Hayward, P., Nelson-Smith, T. & Shields, C. 1996. Collins pocket guide. Sea shore of Britain and northern Europe. London: HarperCollins.

Hayward, P.J. & Ryland, J.S. (ed.), 1995. The marine fauna of the British Isles and north-west Europe. Volume 2. Molluscs to Chordates. Oxford Science Publications. Oxford: Clarendon Press.

Howson, C.M. & Picton, B.E., 1997. The species directory of the marine fauna and flora of the British Isles and surrounding seas. Belfast: Ulster Museum. [Ulster Museum publication, no. 276.]

JNCC (Joint Nature Conservation Committee), 1999. Marine Environment Resource Mapping And Information Database (MERMAID): Marine Nature Conservation Review Survey Database. [on-line] http://www.jncc.gov.uk/mermaid

Mortensen, T.H., 1927. Handbook of the echinoderms of the British Isles. London: Humphrey Milford, Oxford University Press.

Picton, B.E. & Costello, M.J., 1998. BioMar biotope viewer: a guide to marine habitats, fauna and flora of Britain and Ireland. [CD-ROM] Environmental Sciences Unit, Trinity College, Dublin.

Picton, B.E., 1993. A field guide to the shallow-water echinoderms of the British Isles. London: Immel Publishing Ltd.
Datasets
Citation
This review can be cited as:
Rowley, S.J. 2006. Amphipholis squamata Small brittlestar. In Tyler-Walters H. and Hiscock K. Marine Life Information Network: Biology and Sensitivity Key Information Reviews, [on-line]. Plymouth: Marine Biological Association of the United Kingdom. [cited 30-11-2023]. Available from: https://marlin.ac.uk/species/detail/2071
---
Last Updated: 06/09/2006