Hooded shrimp (Athanas nitescens)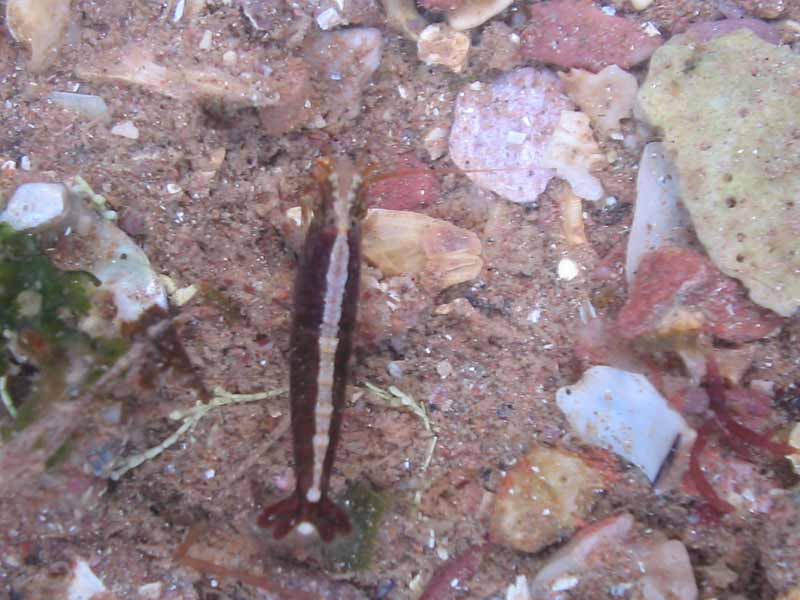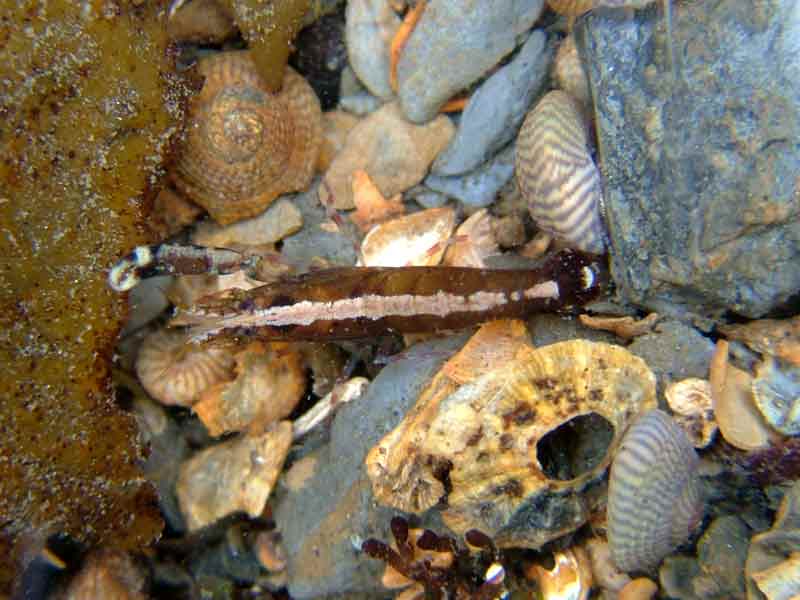 Researched by
Sonia Rowley
Refereed by
Admin
Authority
(Leach, 1813 [in Leach, 1813-1814])
Other common names
-
Synonyms
-
Summary
Description
Athanas nitescens is a small shrimp measuring up to 2 cm in length. Its colour varies from green-blue, or red-brown, and can also be transparent and speckled with red chromatophores. The rostrum is well developed, straight, unarmed, projecting beyond segment one of antenna one, with an acutely pointed apex. Two anterior projections (bearing two lateral spines, and a small dorsal lobe) of the carapace particularly cover the eyes dorsally, hence the name hooded shrimp. The first pereiopod's (thoracic limbs) are larger than the second, symmetrical in females and predominantly asymmetrical in males. Females chelae are also slimmer than the males. The telson forming the tailfan with the uropods have two pairs of lateral spines, as well as an articulated process on pleonite six at the base of the uropods.
Recorded distribution in Britain and Ireland
Widely recorded around the south and west coasts of Britain, and the east and west coasts of Ireland. Recorded once in the north east.
Habitat
Found on the lower shore to depths 60 m, primarily beneath stones where the substratum is gravelly. Also found under algae.
Identifying features
Distinctive white dorsal strip extended full body length.
Colour variable; green-blue, or red-brown.
Up to 2 cm in length.
Well developed rostrum with acutely pointed apex.
Additional information
This species is often found in groups of adults and juveniles. Ovigerous females occur from May through to September.
Bibliography
Crothers, J.H. (ed.), 1966. Dale Fort Marine Fauna. London: Field Studies Council.

Hayward, P., Nelson-Smith, T. & Shields, C. 1996. Collins pocket guide. Sea shore of Britain and northern Europe. London: HarperCollins.

Hayward, P.J. & Ryland, J.S. (ed.) 1995b. Handbook of the marine fauna of North-West Europe. Oxford: Oxford University Press.

Howson, C.M. & Picton, B.E., 1997. The species directory of the marine fauna and flora of the British Isles and surrounding seas. Belfast: Ulster Museum. [Ulster Museum publication, no. 276.]

MBA (Marine Biological Association), 1957. Plymouth Marine Fauna. Plymouth: Marine Biological Association of the United Kingdom.

Smaldon, G., Holthuis, L.B. & Fransen, C.H.J.M., 1993. Coastal Shrimps and Prawns (Revised edn). Shrewsbury: Field Studies Council.

Stachowitsch, M., 1992. The invertebrates: an illustrated glossary. USA: Wiley-Liss.

Thurston, M.W., 1970. The marine flora and fauna of the Isles of Scilly. Crustacea, Eucarida. Journal of Natural History, 4, 239-248.
Datasets
Citation
This review can be cited as:
Rowley, S.J. 2008. Athanas nitescens Hooded shrimp. In Tyler-Walters H. and Hiscock K. Marine Life Information Network: Biology and Sensitivity Key Information Reviews, [on-line]. Plymouth: Marine Biological Association of the United Kingdom. [cited 06-12-2023]. Available from: https://marlin.ac.uk/species/detail/2072
---
Last Updated: 08/05/2008