Bootlace worm (Lineus longissimus)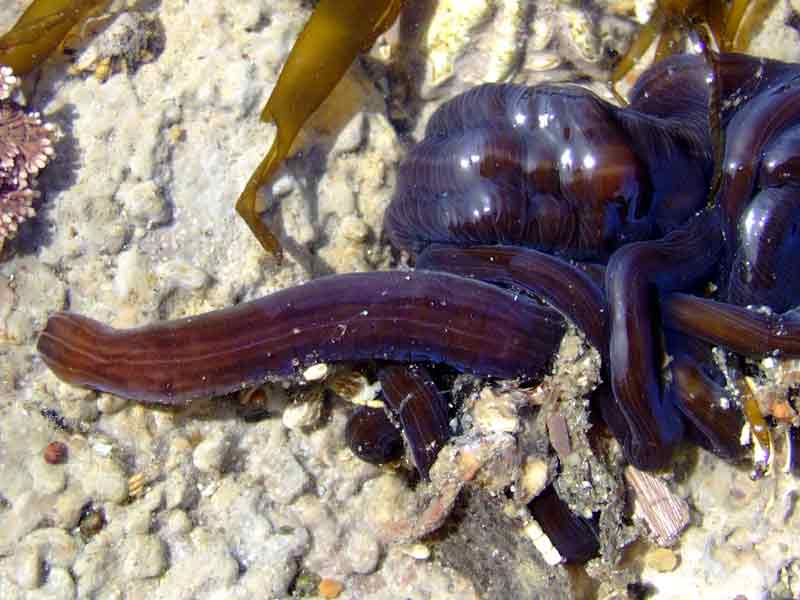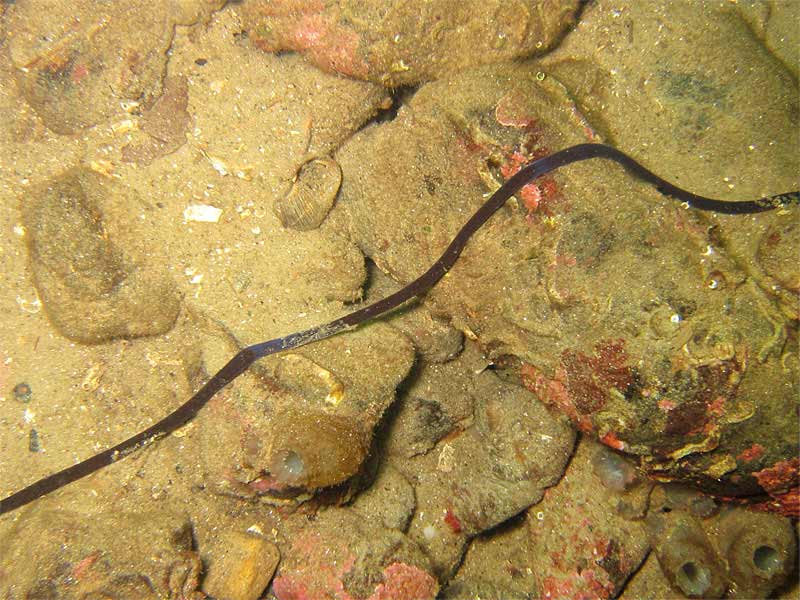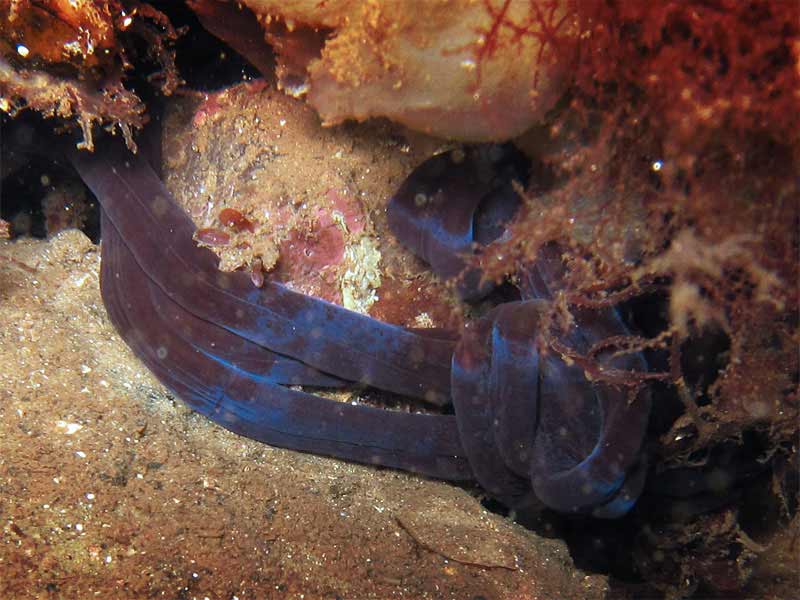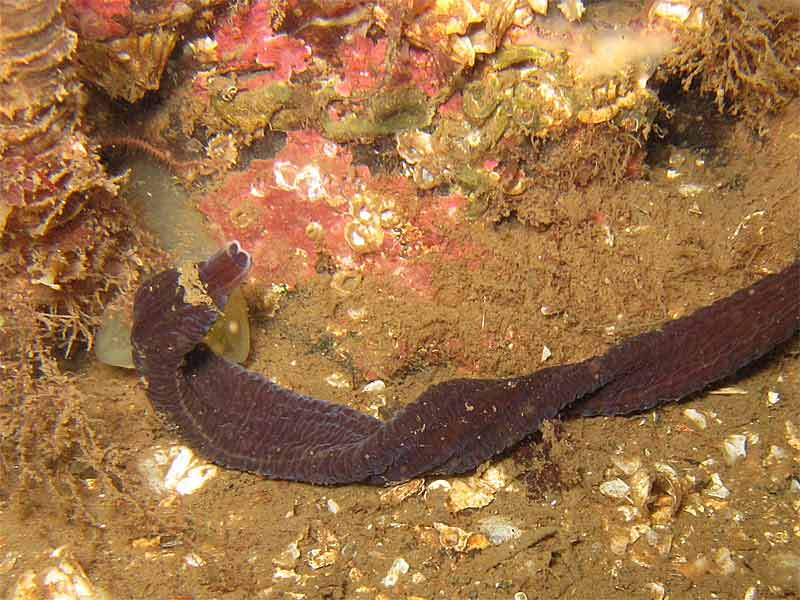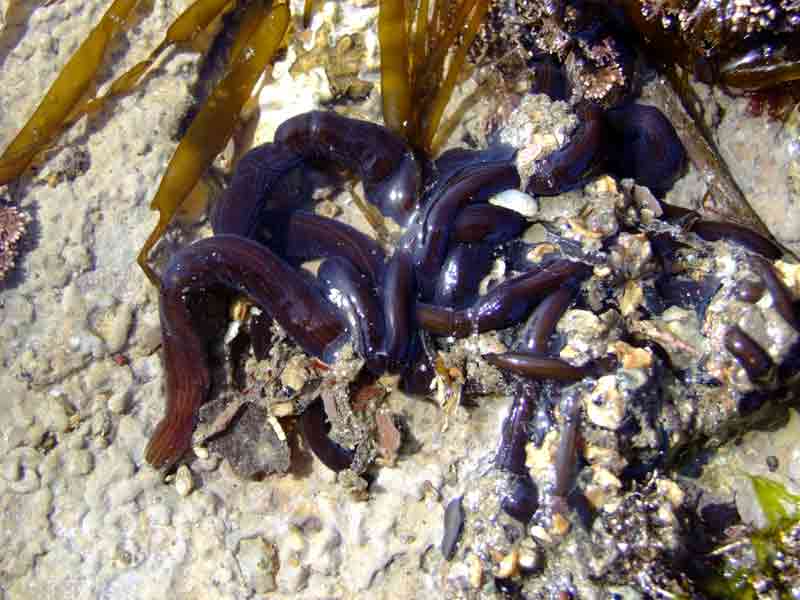 Researched by
Judith Oakley
Refereed by
Admin
Authority
(Gunnerus, 1770)
Other common names
-
Synonyms
-
Summary
Description
Lineus longissimus is an unsegmented, elongated ribbon worm. Young specimens range from dark olive brown to chocolate brown whereas adults are blackish brown to black. Epidermal cilia give the body a purplish irridescence. This species is the longest nemertean known. It is usually 5-15 m in length but can be over 30 m, usually 5 mm in width. The body is often streaked with pale longitudinal lines, especially on the anterior dorsal surface. The rectangular head has deep slits and ends in a pale colour tip. A row of up to 20 deep set reddish-brown or black eyes may be present either side of the snout. Pink or red cerebral ganglia may be seen through the epidermis.
Recorded distribution in Britain and Ireland
Most likely present all around Britain and Ireland, except perhaps eastern Scotland and England.
Global distribution
Ranging from Iceland eastwards to the Atlantic, North Sea and Baltic Coasts of Europe.
Habitat
Lineus longissimus is found on the lower shore coiled in writhing knots beneath boulders and on muddy sand. This species can often be found in rockpools entangled amongst Laminaria holdfasts or in rock fissures. In deeper sub-littoral areas, it occurs on muddy, sandy, stony or shelly substrata.
Identifying features
Ventral surface may be same colour or paler than dorsal.
Body may be streaked with pale longitudinal lines especially on anterior dorsal surface.
Rectangular head with pale colour tip.
10-20 deep set reddish brown or black eyes in a row either side of snout, which may be obscured by dark body colour.
Body unsegmented and ciliated, giving purplish irridescence.
Additional information
Lineus longissimus is the most commonly recorded nemertean in Britain. When handled, the animal produces large amounts of thick mucus with a faint pungent smell.
Bibliography
Bruce, J.R., Colman, J.S. & Jones, N.S., 1963. Marine fauna of the Isle of Man. Liverpool: Liverpool University Press.

Crothers, J.H. (ed.), 1966. Dale Fort Marine Fauna. London: Field Studies Council.

Gibson, R., 1982. British Nemerteans. Cambridge: Cambridge University Press

Hayward, P., Nelson-Smith, T. & Shields, C. 1996. Collins pocket guide. Sea shore of Britain and northern Europe. London: HarperCollins.

Hayward, P.J. & Ryland, J.S. 1994. The marine fauna of the British Isles and north-west Europe. Volume 1. Introduction and Protozoans to Arthropods. Oxford: Clarendon Press.

Howson, C.M. & Picton, B.E., 1997. The species directory of the marine fauna and flora of the British Isles and surrounding seas. Belfast: Ulster Museum. [Ulster Museum publication, no. 276.]

JNCC (Joint Nature Conservation Committee), 1999. Marine Environment Resource Mapping And Information Database (MERMAID): Marine Nature Conservation Review Survey Database. [on-line] http://www.jncc.gov.uk/mermaid
Datasets
Citation
This review can be cited as:
Oakley, J.A. 2005. Lineus longissimus Bootlace worm. In Tyler-Walters H. and Hiscock K. Marine Life Information Network: Biology and Sensitivity Key Information Reviews, [on-line]. Plymouth: Marine Biological Association of the United Kingdom. [cited 11-12-2023]. Available from: https://marlin.ac.uk/species/detail/2075
---
Last Updated: 23/06/2005