Short-beaked common dolphin (Delphinus delphis)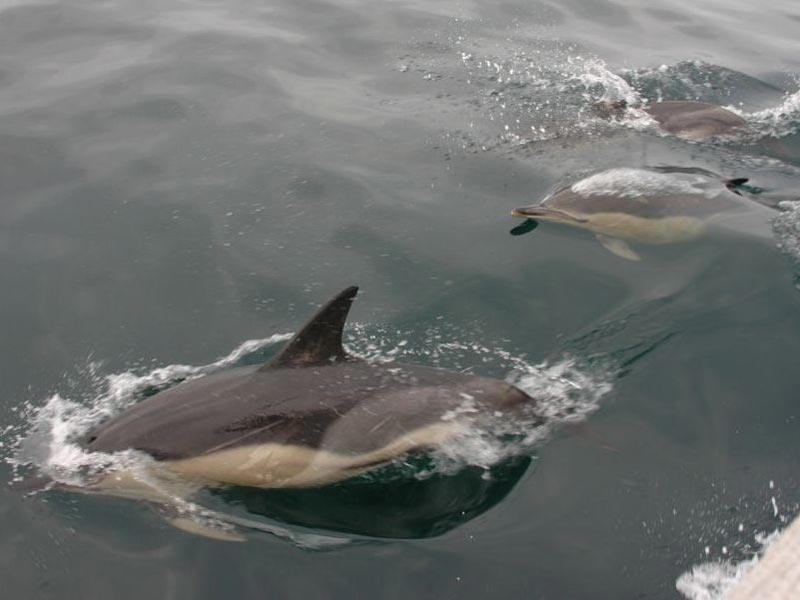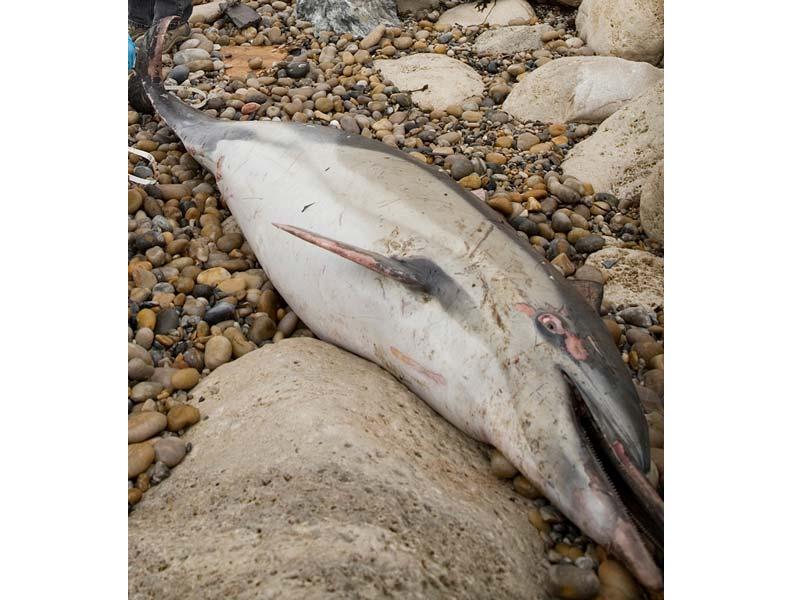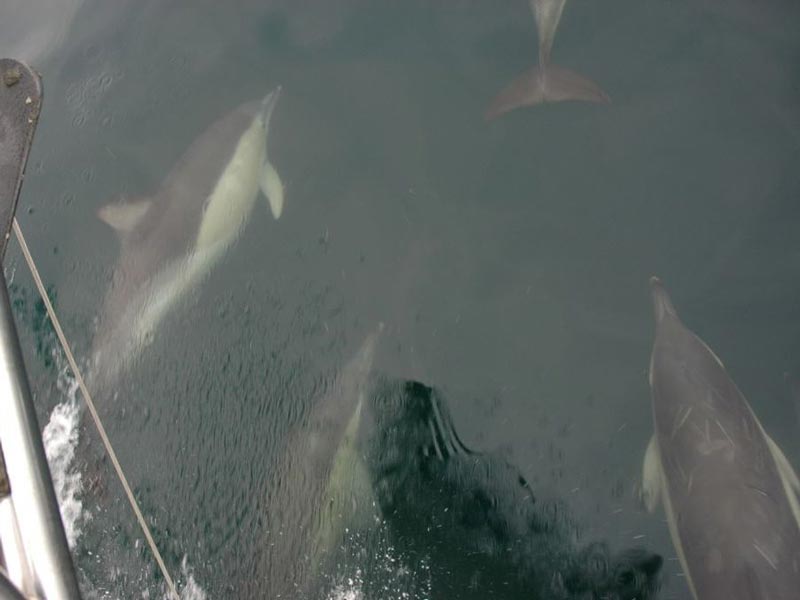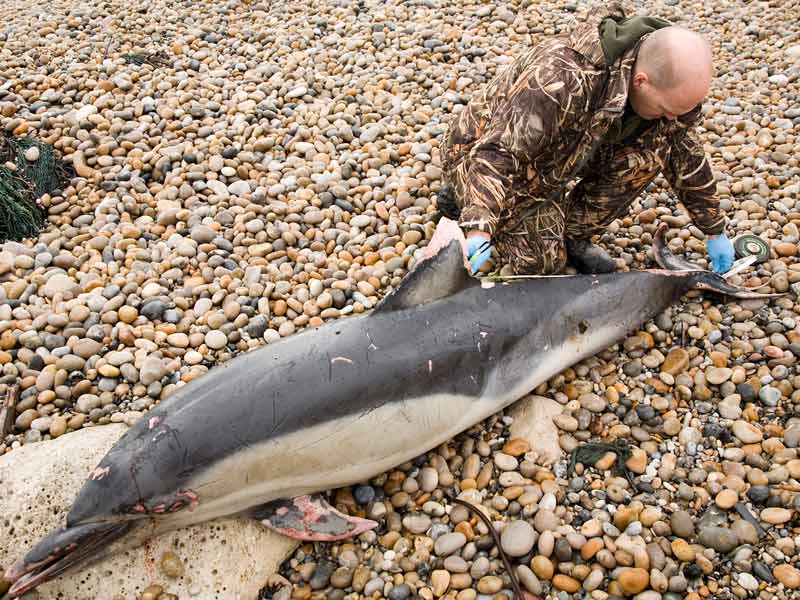 Researched by
Judith Oakley
Refereed by
This information is not refereed
Authority
Linnaeus, 1758
Other common names
-
Synonyms
-
Summary
Description
Delphinus delphis is among the most colourful of cetaceans. Its slender body is characterized by a well defined hour-glass pattern on the flanks. A yellow panel is present on the front and a grey one at the rear. A black cape forms a characteristic point on the flank, level with the dorsal fin. The belly is white and back black. Full-grown adults are 2-2.5 m long and calves 0.8 m long. The head has a black eye patch and there is a black stripe running from the corner of the mouth to the flipper. The beak is black or may be pale-tipped. Each half of both jaws contains 40-61 teeth.
Recorded distribution in Britain and Ireland
Recorded off the west coasts of Britain and Ireland. The species is found in continental shelf waters, especially the Celtic Sea, the western approaches to the Channel and off south and west Ireland. Seen in the Sea of Hebrides and North Sea in summer.
Global distribution
Temperate and tropical waters throughout the Pacific Ocean and adjoining seas, the North Atlantic Ocean, Mediterranean and Black Seas.
Habitat
Pelagic, generally occurring well out to sea and continental shelf waters.
Identifying features
Slender body with clearly demarcated black or pale-tipped beak.
40-61 teeth in each half of both jaws.
Head with black eye patch and black stripe running from corner of mouth to flipper.
Well defined hour-glass pattern on flanks with yellow panel at front and grey panel at rear, a black cape and white belly.
Dorsal fin black to almost white and about 40 cm in height.
Additional information
This highly gregarious species lives in pods of several hundreds to thousands of animals, depending on the time of day and time of year. Some observations suggest that permanent social units contain fewer than 30 dolphins (Nowak, 2003). Delphinus delphis usually travels at 10 km/hr but is capable of reaching more than 40 km/hr (Nowak, 2003). The common dolphin is highly vocal, producing clicks for echolocation, whistles for group coordination and various other sounds. This species is often seen breaching and somersaulting out of water and riding the bow waves of ships (Jefferson et al, 1993). It can dive to 280 m and remain submerged for 8 minutes. However, they usually remain below the surface for between 2 seconds and 2 minutes (Kinze, 2002). The calf is nursed by the mother for up to a year. For information on how to report dolphin sightings see 'Sealife Survey'.
Delphinus delphis is listed in the UK Biodiversity Action Plan list of Species of Conservation Concern (Biodiversity Steering Group, 1995; Anon, 1999 (e) ). All species of cetaceans are given protection under the Wildlife and Countryside Act 1981 and the Wildlife (Northern Ireland) Order 1985. All cetacean species are listed on Annex A of EU Council Regulation 338/97 and therefore treated by the EU as if they are on CITES Appendix I thus prohibiting their commercial trade. The common dolphin is listed in Annex II and IV (Animal and Plant Species of Community Interest in Need of Strict Protection) of the EC Habitats Directive. Under Annex IV the keeping, sale or exchange of the species is banned, as well as deliberate capture, killing or disturbance. The Directive requires that member states monitor the incidental capture and killing of all dolphins. An 'Agreement on the Conservation of Small Cetaceans in the Baltic and North Seas' (ASCOBANS), formulated in 1992, has now been signed by seven European countries, including the UK. The Agreement makes provision for protection of specific areas, monitoring, research, information exchange, pollution control and heightening public awareness. The Bonn Convention includes North and Baltic Sea populations of common dolphin on Appendix II.
A report on dolphins in the south west of England (Marine Connection & Wildlife Trusts, 2007) informs of large increases in sightings of
Delphinus delphis
since 2000, with a peak from December to February.
Bibliography
Anonymous, 1999e. Small dolphins. Grouped Species Action Plan. http://www.ukbap.org.uk/UKPlans.aspx?ID=337, 2002-01-25

Biodiversity Steering Group, 1995. Biodiversity: the UK Steering Group report, vol. 1 & 2. London: HMSO.

Howson, C.M. & Picton, B.E., 1997. The species directory of the marine fauna and flora of the British Isles and surrounding seas. Belfast: Ulster Museum. [Ulster Museum publication, no. 276.]

Jefferson, T.A., Leatherwood, S. & Webber, M.A., 1994. FAO species identification guide. Marine mammals of the world. Rome: United Nations Environment Programme, Food and Agriculture Organization of the United Nations.

Kinze, C. C., 2002. Photographic Guide to the Marine Mammals of the North Atlantic. Oxford: Oxford University Press.

Marine Connection & Wildlife Trusts, 2007. The south west dolphin report.

Nowak, R.M., 2003. Walker's Marine Mammals of the World. Baltimore: John Hopkins University Press.

Reid. J.B., Evans. P.G.H., Northridge. S.P. (ed.), 2003. Atlas of Cetacean Distribution in North-west European Waters. Peterborough: Joint Nature Conservation Committee.
Datasets
Citation
This review can be cited as:
Oakley, J.A. 2008. Delphinus delphis Short-beaked common dolphin. In Tyler-Walters H. and Hiscock K. Marine Life Information Network: Biology and Sensitivity Key Information Reviews, [on-line]. Plymouth: Marine Biological Association of the United Kingdom. [cited 06-12-2023]. Available from: https://marlin.ac.uk/species/detail/2082
---
Last Updated: 03/07/2008