A sea slug (Armina loveni)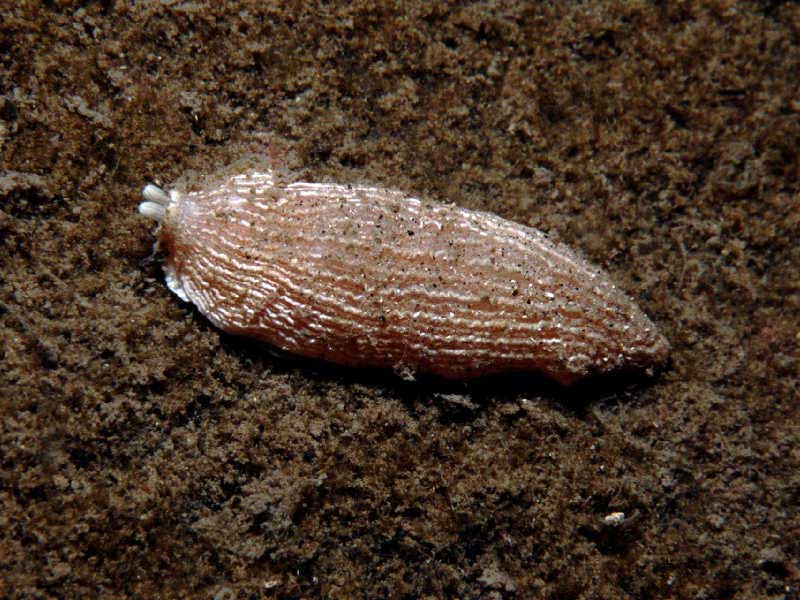 Researched by
Sonia Rowley
Refereed by
Admin
Authority
(Bergh, 1866)
Other common names
-
Synonyms
-
Summary
Description
This is an uncommon nudibranch up to 4 cm long. It has a flattened leaf-like appearance with short stubby rhinophores at the front of the mantle. The frontal margin of the mantle is indented to protect the rhinophores, which are united at the base and have a swollen sensory outgrowth at the front. The head bears the rhinophores and a large, flat, oval cephalic shield, above the mouth. The ample mantle is brick-red with a white foot, and up to 50 distinctive white longitudinal ridges, which can be irregular and wavy especially towards the pale edges. Numerous large defensive glands are contained within the mantle rim, and underneath the rim is a symmetrical series of projections, the gills (up to 20 longitudinal folds) and the lateral lamellae (numbering up to 30 on each side).
Recorded distribution in Britain and Ireland
Scattered records from the Shetland Isles, the east coast of Scotland, south west of England, the Celtic Sea, Ireland, the Isle of Man and western Scotland.
Habitat
Armina loveni
crawls along the surface or burrows in muddy sand. Usually found with sea pens
Virgularia mirabilis
in sheltered localities at 10-75 m deep.
Identifying features
Up to 4 cm in length.
Brick-red mantle with white foot and up to 50 white longitudinal ridges.
Flattened leaf-like appearance.
Short stubby rhinophores.
Additional information
Presumed to feed on Cnidaria but this not certain. Closely resembles Armina neapolitana, which can be distinguished by the arrangement of the teeth on the radula (Thompson & Brown, 1984). However, this requires dissection. The spawn resembles a tightly coiled pale pink thread.
Bibliography
Bruce, J.R., Colman, J.S. & Jones, N.S., 1963. Marine fauna of the Isle of Man. Liverpool: Liverpool University Press.

Hayward, P., Nelson-Smith, T. & Shields, C. 1996. Collins pocket guide. Sea shore of Britain and northern Europe. London: HarperCollins.

Howson, C.M. & Picton, B.E., 1997. The species directory of the marine fauna and flora of the British Isles and surrounding seas. Belfast: Ulster Museum. [Ulster Museum publication, no. 276.]

JNCC (Joint Nature Conservation Committee), 1999. Marine Environment Resource Mapping And Information Database (MERMAID): Marine Nature Conservation Review Survey Database. [on-line] http://www.jncc.gov.uk/mermaid

Picton, B. E. & Morrow, C.C., 1994. A Field Guide to the Nudibranchs of the British Isles. London: Immel Publishing Ltd.

Picton, B.E. & Costello, M.J., 1998. BioMar biotope viewer: a guide to marine habitats, fauna and flora of Britain and Ireland. [CD-ROM] Environmental Sciences Unit, Trinity College, Dublin.

Thompson, T. E. & Brown, G. H., 1976. British Opisthobranch Molluscs. London: Academic Press. [Synopses of the British Fauna, no. 8.]

Thompson, T.E. & Brown, G.H., 1984. Biology of Opisthobranch Molluscs, vol. II. London: Ray Society.
Datasets
Citation
This review can be cited as:
Rowley, S.J. 2018. Armina loveni A sea slug. In Tyler-Walters H. and Hiscock K. Marine Life Information Network: Biology and Sensitivity Key Information Reviews, [on-line]. Plymouth: Marine Biological Association of the United Kingdom. [cited 10-12-2023]. Available from: https://marlin.ac.uk/species/detail/2085
---
Last Updated: 03/04/2018