Granular isopod (Idotea granulosa)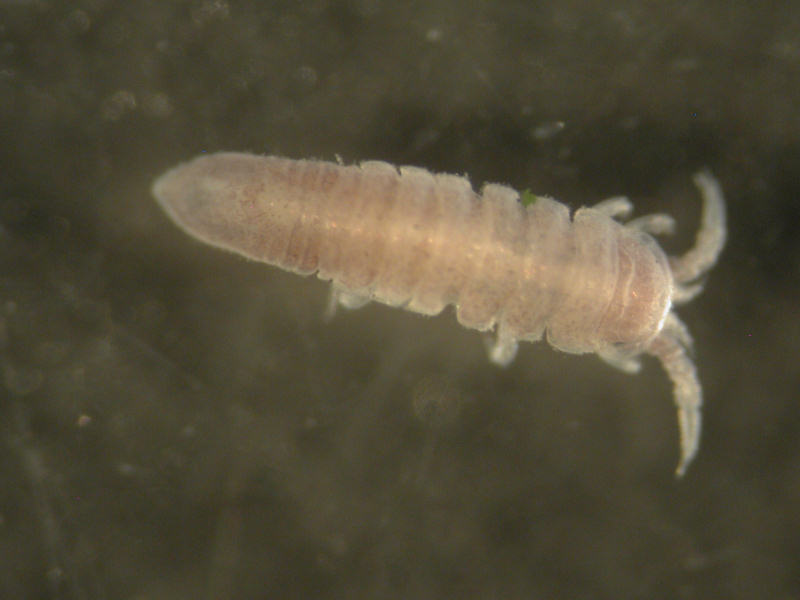 Researched by
Sonia Rowley
Refereed by
Admin
Authority
Rathke, 1843
Other common names
-
Synonyms
-
Summary
Description
Idotea granulosa has an elongated body that is oval in shape, sharply narrowing posteriorly and dorsoventrally flattened. The antennae are less than one-fifth of the overall body length. Males are 5-20 mm in length, where females are 6-13 mm in length. It is uniformally brown, red or green with occasional white longitudal markings along its back. In adults pleotelson initially narrows quite sharply having concave lateral sides & forming a distinct median blunt point.
Recorded distribution in Britain and Ireland
Recorded throughout Britain & Ireland, but absent on most of the east coast of England. This species may be under recorded.
Habitat
This is an species found feeding on algae, on open, but not overly-exposed coasts.
Identifying features
Elongated oval shaped body, sharply narrowing and dorsoventrally flattened.
Body length is males 5-20 mm and 6-13 mm in females.
Uniformally brown, red or green in colour.
Occasional white markings along its back.
Antennae one-fifth of body length.
Additional information
Idotea granulosa colour varies depending on the nature of the algae inhabited. Larger specimens are found on the brown algae Ascophyllum nodosum and Fucus spp. Smaller specimens are found on green algae Cladophora spp. and Polysiphonia spp.
Bibliography
Bruce, J.R., Colman, J.S. & Jones, N.S., 1963. Marine fauna of the Isle of Man. Liverpool: Liverpool University Press.

Crothers, J.H. (ed.), 1966. Dale Fort Marine Fauna. London: Field Studies Council.

Gibson, R., Hextall, B. & Rogers, A., 2001. Photographic guide to the sea and seashore life of Britain and north-west Europe. Oxford: Oxford University Press.

Hayward, P.J. & Ryland, J.S. (ed.) 1995b. Handbook of the marine fauna of North-West Europe. Oxford: Oxford University Press.

Howson, C.M. & Picton, B.E., 1997. The species directory of the marine fauna and flora of the British Isles and surrounding seas. Belfast: Ulster Museum. [Ulster Museum publication, no. 276.]

JNCC (Joint Nature Conservation Committee), 1999. Marine Environment Resource Mapping And Information Database (MERMAID): Marine Nature Conservation Review Survey Database. [on-line] http://www.jncc.gov.uk/mermaid

Naylor, E., 1972. British marine isopods. London: Academic Press. [Synopses of the British Fauna, no. 3.]

Picton, B.E. & Costello, M.J., 1998. BioMar biotope viewer: a guide to marine habitats, fauna and flora of Britain and Ireland. [CD-ROM] Environmental Sciences Unit, Trinity College, Dublin.
Datasets
Citation
This review can be cited as:
Rowley, S.J. 2005. Idotea granulosa Granular isopod. In Tyler-Walters H. and Hiscock K. Marine Life Information Network: Biology and Sensitivity Key Information Reviews, [on-line]. Plymouth: Marine Biological Association of the United Kingdom. [cited 10-12-2023]. Available from: https://marlin.ac.uk/species/detail/2091
---
Last Updated: 24/11/2005