Sandy leaf bearer (Phyllophora crispa)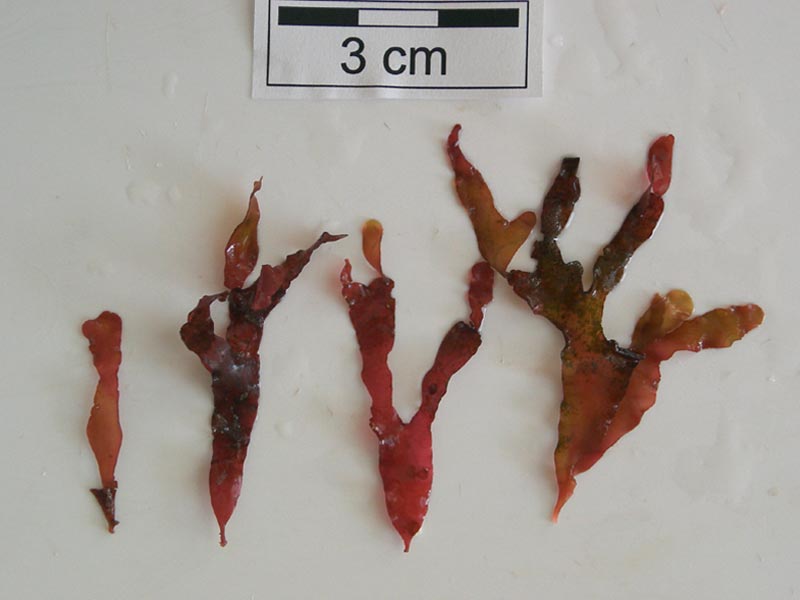 Researched by
Jessica Heard
Refereed by
Admin
Authority
(Hudson) P.S.Dixon, 1964
Other common names
-
Synonyms
-
Summary
Description
A bright red or pink seaweed. Each plant has a small disk-shaped base and erect fronds. The fronds consist of short cylindrical stipes (stalks) rarely longer than 1cm long and blades which may be up to 15 cm long and 10 mm wide. The fronds are dichotomously branched, with undulating margins and an indistinct midrib. The tip of each frond is distinctly rounded. The fronds are perennial and in some case 5 or 6 new periods of growth can be identified. Regeneration occurs following erosion or animal grazing. Continual regeneration leads to great variation in the appearance of individual plants as each new growth could come from the end, margin or surface of the blade. Fronds are frequently encrusted with the spiral tube worm Spirorbis spirorbis or bryozoans.
Recorded distribution in Britain and Ireland
Phyllophora crispa occurs on all coasts around the British Isles. Records from eastern England are few, probably reflecting a lack of suitable substrata.
Habitat
Phyllophora crispa grows on rock subtidally to depths of 30 m and is commonly found in shady pools in lower intertidal areas.
Identifying features
Flat red or pink fronds.
Short fronds with undulating margins.
Tips of fronds are rounded.
Holds its shape out of water.
Due to continual regeneration, successive growth episodes on each plant can be easily identified.
Additional information
Phyllophora crispa is a cartilaginous seaweed and can, therefore, hold its shape out of water.
Bibliography
Dixon, P.S. & Irvine, L.M., 1977. Seaweeds of the British Isles. Volume 1 Rhodophyta. Part 1 Introduction, Nemaliales, Gigartinales. London: British Museum (Natural History) London.

Guiry, M.D. & Nic Dhonncha, E., 2002. AlgaeBase. World Wide Web electronic publication http://www.algaebase.org,

Hardy, F.G. & Guiry, M.D., 2003. A check-list and atlas of the seaweeds of Britain and Ireland. London: British Phycological Society

Hiscock, S., 1986b. A field key to the British Red Seaweeds. Taunton: Field Studies Council. [Occasional Publication No.13]

JNCC (Joint Nature Conservation Committee), 1999. Marine Environment Resource Mapping And Information Database (MERMAID): Marine Nature Conservation Review Survey Database. [on-line] http://www.jncc.gov.uk/mermaid
Datasets
Citation
This review can be cited as:
Heard, J.R. 2005. Phyllophora crispa Sandy leaf bearer. In Tyler-Walters H. and Hiscock K. Marine Life Information Network: Biology and Sensitivity Key Information Reviews, [on-line]. Plymouth: Marine Biological Association of the United Kingdom. [cited 06-12-2023]. Available from: https://marlin.ac.uk/species/detail/2100
---
Last Updated: 14/02/2005