Imperial anemone (Capnea sanguinea)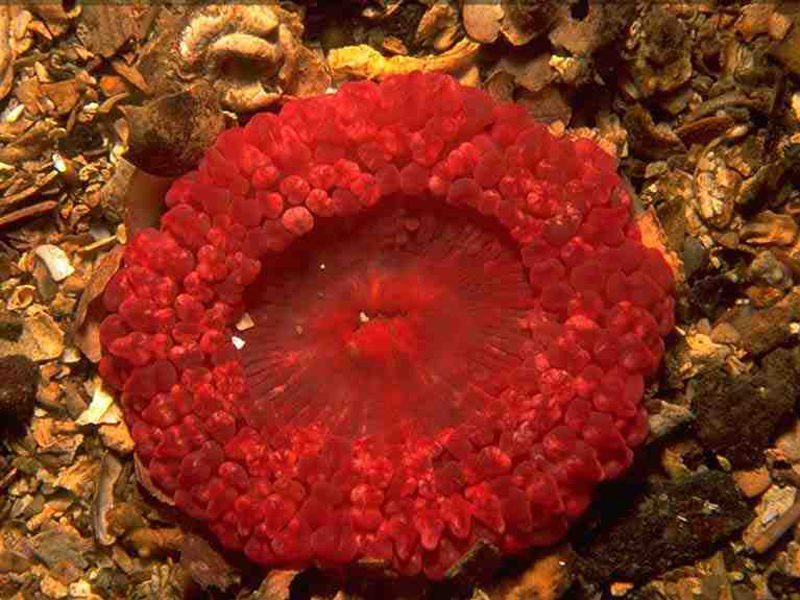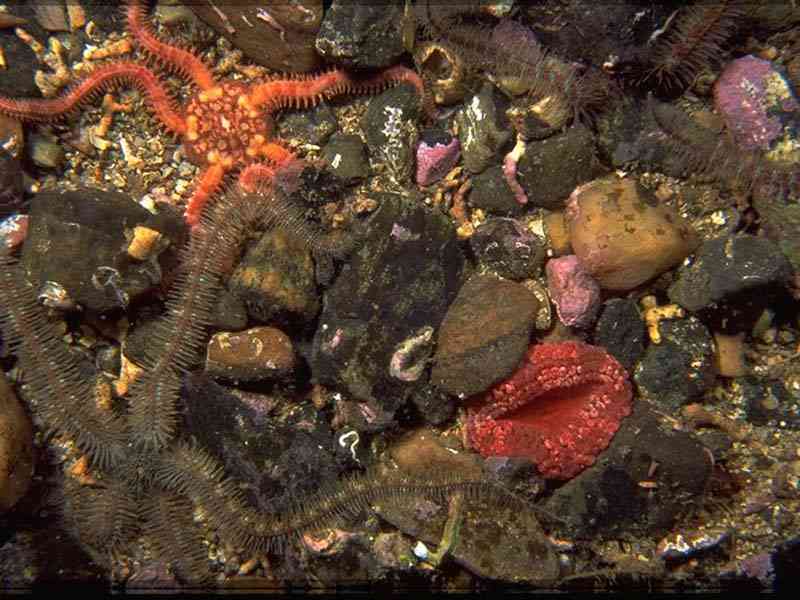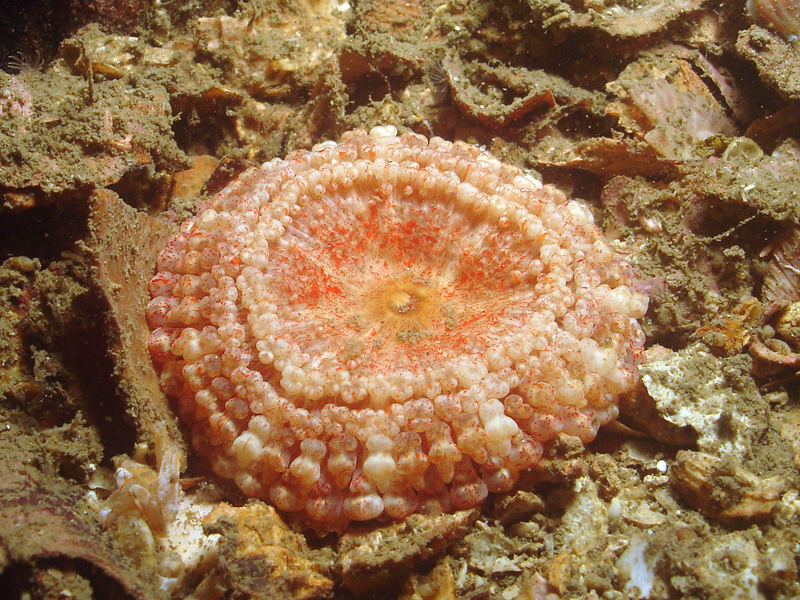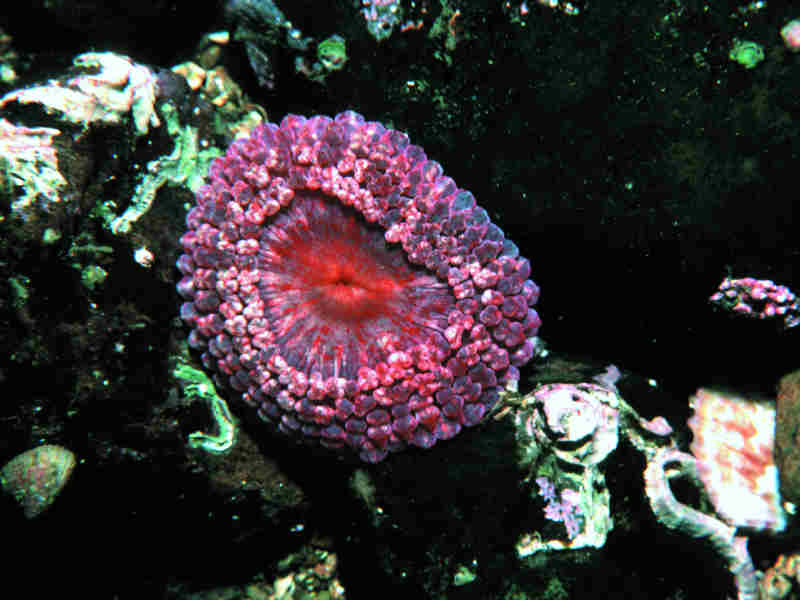 Researched by
Sonia Rowley
Refereed by
This information is not refereed
Authority
Forbes, 1841
Other common names
-
Synonyms
Aureliania heterocera
Summary
Description
The imperial anemone gets its name from its often crimson appearance, although the colour varies from red, yellow or purplish and it is often marbled or blotched. It has a flattish oral disc not wider than the collar, and the tentacles are set close to its edge. The disc is primarily cream or red, and the tentacles are white or crimson with white flecks. The column is bell-shaped with a collar (parapet) surrounding a shallow groove (fosse). The tentacles have a short stalk and a terminal knob, which can vary in shape from spherical, pointed to lobed. It has up to 150 short and knobbed tentacles arranged in four equal cycles. The base can be 7-9 cm in diameter.
Recorded distribution in Britain and Ireland
This species is rarely seen but has been recorded from the southwest of England, the west coast of Scotland and Wales, as well as the northeast coast of Ireland.
Global distribution
Recorded from the west coasts of the British Isles and the northwest coasts of France.
Habitat
This species can be found buried in sand, gravel or mud, and also attached to rocks and shells. Has been recorded from the lower shore to offshore depths of 600 m.
Depth range
Lower shore - 600 m
Identifying features
Wide bell-shaped column with a base of 7-9 cm in diameter.
Up to 150 tentacles arranged in concentric cycles.
Tentacles short with a terminal knob on each.
Additional information
This species' short tentacles distinguishes it from any other British anemone. In addition, they contain relatively few Stinging cells (nematocysts). Food particles are taken in when the throat everts, with no assistance from the tentacles. It is able to rapidly retract its disc and tentacles. Its broad base may be an adaptation to living in soft substrata as it acts as an anchor (Manuel, 1988).
Bibliography
Manuel, R.L., 1988. British Anthozoa. Synopses of the British Fauna (New Series) (ed. D.M. Kermack & R.S.K. Barnes). The Linnean Society of London [Synopses of the British Fauna No. 18.]. DOI https://doi.org/10.1002/iroh.19810660505

Picton, B.E. & Costello, M.J., 1998. BioMar biotope viewer: a guide to marine habitats, fauna and flora of Britain and Ireland. [CD-ROM] Environmental Sciences Unit, Trinity College, Dublin.

Picton, B.E. & Morrow, C.C., 2000. Encyclopaedia of Marine Life of Britain and Ireland. http://www.habitas.org.uk/marinelife/index.html, 2003-09-18

Stephenson, T.A., 1935. The British Sea Anemones, vol. 2. London: Ray Society.

Wood, E. (ed.), 1988. Sea Life of Britain and Ireland. Marine Conservation Society. IMMEL Publishing, London
Datasets
Citation
This review can be cited as:
Rowley, S.J. 2008. Capnea sanguinea Imperial anemone. In Tyler-Walters H. and Hiscock K. Marine Life Information Network: Biology and Sensitivity Key Information Reviews, [on-line]. Plymouth: Marine Biological Association of the United Kingdom. [cited 11-12-2023]. Available from: https://marlin.ac.uk/species/detail/2113
---
Last Updated: 17/04/2008