Bristly mail shell (Acanthochitona crinita)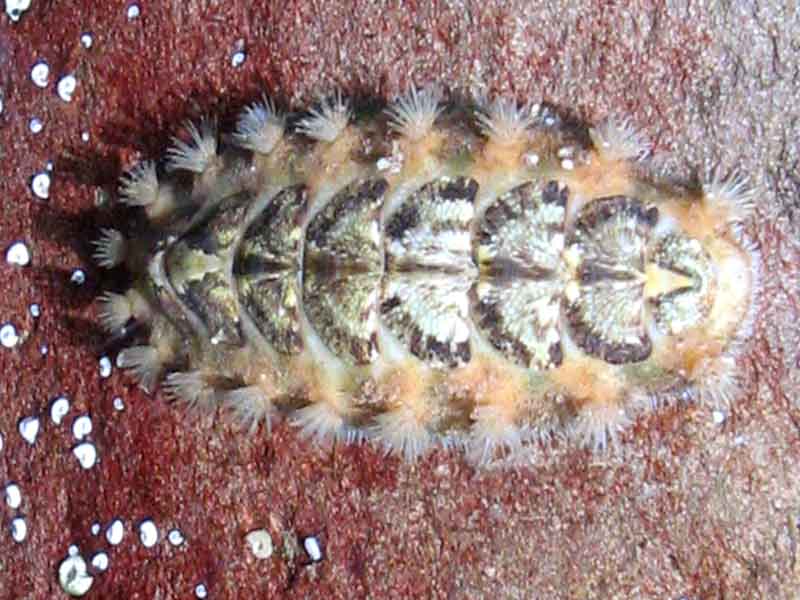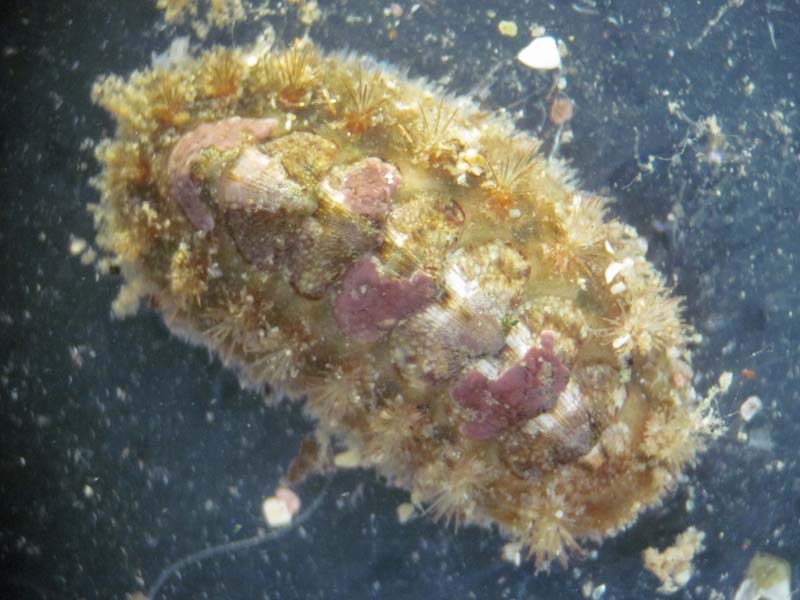 Researched by
Sonia Rowley
Refereed by
This information is not refereed
Authority
(Pennant, 1777)
Other common names
Bristly mail chiton
Synonyms
-
Summary
Description
Acanthochitona crinita is an oval-shaped chiton with a flattened elongate body up to 3.4 cm long. The body is protected by a shell composed of eight interlocked transverse, coarsely keeled plates or valves. These can vary in colouration and combination from off-white, yellowish-brown, olive-green, pinkish or marbled. This species has a white V-shaped area in the centre of the valves. The shell valves possess notches, with five typically on the anterior margin of the head valve. The intermediate valves are short and wing-like, whereas the tail valve is small and oval. Each of the shell valves is covered with irregularly distributed tubercles of various sizes. The broad girdle is fringed with 18-20 dense tufts of colourless bristles, four surrounding the head valve and two at each valve intersection. There are short spines and randomly distributed curved spines that also cover the remainder of the girdle. In the posterior region of the mantle groove, there are 10-15 pairs of gills.
Recorded distribution in Britain and Ireland
This species has been recorded from the west and south-west coasts of Britain and Ireland. Probably under-recorded.
Global distribution
Recorded from the British Isles and north coast of France with a few scattered records in the North Sea towards the south coast of Norway. Some records on the south and north-west Italian coast as well as around Palma. One record from the southern coasts of Morocco and another from Greece.
Habitat
Acanthochitona crinita can be found firmly attached to the underside of rocks on the lower shore and sublittoral down to 70 m in depth.
Depth range
Lower shore to 70 m
Identifying features
Flattened, elongated oval body up to 3.4 cm long.
Colour variable; off-white, yellowish-brown, olive-green, pinkish, or marbled.
Eight shell valves covered in irregular tubercles.
A white V-shaped area in the centre of the valves.
Girdle fringed with 18-20 tufts of bristles.
Additional information
'Coat-of-mail' shells get their name from the armoured appearance of the valves like links in chain mail. These eight valves allow Acanthochitona crinita to bend and tightly cling onto uneven rock surfaces. When dislodged, they roll up like woodlice.
Bibliography
Baxter. J. & Light. J., 1990. Some unusual specimens of Acanthochitona crinita from off the Isle of Wight, Weymouth and Anglesey. Journal of Conchology, 33, 335-340.

Bruce, J.R., Colman, J.S. & Jones, N.S., 1963. Marine fauna of the Isle of Man. Liverpool: Liverpool University Press.

Dipper, R., & Powell. A., 1984. Field guide to the water life of Britain. London: Reader's Digest Association Limited.

Gibson, R., Hextall, B. & Rogers, A., 2001. Photographic guide to the sea and seashore life of Britain and north-west Europe. Oxford: Oxford University Press.

Hayward, P., Nelson-Smith, T. & Shields, C. 1996. Collins pocket guide. Sea shore of Britain and northern Europe. London: HarperCollins.

Hayward, P.J. & Ryland, J.S. (ed.) 1995b. Handbook of the marine fauna of North-West Europe. Oxford: Oxford University Press.

Jones, A.M. & Baxter, J.M., 1987b. Molluscs: Caudofoveata, Solenogastres, Polyplacophora and Scaphopoda. Avon: The Bath Press. [Synopses of the British Fauna No. 37.]
Datasets
Citation
This review can be cited as:
Rowley, S.J. 2005. Acanthochitona crinita Bristly mail shell. In Tyler-Walters H. and Hiscock K. Marine Life Information Network: Biology and Sensitivity Key Information Reviews, [on-line]. Plymouth: Marine Biological Association of the United Kingdom. [cited 02-12-2023]. Available from: https://marlin.ac.uk/species/detail/2118
---
Last Updated: 22/07/2005