Red bandfish (Cepola macrophthalma)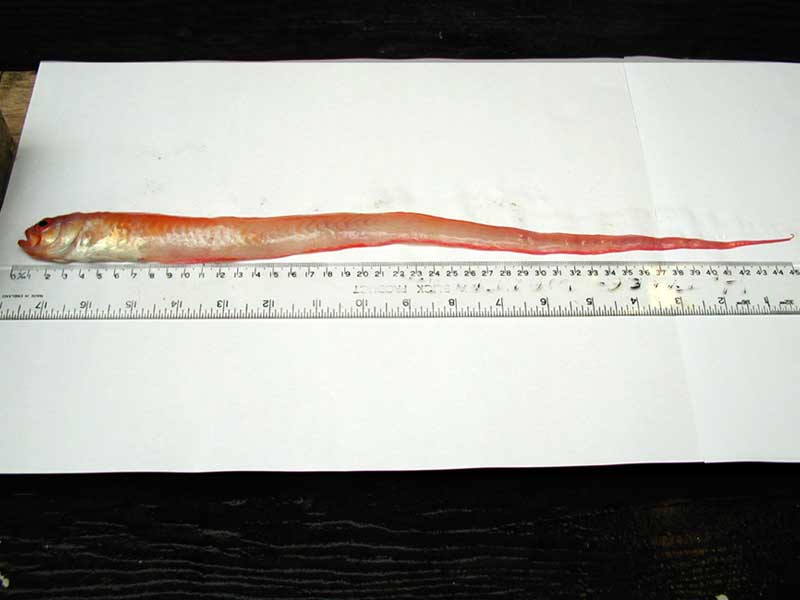 Researched by
Al Reeve
Refereed by
Admin
Authority
(Linnaeus, 1758)
Other common names
-
Synonyms
Cepola rubescens
Summary
Description
Cepola rubescens is unmistakable. It is an elongate, thin fish which tapers to a pointed tail and has long dorsal and anal fins stretching almost the entire length of the body. It grows to a maximum of 70 cm, although the red bandfish is more commonly seen at sizes between 30 -35 cm. The back and sides of Cepola rubescens are red or orange-red in colour and the belly is orange or yellowish. The dorsal and anal fins are clear or yellowy with the first part of the dorsal fin coloured red. The silvery eye of the red bandfish is large, as is the mouth, which has a single row of pointed, slender, widely spaced teeth.
Recorded distribution in Britain and Ireland
Records for Cepola rubescens are few and restricted to the south west coasts of England and Wales and the south and south west of Ireland. The range of the red bandfish probably extends as far as the west coast of Scotland and all around Ireland.
Habitat
Cepola rubescens is most commonly found in water 15 -200 m in depth on muddy or sandy bottoms. It lives in vertical burrows singly or in small groups and is occasionally seen swimming in midwater.
Identifying features
Long dorsal and anal fins, yellowish or clear with the front portion of the dorsal fin red.
The pectoral fins are quite small and originate just behind the pelvic fins.
Large silvery eye .
Large oblique mouth with long, pointed teeth.
Back and sides red or orange-red in colour with an orange or yellowy belly.
Elongate, ribbon-like fish.
Grows up to 70 cm.
Additional information
Inshore populations of Cepola rubescens may be transitory. The population of around 14,000 individuals present at Lundy in the mid 1970's has been absent except for a few individuals in the 1980's through to 2005 at least (Hiscock, 2003; K. Hiscock pers. comm.).
Bibliography
FishBase, 2000. FishBase. A global information system on fishes. [On-line] http://www.fishbase.org, 2001-05-03

Hiscock, K., 2002. Changes in the marine life of Lundy. Report of the Lundy Field Society. 52, 84-93. Available from https://lfs-resources.s3.amazonaws.com/ar52/LFS_Annual_Report_Vol_52_Part_16.pdf

Howson, C.M. & Picton, B.E., 1997. The species directory of the marine fauna and flora of the British Isles and surrounding seas. Belfast: Ulster Museum. [Ulster Museum publication, no. 276.]

JNCC (Joint Nature Conservation Committee), 1999. Marine Environment Resource Mapping And Information Database (MERMAID): Marine Nature Conservation Review Survey Database. [on-line] http://www.jncc.gov.uk/mermaid

MarLIN (Marine Life Information Network), 2005. SEArchable BEnthic Data (SEABED) Map [on-line]. Data Access Sub-programme, Marine Life Information Network for Britian and Ireland http://www.marlin.ac.uk,

Picton, B.E., & Costello, M.J., 2001. BioMar biotope viewer: a guide to marine habitats and fauna of Britain and Ireland. http://www.itsligo.ie/biomar/echinode/ECHSEP.HTM, 2001-06-01

Wheeler, A., 1969. The fishes of the British Isles and north-west Europe. London: Macmillan.

Whitehead, P.J.P., Bauchot, M.-L., Hureau, J.-C., Nielson, J. & Tortonese, E. 1986. Fishes of the North-eastern Atlantic and the Mediterranean. Vol. I, II & III. Paris: United Nations Educational, Scientific and Cultural Organisation (UNESCO).
Datasets
Isle of Wight Local Records Centre, 2017. IOW Natural History & Archaeological Society Marine Records. Occurrence dataset: https://doi.org/10.15468/7axhcw accessed via GBIF.org on 2018-09-27.

NBN (National Biodiversity Network) Atlas. Available from: https://www.nbnatlas.org.

OBIS (Ocean Biodiversity Information System), 2023. Global map of species distribution using gridded data. Available from: Ocean Biogeographic Information System. www.iobis.org. Accessed: 2023-12-11
Citation
This review can be cited as:
Reeve, A. 2005. Cepola macrophthalma Red bandfish. In Tyler-Walters H. and Hiscock K. Marine Life Information Network: Biology and Sensitivity Key Information Reviews, [on-line]. Plymouth: Marine Biological Association of the United Kingdom. [cited 11-12-2023]. Available from: https://marlin.ac.uk/species/detail/2125
---
Last Updated: 30/06/2005