Milky-white sea slug (Carronella pellucida)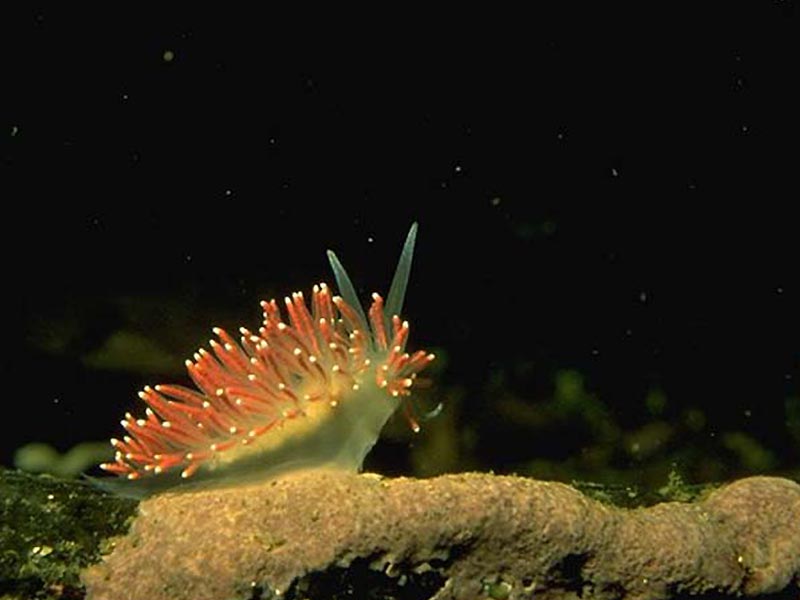 Researched by
Sonia Rowley
Refereed by
This information is not refereed
Authority
(Alder & Hancock, 1843)
Other common names
Red-gilled nudibranch, Pellucid aeolis, Pellucid aeolid
Synonyms
Coryphella pellucida (Alder & Hancock, 1843), Flabellina pellucida (Alder & Hancock, 1843)
Summary
Description
Carronella pellucida has a narrow elongate body up to 4 cm in length. It is translucent white in colour with bright red digestive glands in the numerous cerata on its dorsal surface. The cerata are arranged in distinct clusters, protruding from a common stalk (peduncle). Long and evenly sized, the cerata give a shaggy appearance. The ceratal tips are capped with white pigment unlike other species where subapical rings are present (see Coryphella browni . White pigments also cover major parts of the rhinophores and oral tentacles, as well as the tail tip. The head is narrower than the tail, and bares a pair of finely wrinkled rhinophores nearly twice the length of the oral tentacles. The anus is between the first and second ceratal group.
Recorded distribution in Britain and Ireland
Carronella pellucida is an uncommon species recorded in west and north east Scotland; Anglesey and Pembrokeshire, Wales; Castle Point, Dart estuary, south west England and in Loch Hyne, south west Ireland.
Habitat
This species can be found feeding mainly on Eudendrium arbuscula, in sheltered areas exposed to tidal streams. From the intertidal zone to 120 m deep on hard rocky substrata.
Identifying features
Up to 4 cm in length.
White translucent body.
Bright red cerata capped with white pigment.
Additional information
This is an uncommon species (Picton & Morrow, 1994) and can be confused with other Coryphella species except that Carronella pellucida have white capped ceratal tips not subapical rings. Spawning occurs in spring and early summer, where the thready spawn is laid in a wavy spiral amongst this species food, commonly Eudendrium arbusculum. Carronella pelludica may feed on other Eudendrium sp. and occasionally Tubularia sp. The nematocysts (defensive stinging cells) are transferred, unharmed from the hydriod prey, through the digestive gland to the terminal cnidosacs in the tips of the cerata. The nematocysts are used by Carronella pelludica as defense against predators.
Bibliography
Howson, C.M. & Picton, B.E., 1997. The species directory of the marine fauna and flora of the British Isles and surrounding seas. Belfast: Ulster Museum. [Ulster Museum publication, no. 276.]

JNCC (Joint Nature Conservation Committee), 1999. Marine Environment Resource Mapping And Information Database (MERMAID): Marine Nature Conservation Review Survey Database. [on-line] http://www.jncc.gov.uk/mermaid

Kuzirian, A.M., 1979. Taxonomy and Biology of four New England Coryphellid nudibranchs. Journal of Molluscan Studies, 45, 239-261.

Picton, B. E. & Morrow, C.C., 1994. A Field Guide to the Nudibranchs of the British Isles. London: Immel Publishing Ltd.

Picton, B.E. 1980. A new species of Coryphella (Gastropoda: Opisthobranchia) from the British Isles. Irish Naturalists' Journal, 20, 15-19.

Rudman, B., 2002. Sea slug forum [on-line]. http://www.seaslugforum.net/, 2004-06-23
Datasets
NBN (National Biodiversity Network) Atlas. Available from: https://www.nbnatlas.org.

OBIS (Ocean Biodiversity Information System), 2023. Global map of species distribution using gridded data. Available from: Ocean Biogeographic Information System. www.iobis.org. Accessed: 2023-12-11
Citation
This review can be cited as:
Rowley, S.J. 2007. Carronella pellucida Milky-white sea slug. In Tyler-Walters H. and Hiscock K. Marine Life Information Network: Biology and Sensitivity Key Information Reviews, [on-line]. Plymouth: Marine Biological Association of the United Kingdom. [cited 11-12-2023]. Available from: https://marlin.ac.uk/species/detail/2132
---
Last Updated: 07/06/2007