Narrow-hinge astarte (Astarte montagui)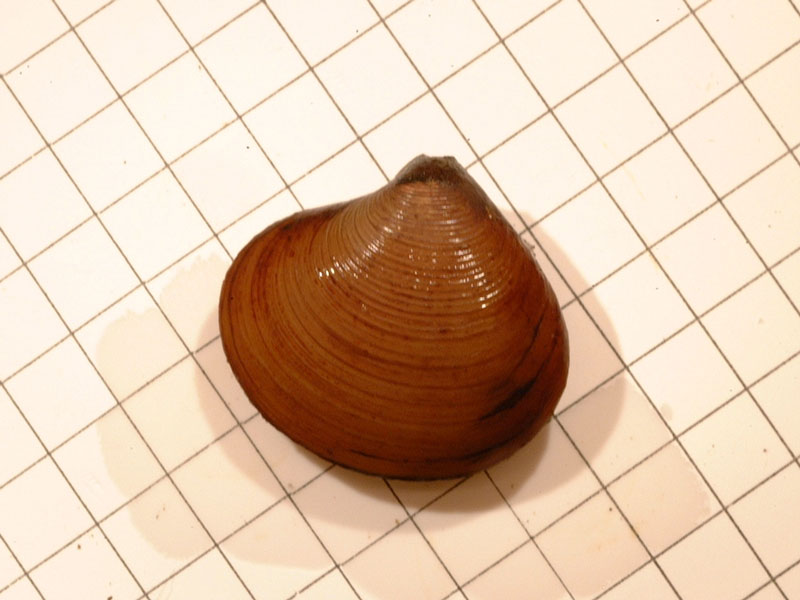 Researched by
Caroline Farrell
Refereed by
Admin
Authority
(Dillwyn, 1817)
Other common names
-
Synonyms
Crassina obliqua T. Brown, 1827, Venus montagui Dillwyn, 1817, Venus montacuti Turton, 1819, Venus compressa Montagu, 1808, Tridonta montagui Dillwyn, 1817, Nicania striata Leach in Ross, 1819, Nicania montagui orientalis Scarlato, 1981, Nicania montagui Dillwyn, 1817, Nicania banksii var. globosa Sars G.O., 1878, Nicania banksii Leach in Ross, 1819, Astarte abbreviata G. B. Sowerby II, 1874, Crassina convexiuscula T. Brown, 1827, Astarte pulchella Jonas in Philippi, 1845, Astarte multicostata MacGillivray, 1843, Astarte laurentiana soror Dall, 1903, Astarte laurentiana Lyell, 1845, Astarte klinti Hopner Petersen, 2001, Astarte globosa Møller, 1842, Astarte compressa Montagu, 1808, Astarte angulata Woodward, 1833
Summary
Description
The shell of Tridonta montagui is broadly oval in outline, with prominent umbones centred on the mid-line, and can grow up to 1.5 cm long. The outer surface is white with a thick brownish periostracum, and sculptured with 30 to 40 fine, raised concentric ridges. The inner shell margin is smooth.
Recorded distribution in Britain and Ireland
Most frequent off the north and west coasts of Britain but also recorded in the north-east.
Habitat
Found in sand and fine gravel from the sublittoral to depths of around 100 m.
Identifying features
Broadly oval, equivalve shell with prominent umbones centred on the mid-line.
White in colour, with a thick, light or dark brown periostracum.
Sculpture of about 30-40 broad concentric ridges and fine concentric lines.
Distinct, elongate lunule.
Right valve with two cardinal teeth; the anterior broad, ridged or bifid and the posterior indistinct.
Left valve with three cardinal teeth; two anterior teeth of equal size and the third posterior tooth poorly developed and often appearing absent.
Adductor scars and pallial line indistinct.
Inner shell margin smooth.
Additional information
No text entered
Bibliography
Hayward, P., Nelson-Smith, T. & Shields, C. 1996. Collins pocket guide. Sea shore of Britain and northern Europe. London: HarperCollins.

Hayward, P.J. & Ryland, J.S. (ed.) 1995b. Handbook of the marine fauna of North-West Europe. Oxford: Oxford University Press.

Howson, C.M. & Picton, B.E., 1997. The species directory of the marine fauna and flora of the British Isles and surrounding seas. Belfast: Ulster Museum. [Ulster Museum publication, no. 276.]

JNCC (Joint Nature Conservation Committee), 1999. Marine Environment Resource Mapping And Information Database (MERMAID): Marine Nature Conservation Review Survey Database. [on-line] http://www.jncc.gov.uk/mermaid

Picton, B.E. & Costello, M.J., 1998. BioMar biotope viewer: a guide to marine habitats, fauna and flora of Britain and Ireland. [CD-ROM] Environmental Sciences Unit, Trinity College, Dublin.

Tebble, N., 1976. British Bivalve Seashells. A Handbook for Identification, 2nd ed. Edinburgh: British Museum (Natural History), Her Majesty's Stationary Office.
Datasets
Citation
This review can be cited as:
Farrell, C. 2006. Astarte montagui Narrow-hinge astarte. In Tyler-Walters H. and Hiscock K. Marine Life Information Network: Biology and Sensitivity Key Information Reviews, [on-line]. Plymouth: Marine Biological Association of the United Kingdom. [cited 06-12-2023]. Available from: https://marlin.ac.uk/species/detail/2163
---
Last Updated: 26/01/2006