Oyster thief (Colpomenia peregrina)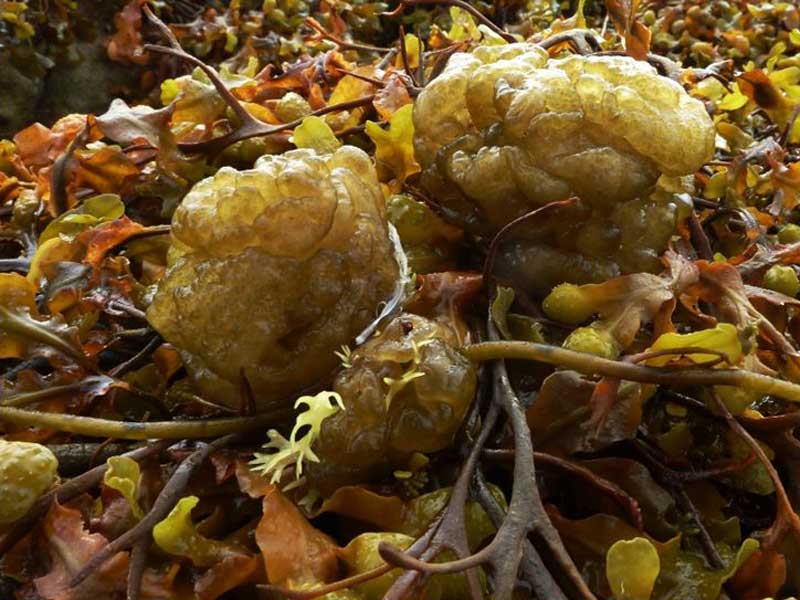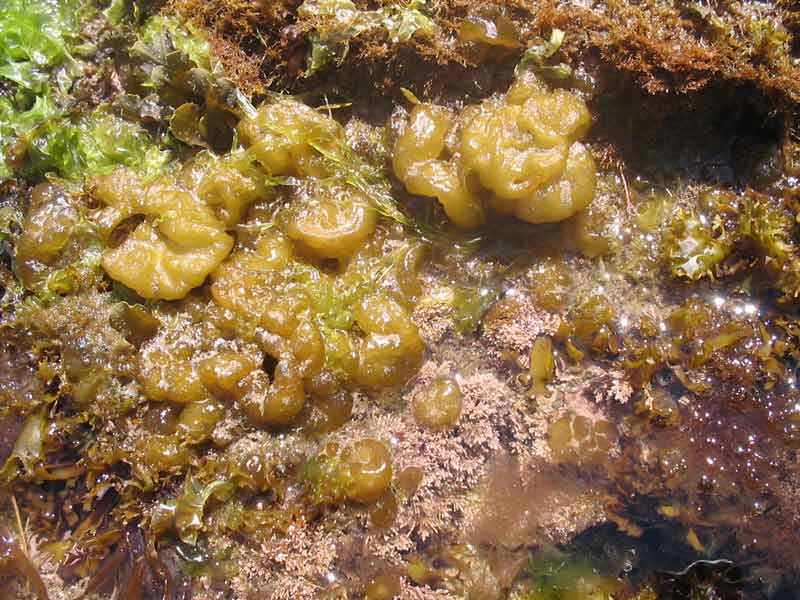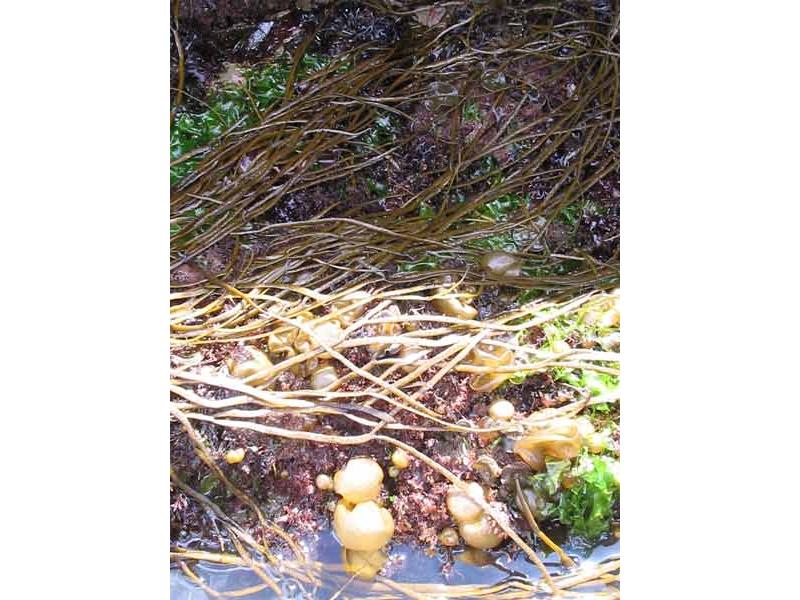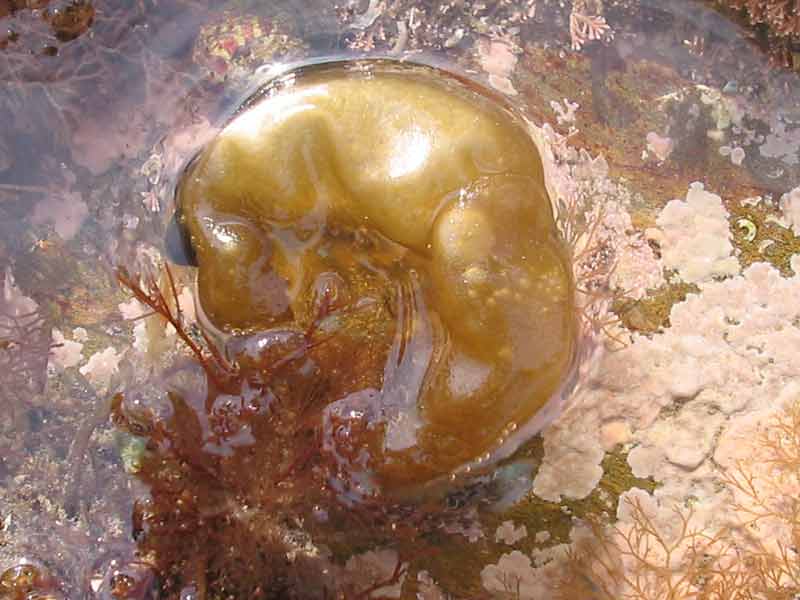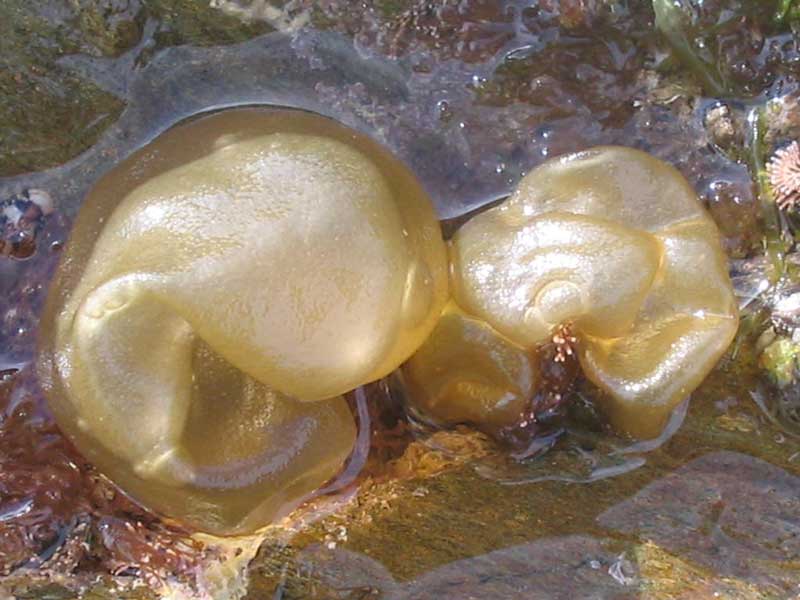 Researched by
Judith Oakley
Refereed by
Admin
Authority
Sauvageau, 1927
Other common names
-
Synonyms
-
Summary
Description
Colpomenia peregrina is a non-gelatinous brown alga. It is greenish-olive in colour with fine brown dots. It forms a thin-walled hollow sphere, usually 1-7 cm in diameter. It may be confused with the native Leathesia difformis which is lobed with a gelatinous surface. Colpomenia peregrina is dry and papery to the touch and can be torn easily.
Recorded distribution in Britain and Ireland
Colpomenia peregrina is distributed throughout Britain with larger populations on western coasts.
Global distribution
Colpomenia peregrina has a world-wide distribution ini temperate waters. In Europe it is found from Iberia to southern Norway.
Habitat
Colpomenia peregrina occurs on rock, other seaweeds and shells. The species is usually epiphytic, growing on a variety of seaweeds in mid-tide rockpools and down to the sub-littoral region. It thrives in sheltered areas.
Identifying features
A thin-walled sphere.
Greenish-olive with brown spots.
Usually 1-7 cm in diameter.
Additional information
Colpomenia peregrina occurs naturally in the Pacific Ocean. It was introduced to France with with juvenile Crassostrea virginica from the Pacific coast of North America. Colpomenia peregrina was introduced in 1907 from France into Cornwall and Dorset. It has negligible effects on the environment. In other countries, it grows attached to oysters and floats away with the oyster when the air-filled thalli grow large enough. Hence the common name of oyster thief.
Bibliography
Cotton, A.D., 1908. Colpomenia sinuosa in Britain. Journal of Botany, 46, 82-83.

Dickinson, C.I., 1963. British seaweeds. London & Frome: Butler & Tanner Ltd.

Eno, N.C., Clark, R.A. & Sanderson, W.G. (ed.) 1997. Non-native marine species in British waters: a review and directory. Peterborough: Joint Nature Conservation Committee.

Hayward, P., Nelson-Smith, T. & Shields, C. 1996. Collins pocket guide. Sea shore of Britain and northern Europe. London: HarperCollins.

Howson, C.M. & Picton, B.E., 1997. The species directory of the marine fauna and flora of the British Isles and surrounding seas. Belfast: Ulster Museum. [Ulster Museum publication, no. 276.]

Laverack, M.S. & Blackler, D.M., 1974. Fauna & Flora of St. Andrews Bay. Scottish Academic Press (Edinburgh & London).

MarLIN (Marine Life Information Network), 2005. SEArchable BEnthic Data (SEABED) Map [on-line]. Data Access Sub-programme, Marine Life Information Network for Britian and Ireland http://www.marlin.ac.uk,

Price, J.H., Irvine, D.E. & Farnham, W.F., 1980. The shore environment. Volume 2: Ecosystems. London Academic Press.
Datasets
Citation
This review can be cited as:
Oakley, J.A. 2008. Colpomenia peregrina Oyster thief. In Tyler-Walters H. and Hiscock K. Marine Life Information Network: Biology and Sensitivity Key Information Reviews, [on-line]. Plymouth: Marine Biological Association of the United Kingdom. [cited 11-12-2023]. Available from: https://marlin.ac.uk/species/detail/2164
---
Last Updated: 29/05/2008