Scaldfish (Arnoglossus laterna)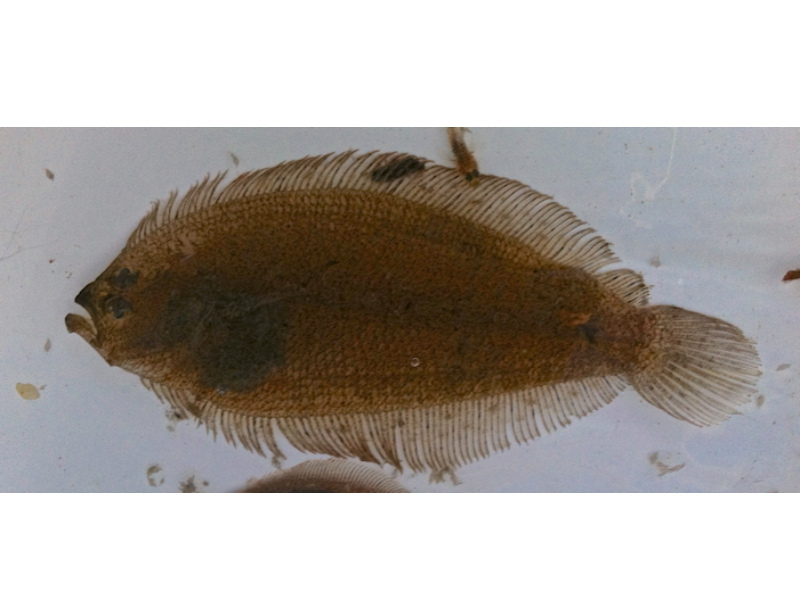 Researched by
Ana Ruiz
Refereed by
Admin
Authority
(Walbaum, 1792)
Other common names
-
Synonyms
-
Summary
Description
The scaldfish is a flatfish with an oval body shape. It is very thin, almost transparent. The mouth is to the left of the eyes and rather curved. The eyes are relatively small and close together. The pelvic fin on the blind side has a much shorter base than that on the eyed side. It is brownish or greyish in background colour, usually with diffuse darker marks. The fins often have small dark spots. The pelvic fin on the eyed side sometimes has a dusky spot. The males are distinguished by the elongation of certain fin rays which gives the fish a quite unusual appearance. The scaldfish grows up to 25 cm in length.
Recorded distribution in Britain and Ireland
The scaldfish can be found on all British and Irish coasts although it is mostly recorded from the south where it is more common.
Habitat
The scaldfish is mostly found on mixed or muddy bottoms from 10 to 200 m.
Identifying features
The first rays of the dorsal fin are free from membrane for about half their length but are not greately elongated.
The second to fifth rays are shorter than, or equal to, the next rays.
Scales moderately large but very fragile.
The lateral line is arched above the pectoral fin, with fifty-one to fifty-six scales.
Additional information
Scaldfish feed on small fish and invertebrates and spawn in spring and summer. The scaldfish is edible but posseses no significant economic value.
Bibliography
FishBase, 2000. FishBase. A global information system on fishes. [On-line] http://www.fishbase.org, 2001-05-03

Howson, C.M. & Picton, B.E., 1997. The species directory of the marine fauna and flora of the British Isles and surrounding seas. Belfast: Ulster Museum. [Ulster Museum publication, no. 276.]

Wheeler, A., 1969. The fishes of the British Isles and north-west Europe. London: Macmillan.
Datasets
NBN (National Biodiversity Network) Atlas. Available from: https://www.nbnatlas.org.

OBIS (Ocean Biodiversity Information System), 2023. Global map of species distribution using gridded data. Available from: Ocean Biogeographic Information System. www.iobis.org. Accessed: 2023-10-03
Citation
This review can be cited as:
Ruiz, A. 2007. Arnoglossus laterna Scaldfish. In Tyler-Walters H. and Hiscock K. Marine Life Information Network: Biology and Sensitivity Key Information Reviews, [on-line]. Plymouth: Marine Biological Association of the United Kingdom. [cited 03-10-2023]. Available from: https://marlin.ac.uk/species/detail/2178
---
Last Updated: 14/02/2007