Red-throated diver (Gavia stellata)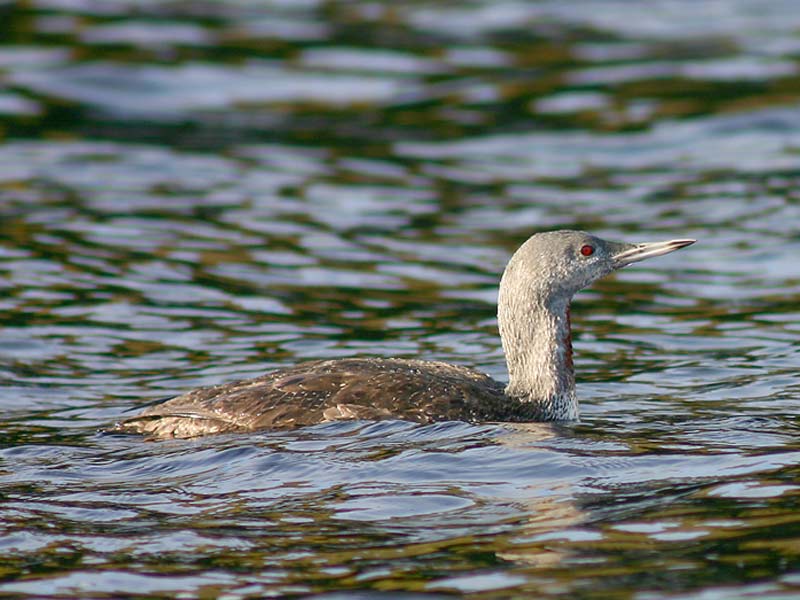 Researched by
Natalie Sweet
Refereed by
Admin
Authority
(Pontoppidan, 1763)
Other common names
-
Synonyms
-
Summary
Description
Gavia stellata is the smallest diver found in the UK, growing to a maximum length of about 69 cm with a wingspan of up to 1.1 m. The bill is slightly uptilted and usually held pointing slightly upwards. The forehead is flat and the chest is also noticeably flat, a useful feature with which to distinguish this species from the black-throated diver, especially from a distance. In summer, the throat and upperparts are grey and the red neck patch is dark and may look black from a distance. The upperparts are paler and more mottled than other divers. In winter there are extensive white markings on the neck and face and around the eye, and the upperparts are speckled with white. Juvenile plummage resembles the adult winter plummage but with dusky streaks on the head and neck, and the upperparts have a dull grey speckling. The feet are lobed and the legs set well back.
Recorded distribution in Britain and Ireland
Breeding pairs occur in northwest UK and Ireland, with significant numbers on Shetland, Orkney, the Outer Hebrides and mainland Scotland.
Habitat
Gavia stellata is a coastal species in winter when substantial numbers arrive from northern regions such as Greenland, Iceland and Scandinavia. Very ungainly on land, these birds only come ashore to breed. Typical breeding habitat is around small waterbodies within open moorland. Red-throated divers feed mainly on fish which are caught by diving from the surface.
Identifying features
Bill slightly uptilted.
In summer throat and upperparts grey with a dark red patch on neck.
In winter, extensive white on neck, face and around the eye.
Paler and more mottled upperparts than other divers.
Slimmer build than other divers.
Additional information
Also known as the red-throated loon.
Citation
This review can be cited as:
Sweet, N. A. 2008. Gavia stellata Red-throated diver. In Tyler-Walters H. and Hiscock K. Marine Life Information Network: Biology and Sensitivity Key Information Reviews, [on-line]. Plymouth: Marine Biological Association of the United Kingdom. [cited 06-12-2023]. Available from: https://marlin.ac.uk/species/detail/2207
---
Last Updated: 22/09/2008