Great black-backed gull (Larus marinus)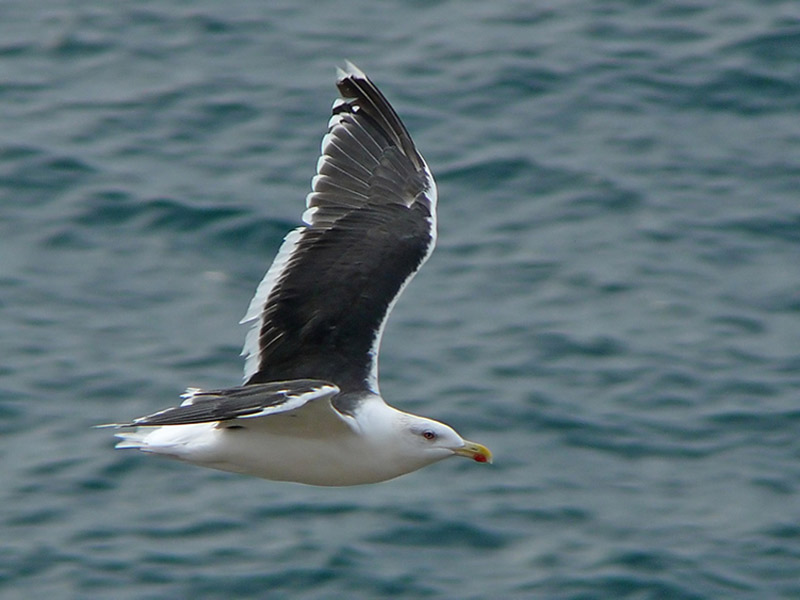 Researched by
Natalie Sweet
Refereed by
Admin
Authority
Linnaeus, 1758
Other common names
-
Synonyms
-
Summary
Description
Larus marinus is the largest black-backed gull reaching lengths of up to 75 cm and wing span of up to 1.66 m. The body is bulky with a thick neck and heavy bill. Adult plumage is white, there is a dark grey mantle across the back and the top of the wings, with a trailing white edged and large mirrors (white patches on the wing tips). The bill is yellow with a red patch on the lower tip of the bill (gonys). The legs are a fleshy pink. Immatures display different markings at each age group, from first to third winters. Most first and second winter birds lack black on upperparts, with barred grey brown backs and wings and a black bill. Black upperparts develop gradually and the yellow bill is not fully apparent until maturity.
Recorded distribution in Britain and Ireland
Found all around the UK coastline during the breeding season and also inland at other times of the year.
Habitat
The great black-backed gull principally frequents rocky coasts and islands during the breeding season but is widespread in inland areas during the winter months. It may then be seen congregating at inland reservoirs, rubbish tips and nearby fields.
Identifying features
Large size.
Dark grey mantle.
Yellow bill with a red patch on gonys of adults.
Pink legs.
Additional information
Larus marinus
is a scavenger and may eat birds, eggs, fish, offal, dead animals or rubbish. Please note that distribution maps are compiled using records for both breeding and wintering populations. For more specific distribution and abundance records please refer to maps compiled by The British Trust for Ornithology, available at
http://www.bto.org/birdatlas/previous/index.htm
Citation
This review can be cited as:
Sweet, N. A. 2008. Larus marinus Great black-backed gull. In Tyler-Walters H. and Hiscock K. Marine Life Information Network: Biology and Sensitivity Key Information Reviews, [on-line]. Plymouth: Marine Biological Association of the United Kingdom. [cited 11-12-2023]. Available from: https://marlin.ac.uk/species/detail/2210
---
Last Updated: 13/10/2008