Common scoter (Melanitta nigra)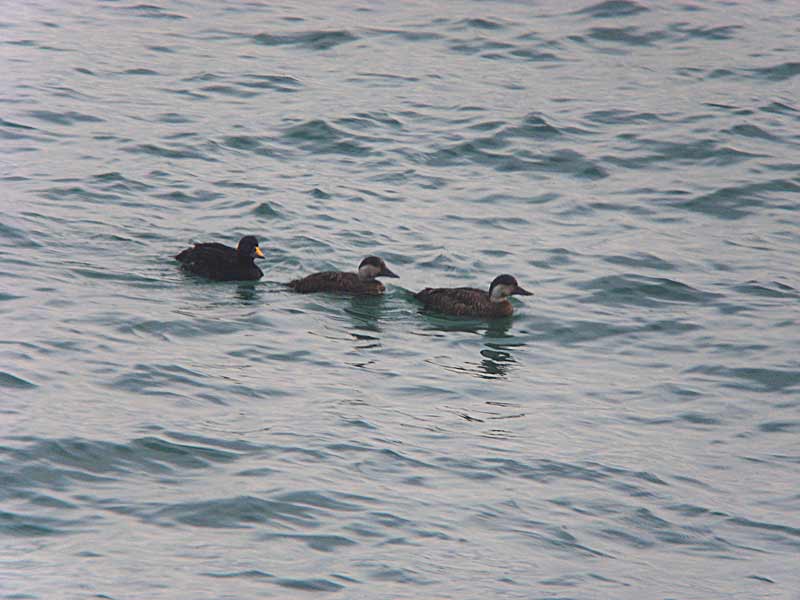 Researched by
Natalie Sweet
Refereed by
Admin
Authority
(Linnaeus, 1758)
Other common names
-
Synonyms
-
Summary
Description
A bulky seaduck with a total body length of 44 to 54 cm. The tail is long and pointed and the bill fairly small. In the male, the entire body plumage, tail and legs are black (the only totally black duck) with a yellow-orange patch on an otherwise black bill. Females are uniformly dark brown with the exception of the side of the head and nape which is a pale dusky brown, with a blackish bill. In late summer, females may display pale, bleached feathers on the back. Juveniles resemble adult females but with a paler light brown belly.
Recorded distribution in Britain and Ireland
The only breeding pairs in the UK occur in Scotland. The UK wintering population can be seen around most of the UK coast, with significant populations in Carmarthen and Cardigan Bays, along the Moray Firth and along the Norfolk coast.
Global distribution
Recorded around the British Isles, along the northern coasts of France and The Netherlands up into the North Sea. Also recorded in the Baltic Sea as well as the west and east coasts of America and Canada towards Newfoundland and British Columbia.
Habitat
Common scoters breed mainly near lakes and rivers in boreal forests and close to tundra waters but also on a few freshwater lakes and blanket bogs in Scotland. Exclusively marine outside of breeding season. These migratory birds are winter visitors to British coasts.
Identifying features
In males the entire plumage is glossy black.
Females are a dark brown with nape and sides of head paler dusky brown.
Fairly small bill with yellow-orange patch in males.
Long pointed tail.
Additional information
Common scoters feed on sandy seabeds and offshore shallows, and dive to obtain their food. Their diet consists of small fish and invertebrates including sand eels, mussels and sand dwelling bivalves. They have important moulting and wintering localities in the UK, with 25,000-30,000 distributed in inshore waters. Please note that distribution maps are compiled using records for both breeding and wintering populations. For more specific distribution and abundance records please refer to maps compiled by The British Trust for Ornithology, available at
http://www.bto.org/birdatlas/previous/index.htm
Bibliography
ARKive 2008. British Birds. http://www.arkive.org/species/ARK/birds/, 2008-09-22

Cady, M. & Hume, R. (eds), 1993. The Complete Book of British Birds. Basingstoke: The Automobile Association and the Royal Society for the Protection of Birds

Mullarney, K., Svensson, L., Zetterstrom, D. & Grant, P.J., 1999. Collins Bird Guide. London: HarperCollins Publishers

Waller, G. (ed), 1996. Sealife. A Complete Guide to the Marine Environment. Sussex: Pica Press

Witherby, H.F., Jourdain, F.C.R, Ticehurst, N.F. & Tucker, B.W., 1947. The handbook of British birds. H., F., & G. Witherby Ltd.
Datasets
Citation
This review can be cited as:
Sweet, N. A. 2008. Melanitta nigra Common scoter. In Tyler-Walters H. and Hiscock K. Marine Life Information Network: Biology and Sensitivity Key Information Reviews, [on-line]. Plymouth: Marine Biological Association of the United Kingdom. [cited 03-10-2023]. Available from: https://marlin.ac.uk/species/detail/2213
---
Last Updated: 13/10/2008