Orange-tipped sea squirt (Corella eumyota)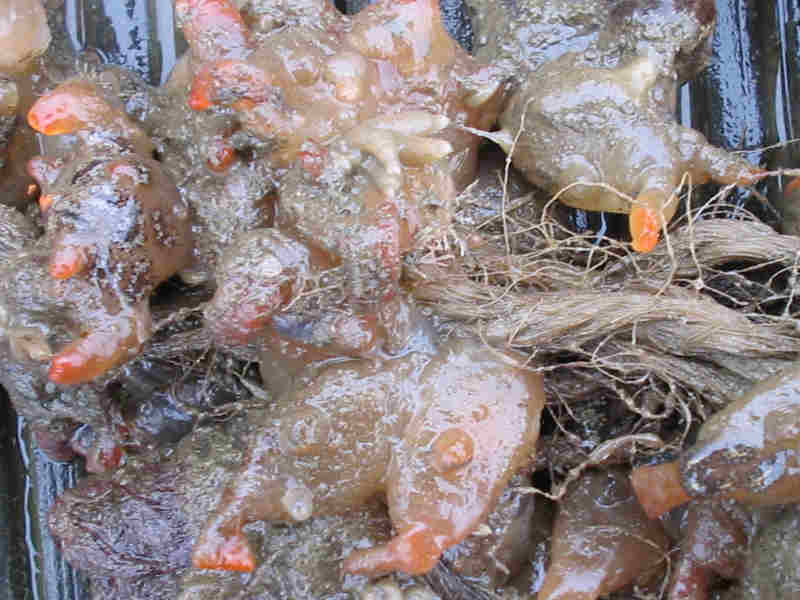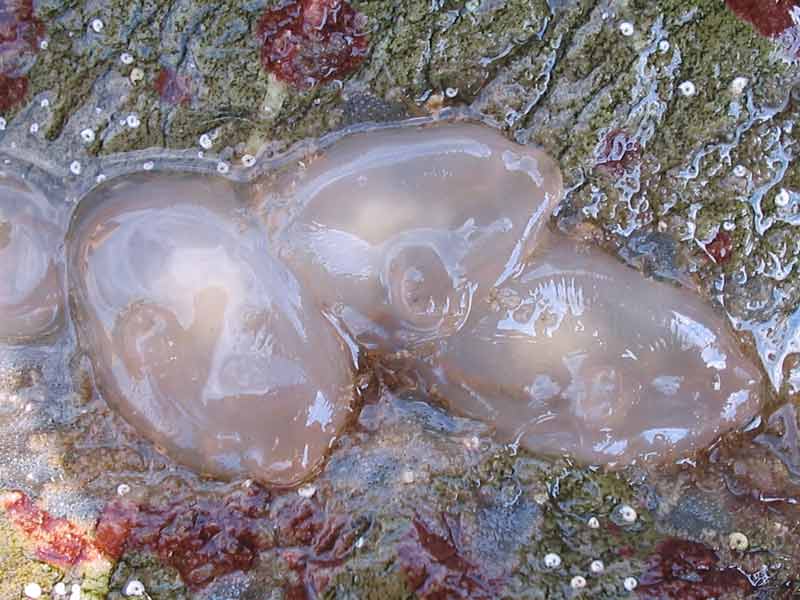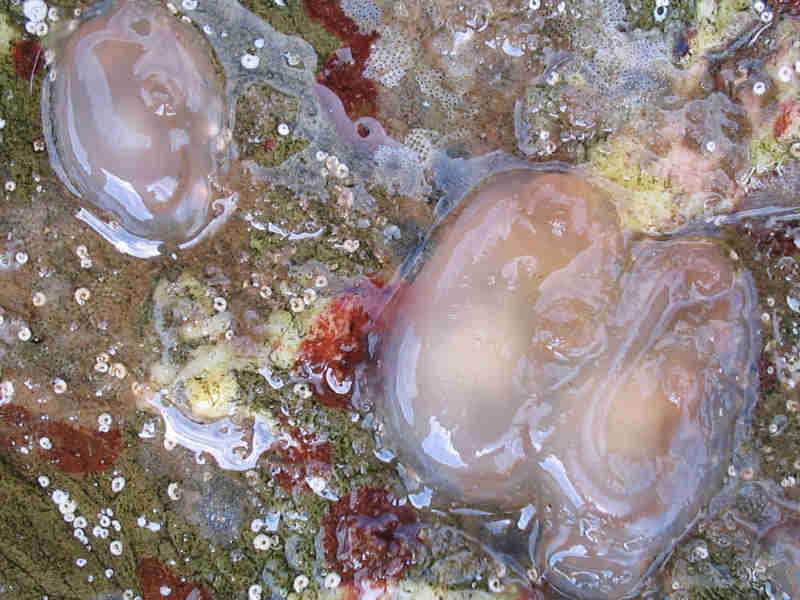 Researched by
Jaret Bilewitch
Refereed by
Admin
Authority
Traustedt, 1882
Other common names
-
Synonyms
-
Summary
Description
Corella eumyota is a solitary sea squirt, 2-4 cm long, that often attaches to conspecifics, forming aggregations that foul underlying substrata. Individuals attach primarily along their right side, giving them a recumbent orientation. The body wall is muscular but transparent and 3-4 irregular coils of spiral stigmata may be seen surrounding the pharynx. At least 40 pairs of longitudinal blood vessels are present on each side.
Recorded distribution in Britain and Ireland
Found along south coast of England at Brighton, Portsmouth and Weymouth and in harbours on the south west, south and east coasts of Ireland.
Global distribution
Also invasive in France (Brittany) and Spain (Galicia). Native of South circumpolar cold waters; South America, South Africa, Australia, New Zealand, Antarctica.
Habitat
Attached to hard substrates, such as cobbles, boulders, ship hulls and shells of mussels and oysters such as Ostrea edulis. Also grows on brown algae and other Corella eumyota.
Identifying features
Solitary but highly gregarious- often attached to each other.
Attached to substratum by right side, causing recumbent posture.
Musculature developed on both sides of body.
2-4 cm long.
Transparent body.
3-4 irregular coils of spiral stigmata.
40 or more longitudinal blood vessels on each side of branchial sac.
Additional information
May be confused with Corella parallelogramma, which is more upright and has 6-7 regular coils of stigmata, or with Corella borealis, which is smaller, upright and has inconspicuous stigmata spirals and musculature. Neither of these congeners brood their larvae (Lambert, 2004).
Citation
This review can be cited as:
Bilewitch, J. 2009. Corella eumyota Orange-tipped sea squirt. In Tyler-Walters H. and Hiscock K. Marine Life Information Network: Biology and Sensitivity Key Information Reviews, [on-line]. Plymouth: Marine Biological Association of the United Kingdom. [cited 10-12-2023]. Available from: https://marlin.ac.uk/species/detail/2224
---
Last Updated: 28/07/2009