Wart barnacle (Verruca stroemia)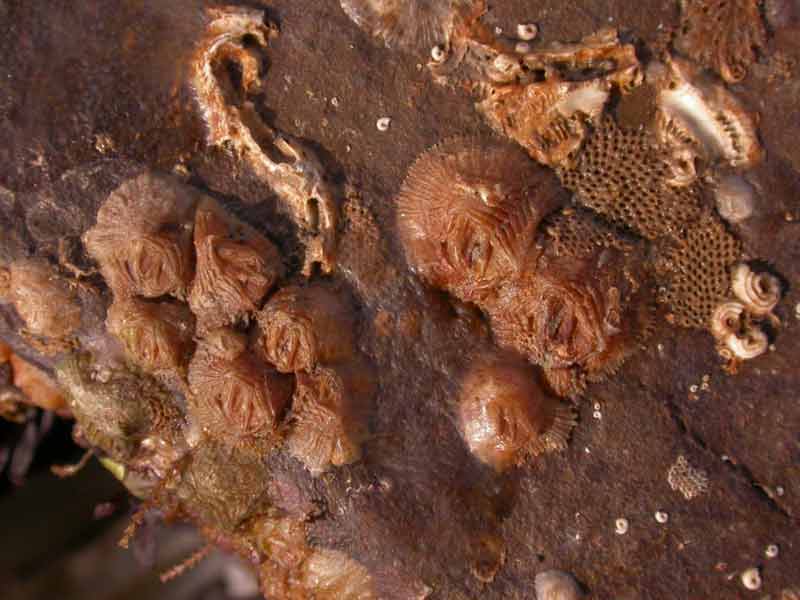 Researched by
Andrew Hosie
Refereed by
Admin
Authority
(O.F. Müller, 1776)
Other common names
-
Synonyms
-
Summary
Description
Verruca stroemia is a small grey box-like barnacle growing up to 1 cm in diameter. This species is distinguished from other barnacles present in Britain and Ireland by its assymmetrical 4 plated shell wall, with strong interlocking sutures. Instead of the paired moveable opercular valves of typical barnacles, half of the operculum is fixed to the substrate, while the other half forms a hinged 'lid'.
Recorded distribution in Britain and Ireland
Widespread in British and Irish seas.
Global distribution
Verruca stroemia has been recorded along the Atlantic coast of Europe from southern Portugal to the White Sea, including Svalbard.
Habitat
Verruca stroemia is found between extreme low water and 500 m depth. It can be found on rocky shores attached to the undersides of rocks and in crevices.
Identifying features
Shell flattened, wall comprised of 4 plates (rostrum, carina, tergum, scutum).
Shell plates with longitudinal ridges and serrated sutures.
Operculum lid-like.
Membranous base.
Additional information
The related species Verruca spengleri found from the Azores to the Black Sea has often been confused with Verruca stroemia, which led to erroneous records of Verruca stroemia present in the Mediterranean (see Young et al., 2003). Verruca spengleri has pores permeating the external shell wall and the shell plates (parietes) lack longitudinal ridges, distinguishing it from Verruca stroemia.
Citation
This review can be cited as:
Hosie, A.M. 2008. Verruca stroemia Wart barnacle. In Tyler-Walters H. and Hiscock K. Marine Life Information Network: Biology and Sensitivity Key Information Reviews, [on-line]. Plymouth: Marine Biological Association of the United Kingdom. [cited 10-12-2023]. Available from: https://marlin.ac.uk/species/detail/2228
---
Last Updated: 09/10/2008