Spotted Ray (Raja montagui)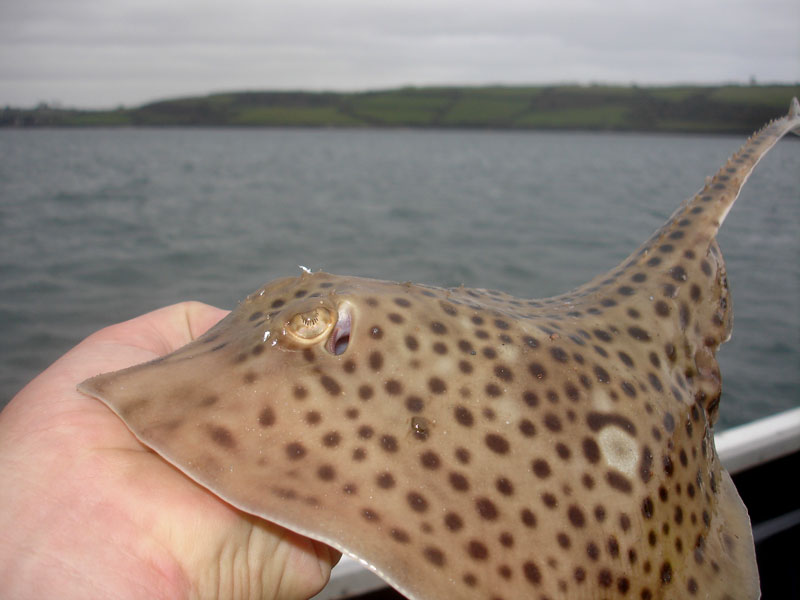 Researched by
Eliza Gibson-Hall
Refereed by
This information is not refereed
Authority
Fowler, 1910
Other common names
-
Synonyms
-
Summary
Description
The spotted ray is a small, diamond shaped, spotted ray. The upper body is yellow to pale with a number of scattered dark spots, which do not reach the margin edge of the pectoral fins. The pectoral fins form almost right angles. The main body disc is undulated in both males and females but more pronounced in males. The maximum length is 80 cm but the average is 60 cm. The body disc is free from spines except for a central row of 20-50 thorns from midline to the first dorsal fins. Juveniles have small spines along the top edge of the body disk, which extend past the eyes. Juveniles have also been shown to have rows of spines along the side of their tail.
Recorded distribution in Britain and Ireland
Recorded all around the coastline of the British Isles. It is one of the three most frequent skate species in the English Channel.
Global distribution
Recorded around the British Isles, the English Channel and west coast of France. Few records along the northern coast of Africa in Morocco and Tunisia. Also recorded in the Mediterranean and the west coast of South Africa.
Habitat
Found at a depth of 8 m to 530 m. The majority of the population occurs below 100-500 m. It prefers to live on soft, sandy substratum. Juveniles tend to inhabit shallower waters < 100 m. Nursery grounds occur in coastal areas with rocky and sandy substratum.
Identifying features
Maximum total length 80 cm, 50 cm body disc length.
Upper surface colouration: yellow-brown.
Dark spots on upper disk do not extend to edge of pectoral fins.
Under-surface of body disk is pale white.
20-50 rows of spines along the midline to the first dorsal fin
Additional information
The spotted ray has the most varied diet, compared to other North-East Atlantic ray species, composed of crustaceans, polychaetes, teleosts and molluscs. Catch rates are greatest in inshore beam trammel nets. Juveniles are mainly caught in these catches. Raja montagui can be grouped together with Raja clavata in catch data. The abundance of both species has been increasing since 2000 in the North Sea. Unlike Raja brachyura, the dark spots on the upper body do not extend to the marginal edge of the pectoral fins, which is a distinguishing feature. It has been recorded as 'least concern' on the IUCN red list.
Bibliography
Dulvy, N.K., Metcalfe, J.D., Glanville, J., Pawson, M.G. & Reynolds, J.D., 2000. Fishery stability, local extinctions, and shifts in community structure in skates. Conservation Biology, 14, 283-293.

Ellis, J. R., Pawson, M. G., & Shackley, S. E., 1996. The comparative feeding ecology of six species of shark and four species of ray (Elasmobranchii) in the North-east Atlantic. Journal of the Marine Biological Association of the United Kingdom, 76, 89-106

Ellis, J.R., Cruz-Martinez, A., Rackham, B.D. & Rogers, S.I., 2005. The distribution of chondrichthyan fishes around the British Isles and implications for conservation. Journal of Northwest Atlantic Fisheries Science, 35, 195–213.

Ellis, J.R., Dulvy, N.K., Jennings, S., Parker-Humphreys, M. & Rogers, S.I., 2005. Assessing the status of demersal elasmobranchs in uk waters: a review. Journal of the Marine Biological Association of the United Kingdom, 85, 1025-1047

ICES, 2017. Report of the working group on Elasmobranchs. ICES CM 2017/ACOM:16, 1043 pp. Avaliable from: http://ices.dk/sites/pub/Publication Reports/Expert Group Report/acom/2017/WGEF/01 WGEFReport of the Working Group on Elasmobranch Fishes.pdf

Shark Trust, 2009. An Illustrated Compendium of Sharks, Skates, Rays and Chimaera. Chapter 1: The British Isles. Part 1: Skates and Rays. [Cited 06-07-2018] Available from https://www.sharktrust.org/fact-files
Datasets
NBN (National Biodiversity Network) Atlas. Available from: https://www.nbnatlas.org.

OBIS (Ocean Biodiversity Information System), 2023. Global map of species distribution using gridded data. Available from: Ocean Biogeographic Information System. www.iobis.org. Accessed: 2023-12-02
Citation
This review can be cited as:
Gibson-Hall, E., 2018. Raja montagui Spotted Ray. In Tyler-Walters H. and Hiscock K. Marine Life Information Network: Biology and Sensitivity Key Information Reviews, [on-line]. Plymouth: Marine Biological Association of the United Kingdom. [cited 02-12-2023]. Available from: https://marlin.ac.uk/species/detail/2321
---
Last Updated: 22/08/2018