Organ pipe sponge (Leucosolenia botryoides)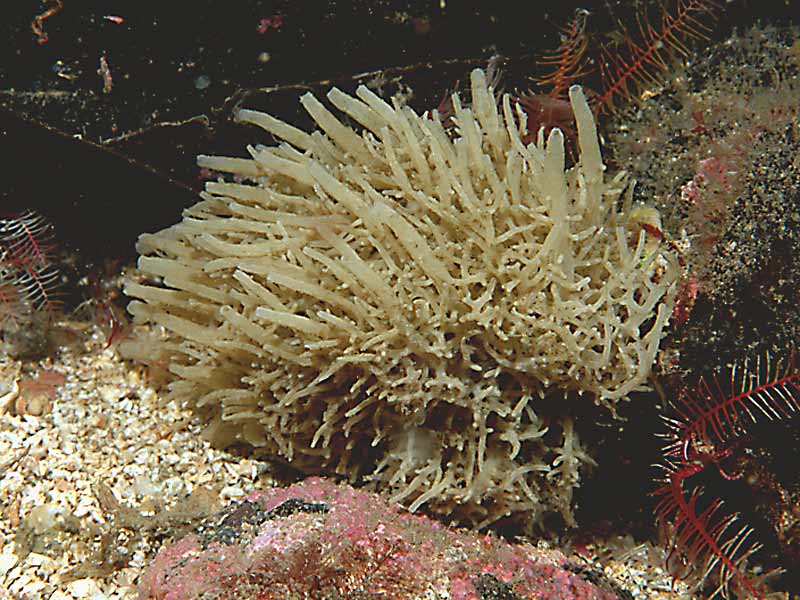 Researched by
Saskiya Richards
Refereed by
Admin
Authority
(Ellis & Solander, 1786)
Other common names
Orange pipe sponge
Synonyms
Ascaltis botryoides (Ellis & Solander, 1786), Ascandra botrys (Ellis & Solander, 1786)
Summary
Description
Leucosolenia botryoides is a very delicate, soft, white, tubular sponge that grows to up 2 cm wide and 1 cm thick. The base consists of a network of encrusting, root-like tubes from which slender, vertical tubes, grow up to 2 cm in height. Each tube bears a large oscula (exhalant pore) at its terminal end that opens to an internal central cavity. The body wall contains 3-pointed and 4-pointed calcareous spicules and is covered on the outer surface by minute hairs.
Recorded distribution in Britain and Ireland
Leucosolenia botryoides is common and widespread on the coasts of Britain and Ireland.
Global distribution
The distribution of Leucosolenia botryoides extends from northern Norway and the western Baltic Sea southwards to the Mediterranean coasts of Europe.
Habitat
Leucosolenia botryoides can be found from the mid-water shore to the shallow sublittoral waters. It inhabits tide pools and the underside of stones, and attaches itself to rocks and various species of seaweed including Fucus, Corallina, Polysiphonia, Cladophora and Laminaria.
Identifying features
Soft, white, tubular sponge forming a dense mass.
Up to 2 cm wide and 1 cm thick.
Encrusting, root-like base.
Slender tubes up to 2 cm high bearing large oscula at terminal end.
Additional information
Leucosolenia botryoides is an annual species that reproduces in the summer and autumn. It is similar to Leucosolenia complicata but that has branches extending laterally from the vertical tubes which Leucosolenia botryoides lacks.
Bibliography
Bruce, J.R., Colman, J.S. & Jones, N.S., 1963. Marine fauna of the Isle of Man. Liverpool: Liverpool University Press.

Burton, M., 1963. A revision of the classification of the calcareous sponges. With a catalogue of the specimens in the British Museum (Natural History). London: British Museum (Natural History).

Campbell, A.C., 1982. The Hamlyn guide to the flora and fauna of the Mediterranean Sea. London: Hamlyn.

Costello, M.J., Bouchet, P., Boxshall, G., Emblow, C. & Vanden Berghe, E., 2004. European Register of Marine Species [On-line]. http://www.marbef.org/data/erms.php,

Crothers, J.H. (ed.), 1966. Dale Fort Marine Fauna. London: Field Studies Council.

Foster-Smith, J. (ed.), 2000. The marine fauna and flora of the Cullercoats District. Marine species records for the North East Coast of England. Sunderland: Penshaw Press, for the Dove Marine Laboratory, University of Newcastle upon Tyne.

Gibson, R., Hextall, B. & Rogers, A., 2001. Photographic guide to the sea and seashore life of Britain and north-west Europe. Oxford: Oxford University Press.

Hayward, P., Nelson-Smith, T. & Shields, C. 1996. Collins pocket guide. Sea shore of Britain and northern Europe. London: HarperCollins.

Hayward, P.J. & Ryland, J.S. (ed.) 1995b. Handbook of the marine fauna of North-West Europe. Oxford: Oxford University Press.

Howson, C.M. & Picton, B.E., 1997. The species directory of the marine fauna and flora of the British Isles and surrounding seas. Belfast: Ulster Museum. [Ulster Museum publication, no. 276.]

Laverack, M.S. & Blackler, D.M., 1974. Fauna & Flora of St. Andrews Bay. Scottish Academic Press (Edinburgh & London).

MBA (Marine Biological Association), 1957. Plymouth Marine Fauna. Plymouth: Marine Biological Association of the United Kingdom.

Picton, B.E. & Costello, M.J., 1998. BioMar biotope viewer: a guide to marine habitats, fauna and flora of Britain and Ireland. [CD-ROM] Environmental Sciences Unit, Trinity College, Dublin.
Datasets
Citation
This review can be cited as:
Richards, S. 2007. Leucosolenia botryoides Organ pipe sponge. In Tyler-Walters H. and Hiscock K. Marine Life Information Network: Biology and Sensitivity Key Information Reviews, [on-line]. Plymouth: Marine Biological Association of the United Kingdom. [cited 11-12-2023]. Available from: https://marlin.ac.uk/species/detail/29
---
Last Updated: 12/09/2007