Nodding sea fir (Corymorpha nutans)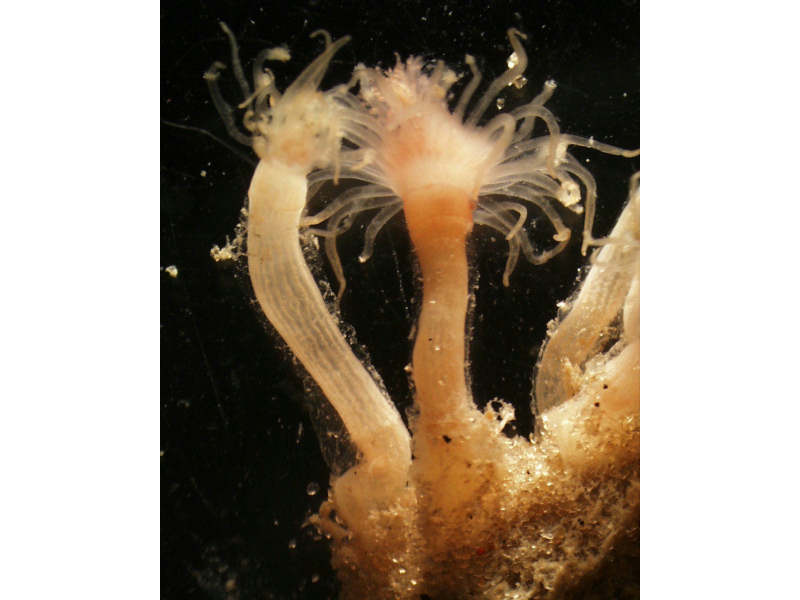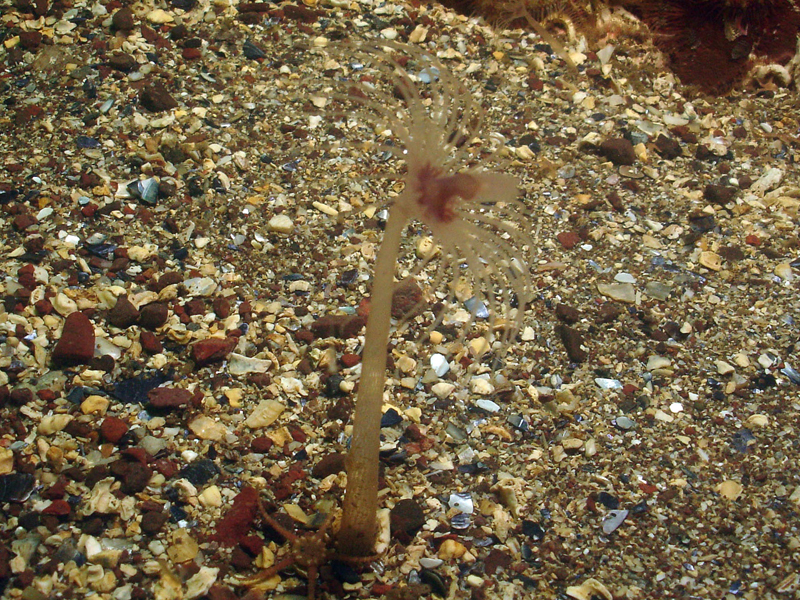 Researched by
Saskiya Richards
Refereed by
Admin
Authority
M. Sars, 1835
Other common names
Nodding hydroid
Synonyms
-
Summary
Description
Corymorpha nutans is a solitary hydroid that grows up to 10 cm in height. The hydranth has a thick, cylindrical, elongated stem (hydrocaulus) that terminates in a disc-shape and is usually bent downwards. A thin, delicate, transparent, chitinous perisarc encases the lower two-thirds of the stem. The terminal end of the hydranth is marked by a conical hypostome that bears a mouth with a ring of 80 short, oral tentacles. A second ring of 32 white, long tentacles lies below the mouth. In between these two rings of tentacles are medusae-bearing reproductive gonophores, situated on 15-20 branched stalks. The basal end of the hydranth bears root-like threads that attach to the substrate. The hydranth is coloured white to pale red, darkening to bright red in the terminal mouth region.
Recorded distribution in Britain and Ireland
Corymorpha nutans is recorded around the coasts of Britain and Ireland, except for the southeast.
Global distribution
The distribution of Corymorpha nutans extends from northern Norway to the mediterranean.
Habitat
Corymorpha nutans inhabits silty mud, sand and gravel in the sublittoral zone to 100 m.
Identifying features
Solitary hydroid up to 10 cm in height.
Thick, cylindrical, elongated stem.
Upper ring of 80 short, oral tentacles.
Lower ring of 32 white, long tentacles.
Stem is white to pale red.
Mouth region bright red.
Additional information
Corymorpha nutans can be mistaken for a sea anemone. Individual hydranths live for about 1 year.
Bibliography
Bouillon, J., Boero, F., Cicogna, F., & Cornelius, P.F.S. (eds.), 1987. Modern trends in the systematics, ecology and evolution of hydroids and hydromedusae. Oxford: Clarendon Press.

Campbell, A.C., 1982. The Hamlyn guide to the flora and fauna of the Mediterranean Sea. London: Hamlyn.

Costello, M.J., Bouchet, P., Boxshall, G., Emblow, C. & Vanden Berghe, E., 2004. European Register of Marine Species [On-line]. http://www.marbef.org/data/erms.php,

Hayward, P., Nelson-Smith, T. & Shields, C. 1996. Collins pocket guide. Sea shore of Britain and northern Europe. London: HarperCollins.

Hayward, P.J. & Ryland, J.S. (ed.) 1995b. Handbook of the marine fauna of North-West Europe. Oxford: Oxford University Press.

Howson, C.M. & Picton, B.E., 1997. The species directory of the marine fauna and flora of the British Isles and surrounding seas. Belfast: Ulster Museum. [Ulster Museum publication, no. 276.]

Picton, B.E. & Costello, M.J., 1998. BioMar biotope viewer: a guide to marine habitats, fauna and flora of Britain and Ireland. [CD-ROM] Environmental Sciences Unit, Trinity College, Dublin.

Russell, F.S., 1953. The medusae of the British Isles. Vol.I - Anthomedusae, Leptomedusae, Limnomedusae, Trachymedusae, and Narcomedusae. Cambridge University Press.
Datasets
Citation
This review can be cited as:
Richards, S. 2008. Corymorpha nutans Nodding sea fir. In Tyler-Walters H. and Hiscock K. Marine Life Information Network: Biology and Sensitivity Key Information Reviews, [on-line]. Plymouth: Marine Biological Association of the United Kingdom. [cited 11-12-2023]. Available from: https://marlin.ac.uk/species/detail/30
---
Last Updated: 03/07/2008