Yellow hedgehog sponge (Polymastia boletiformis)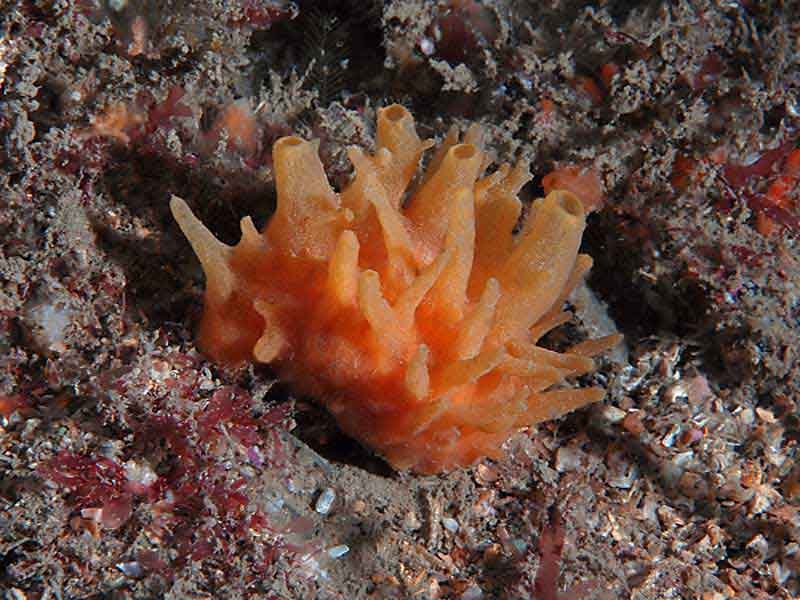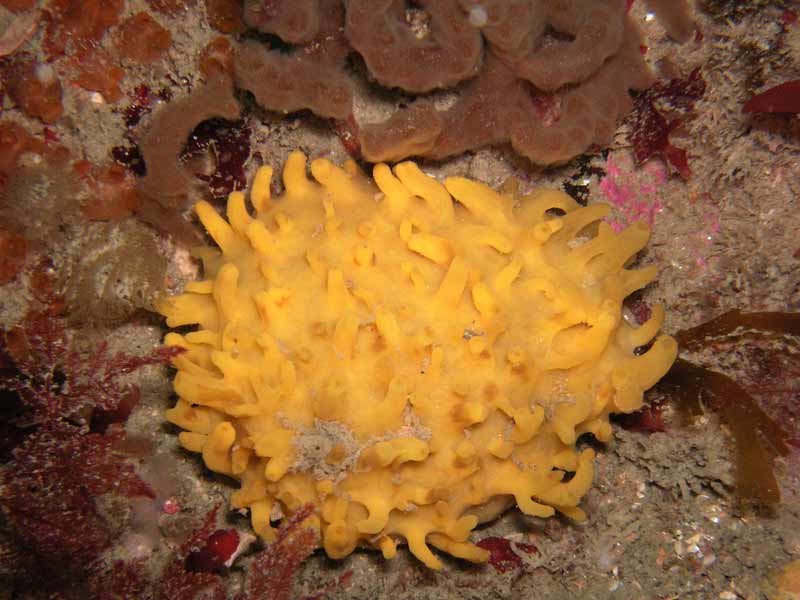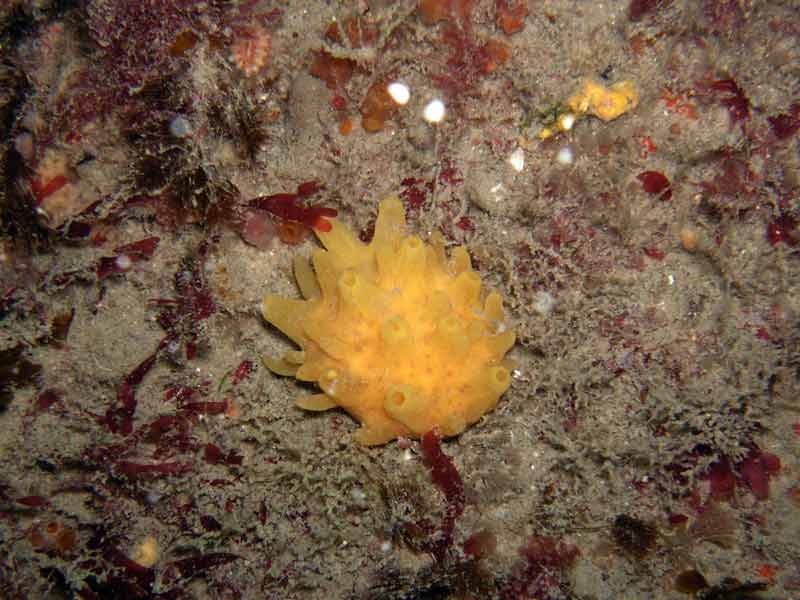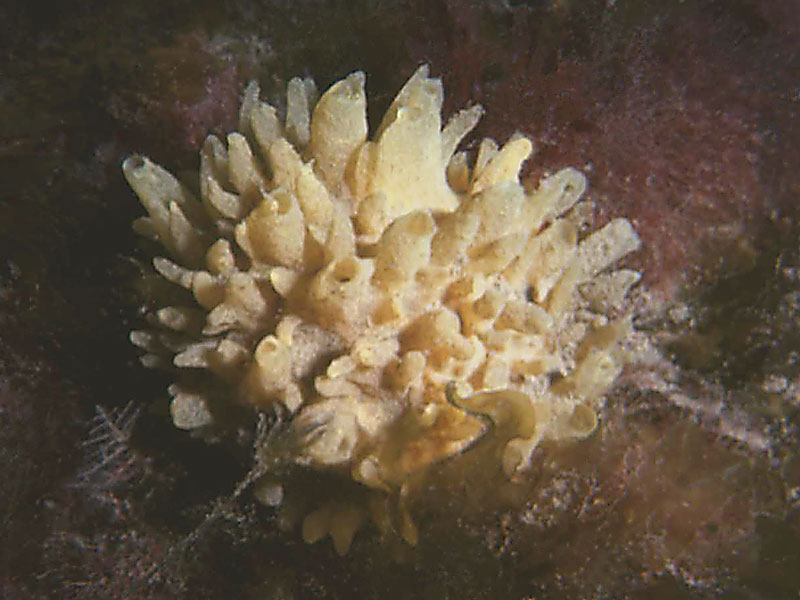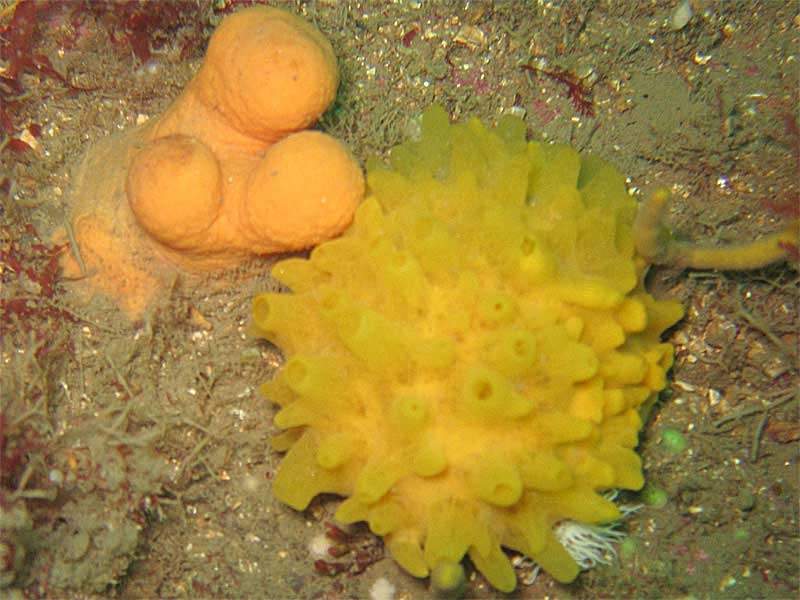 Researched by
Saskiya Richards
Refereed by
Admin
Authority
(Lamarck, 1815)
Other common names
Nipple sponge
Synonyms
-
Summary
Description
Polymastia boletiformis is a firm sponge that exhibits either a cushion or massive form and grows up to 10 cm in diameter. The surface is smooth and bears numerous papillae. The papillae are stout, cylindrical and flexible and taper sharply towards the tip. Each papillae bears a visible exhalant oscula on the upper surface and can be 2-12 cm long. The whole of the sponge is orange, ochre-yellow, dark grey or green in colour. The body walls are supported by siliceous spicules.
Recorded distribution in Britain and Ireland
Polymastia boletiformis is widespread and locally common on the coasts of Britain and Ireland but has not been recorded from much of the east coast of England and Scotland.
Habitat
Polymastia boletiformis grows on the upper faces of rock in the sublittoral zone.
Identifying features
Cushion or massive sponge, up to 10 cm in diameter.
Smooth surface with numerous papillae.
Papillae 2-12 cm long, cylindrical and each bearing an oscula.
Orange, ochre-yellow, dark grey or green in colour.
Additional information
This species has benthic larvae that are motile for 18-20 days before settling for up to 7 days, after which they metamorphose into the adult form. Polymastia boletiformis is similar to Polymastia mammillaris but the latter has a rough surface, and papillae that are paler in colour than the base and do not taper as sharply as those in Polymastia boletiformis.
Bibliography
Bergquist, P.R. 1978. Sponges. London: Hutchinson.

Costello, M.J., Bouchet, P., Boxshall, G., Emblow, C. & Vanden Berghe, E., 2004. European Register of Marine Species [On-line]. http://www.marbef.org/data/erms.php,

Crothers, J.H. (ed.), 1966. Dale Fort Marine Fauna. London: Field Studies Council.

Foster-Smith, J. (ed.), 2000. The marine fauna and flora of the Cullercoats District. Marine species records for the North East Coast of England. Sunderland: Penshaw Press, for the Dove Marine Laboratory, University of Newcastle upon Tyne.

Gibson, R., Hextall, B. & Rogers, A., 2001. Photographic guide to the sea and seashore life of Britain and north-west Europe. Oxford: Oxford University Press.

Harrison, F.W. & Cowden, R.R., 1976. Aspects of sponge biology. Academic Press.

Hayward, P.J. & Ryland, J.S. (ed.) 1995b. Handbook of the marine fauna of North-West Europe. Oxford: Oxford University Press.

Howson, C.M. & Picton, B.E., 1997. The species directory of the marine fauna and flora of the British Isles and surrounding seas. Belfast: Ulster Museum. [Ulster Museum publication, no. 276.]

Picton, B.E. & Costello, M.J., 1998. BioMar biotope viewer: a guide to marine habitats, fauna and flora of Britain and Ireland. [CD-ROM] Environmental Sciences Unit, Trinity College, Dublin.
Datasets
Citation
This review can be cited as:
Richards, S. 2008. Polymastia boletiformis Yellow hedgehog sponge. In Tyler-Walters H. and Hiscock K. Marine Life Information Network: Biology and Sensitivity Key Information Reviews, [on-line]. Plymouth: Marine Biological Association of the United Kingdom. [cited 06-12-2023]. Available from: https://marlin.ac.uk/species/detail/35
---
Last Updated: 03/07/2008