Garfish (Belone belone)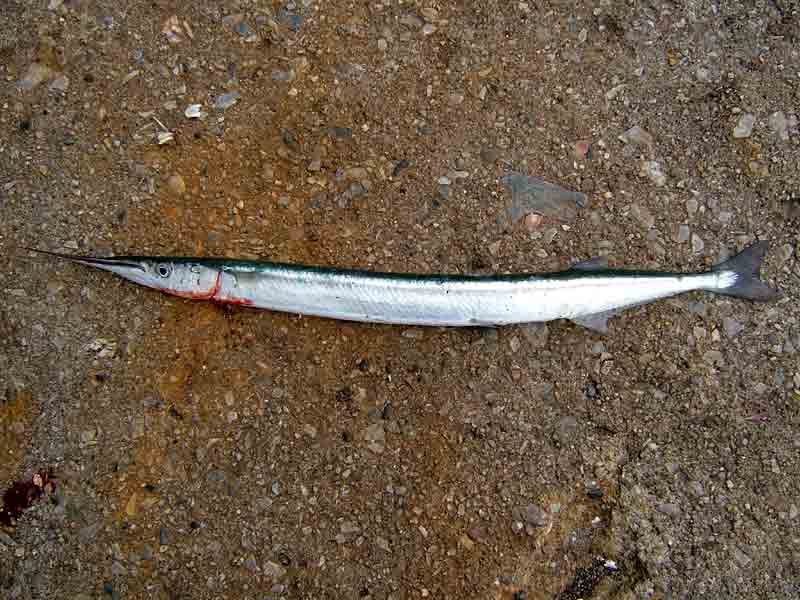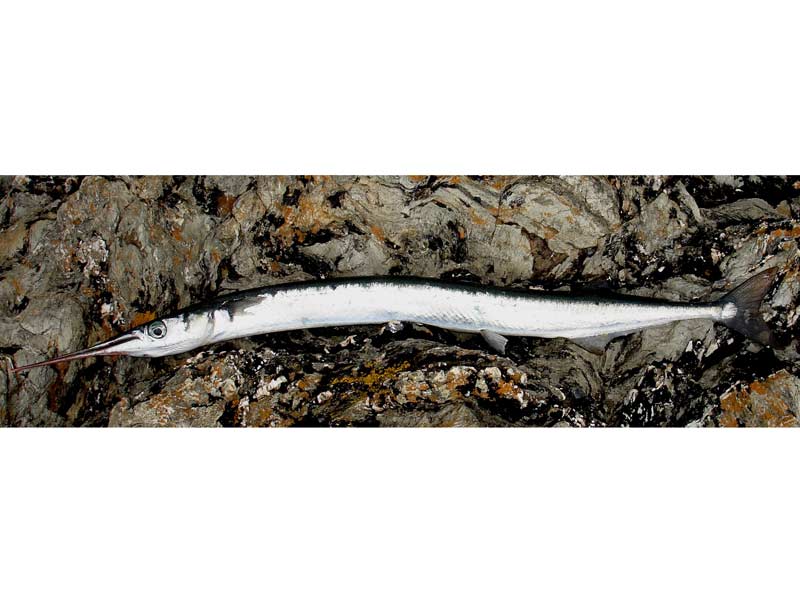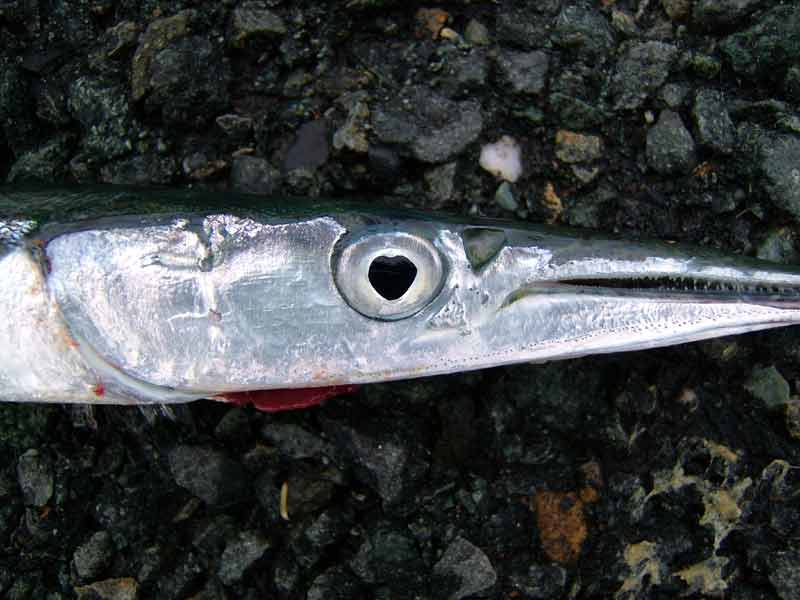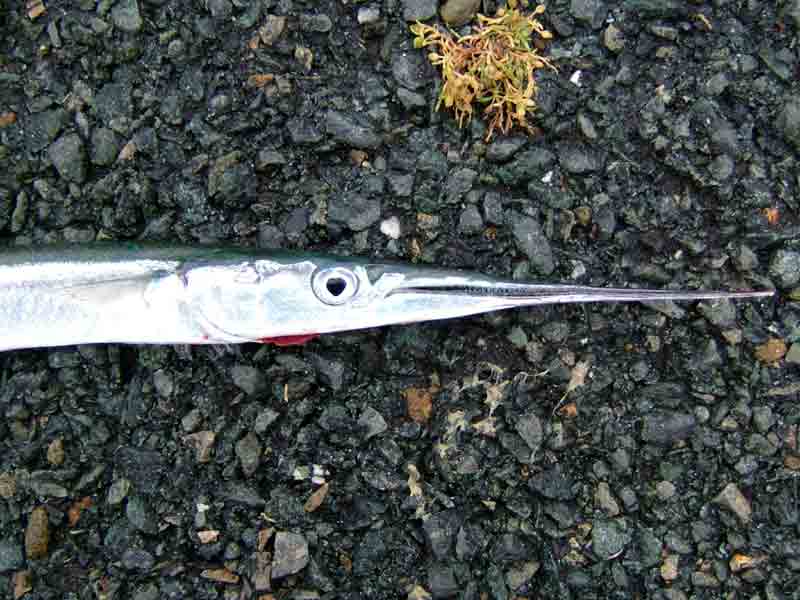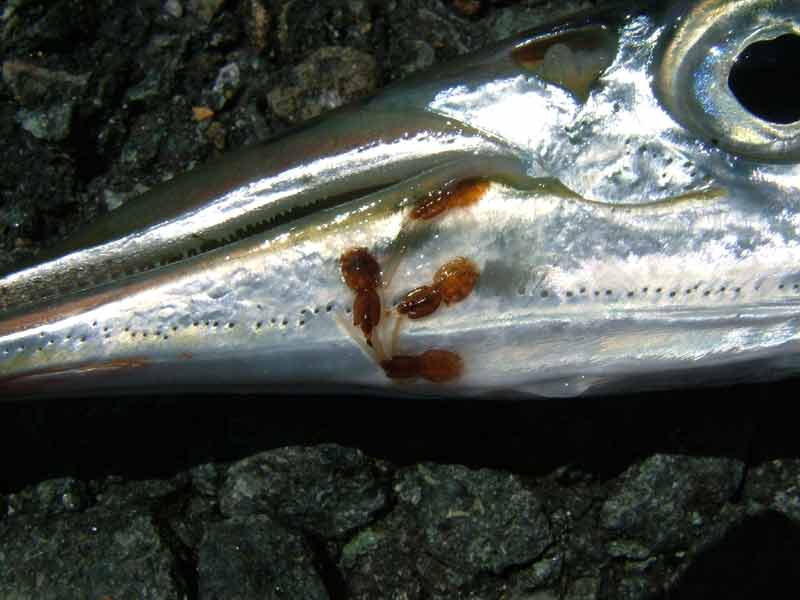 Researched by
Dr Olivia Langmead
Refereed by
Admin
Authority
(Linnaeus, 1760)
Other common names
-
Synonyms
-
Summary
Description
Garfish or needlefish are easily recognised by their long thin bodies and long needle like mouths. Adults can reach up to 1 m in length and are mostly silver with a blue to green back, which is a typical counter-shading pattern of pelagic fish. There is a single dorsal and anal fin set away from the head and close to the tail. The garfish is a commercially important species but many people are put off by the garfish's green skeleton. In juveniles, the lower jaw is much longer than the upper jaw but in adults the jaws are almost the same length.
Recorded distribution in Britain and Ireland
A migratory species, Belone belone, may be found throughout the British Isles during summer but during winter is only seen in southern areas.
Habitat
Garfish are pelagic spending winter offshore and coming into shallow waters during summer. Belone belone will spawn during May and June in seagrass beds and their eggs have long sticky filaments that adhere to seagrass blades. The juveniles stay in shallower waters until they reach sexual maturity.
Identifying features
Long needle-like mouth full of sharp teeth.
Elongate, laterally compressed body.
Dorsal and anal fin set far away from the head, near the tail.
Pelvic fin set at about 3/4 along length of body.
Additional information
No text entered
Bibliography
Dipper, F., 2001. British sea fishes (2nd edn). Teddington: Underwater World Publications Ltd.

Howson, C.M. & Picton, B.E., 1997. The species directory of the marine fauna and flora of the British Isles and surrounding seas. Belfast: Ulster Museum. [Ulster Museum publication, no. 276.]

Moen, F.E. & Svensen, E., 2004. Marine Fish & Invertebrates of Northern Europe. Southend-on-Sea: Aqua Press.

Muus, B.J. & Dahlstrom, P., 1974. Collins guide to the sea fishes of Britain and North-Western Europe. Wm Collins Sons & Co. Ltd: London.

WoRMS 2007. The World Register of Marine Species (WoRMS). http://www.marinespecies.org, 2008-10-31
Datasets
Citation
This review can be cited as:
Langmead, O. 2008. Belone belone Garfish. In Tyler-Walters H. and Hiscock K. Marine Life Information Network: Biology and Sensitivity Key Information Reviews, [on-line]. Plymouth: Marine Biological Association of the United Kingdom. [cited 10-12-2023]. Available from: https://marlin.ac.uk/species/detail/40
---
Last Updated: 15/01/2008