Rocky shore goose barnacle (Pollicipes pollicipes)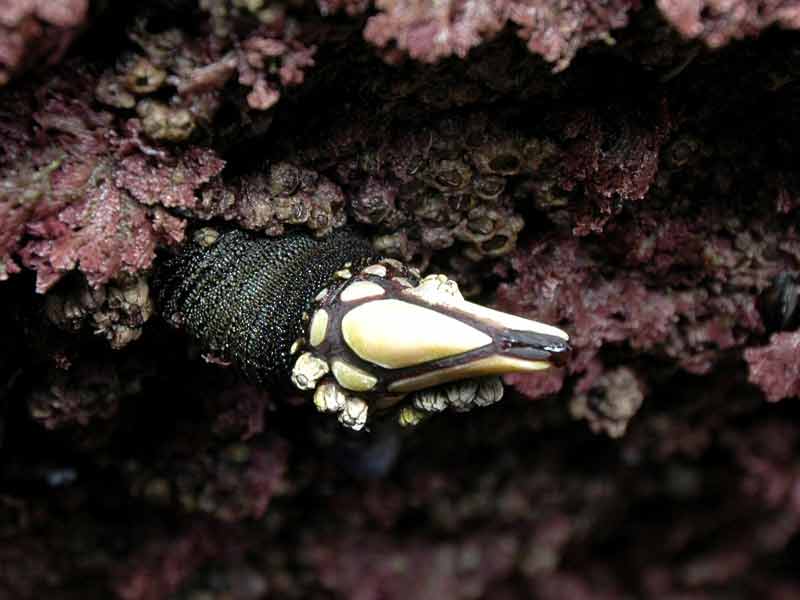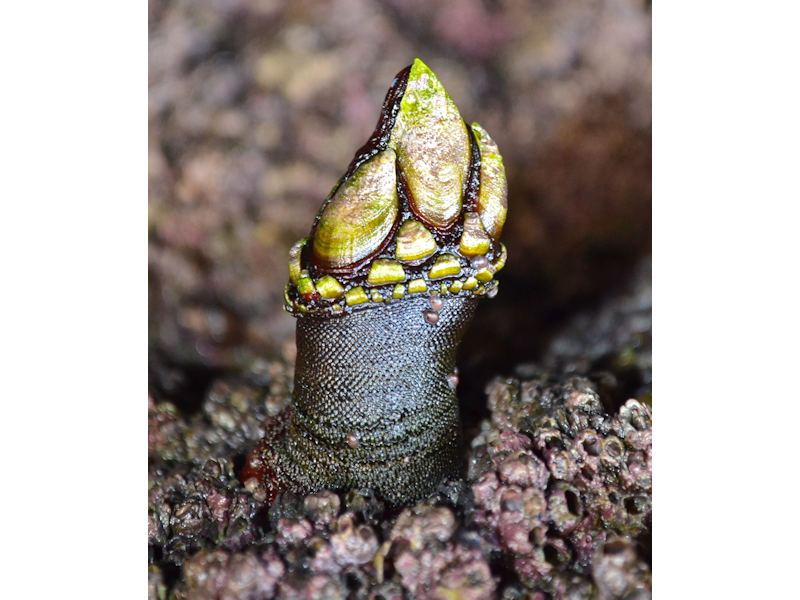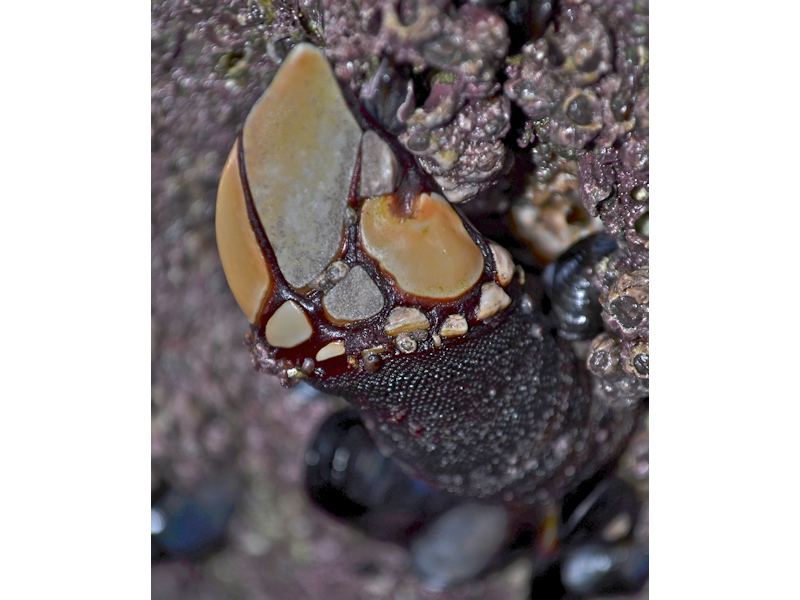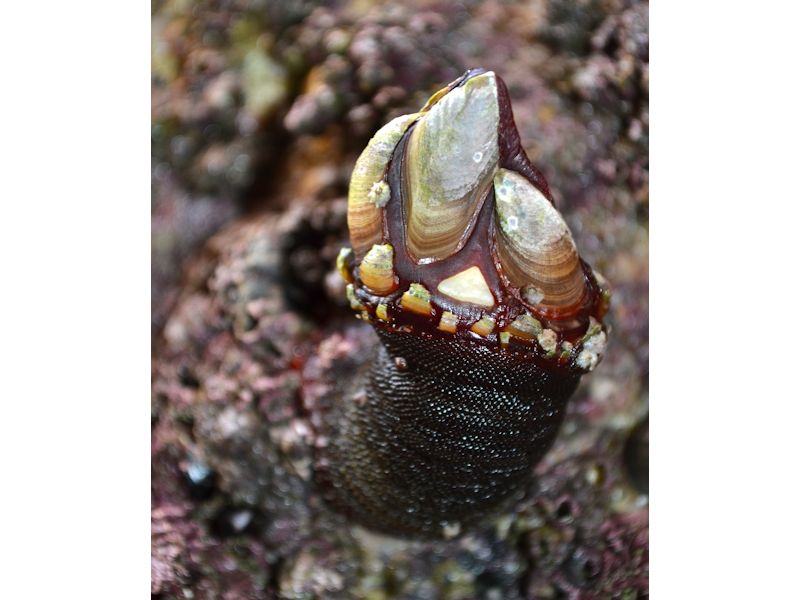 Researched by
Morvan Barnes
Refereed by
Admin
Authority
(Gmelin, 1790)
Other common names
-
Synonyms
Pollicipes cornucopia (Gmelin, 1790), Mitella pollicipes (Gmelin, 1790)
Summary
Description
Pedunculate, goose or goose-neck barnacles have a flexible, muscular stalk, known as the peduncle, which supports the main body known as the capitulum. In Pollicipes pollicipes the capitulum is triangular in nature and white-grey in colour. A number of plates of different sizes protect the capitulum, increasing to over 100 in number with age. The plates may reach up to 0.5 mm in length. Six pairs of thin, feather-like cirri can be seen to arise from within the mantle cavity and are used for feeding. The peduncle may reach over 10 cm in length and is strongly attached to the substratum despite repeated battering in exposed conditions.
Recorded distribution in Britain and Ireland
Although found predominantly further south, Pollicipes pollicipes does extend its geographical range as far north as the south-west British Isles and possibly south-west Ireland.
Habitat
Pollicipes pollicipes can be found in groups attached to rocks on exposed rocky shores and cliffs. They have also been known to occur on the hulls of wrecked ships, various wooden structures and driftwood.
Identifying features
Flexible muscular stalk (peduncle) firmly attached to the substratum.
Body (capitulum) covered in many white-grey plates of different sizes.
Adult peduncles may reach over 10 cm in length.
Additional information
Pollicipes pollicipes may be host to other juveniles of the species, or even adults of other barnacles, which may settle on the peduncle or capitulum of the adult Pollicipes pollicipes.
Bibliography
Barnes, M., 1996. Pedunculate cirripedes of the genus Pollicipes. Oceanography and Marine Biology, 34, 303-394

Hayward, P.J. & Ryland, J.S. (ed.) 1995b. Handbook of the marine fauna of North-West Europe. Oxford: Oxford University Press.

Howson, C.M. & Picton, B.E., 1997. The species directory of the marine fauna and flora of the British Isles and surrounding seas. Belfast: Ulster Museum. [Ulster Museum publication, no. 276.]

Southward, A.J., 2008. Barnacles. Synopses of the British Fauna, (New Series) (ed. J.H. Crothers & P.J. Hayward), No. 57.Shrewsbury, Field Studies Council

WoRMS 2007. The World Register of Marine Species (WoRMS). http://www.marinespecies.org, 2008-10-31
Datasets
Citation
This review can be cited as:
Barnes, M.K.S. 2008. Pollicipes pollicipes Rocky shore goose barnacle. In Tyler-Walters H. and Hiscock K. Marine Life Information Network: Biology and Sensitivity Key Information Reviews, [on-line]. Plymouth: Marine Biological Association of the United Kingdom. [cited 06-12-2023]. Available from: https://marlin.ac.uk/species/detail/43
---
Last Updated: 10/06/2008