Atlantic herring (Clupea harengus)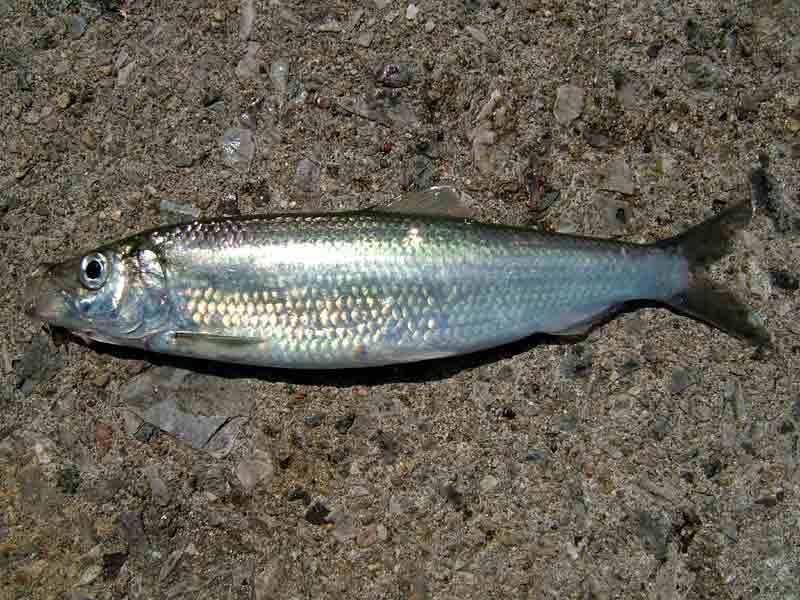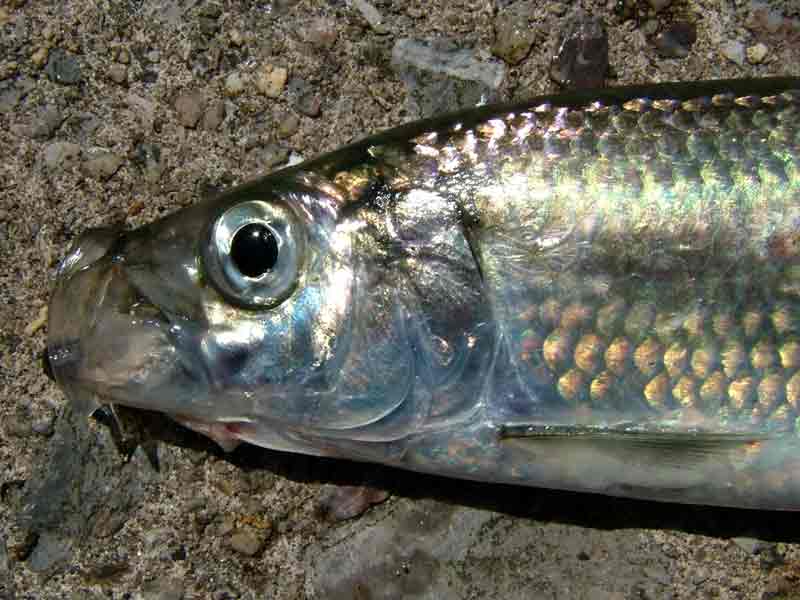 Researched by
Morvan Barnes
Refereed by
Admin
Authority
Linnaeus, 1758
Other common names
-
Synonyms
-
Summary
Description
Clupea harengus is a streamlined shoaling fish. It may reach up to 40 cm in length and 0.68 kg in weight. The overall colouring of the body is silver but a darker blue iridescence is present over the upper half of the body. The underside is considerably paler. The body is deeper than it is wide, which improves the streamlined nature of the fish. The tail is deeply forked and has a single dorsal fin. The pelvic fins are situated slightly in front of the line of the dorsal fin. These, as well as the pectoral fins are not bony, like in many other fish, but are soft.
Recorded distribution in Britain and Ireland
The Atlantic herring is widespread in UK and Irish waters, occurring in the North Sea, the English Channel, the Irish Sea as well as the Northern Atlantic.
Habitat
Clupea harengus is pelagic in its distribution and occurs in the surface waters down to a depth of around 200 m. Outside of the spawning season, Clupea harengus stays away from the immediate coastal areas. It is often found in vast near-surface shoals covering an area of several square kilometers.
Identifying features
Streamlined, shoaling, pelagic species.
Overall silver colouring but with darker blue upper half.
Up to 40 cm in length and 0.68 kg in weight.
Deeply forked tail and single dorsal fin.
Additional information
Clupea harengus is a highly commercial marine fish and is being threatened by over-harvesting by commercial fishing fleets (Whitehead, 1985). Maturity is reached between the ages of 3 and 9 years. Atlantic herring predominantly feeds on small shrimps or copepods but is also known to filter-feed should the need arise.
Bibliography
Froese, R. & Pauly, D., 2007. Fishbase. A global information system on fishes. [On-line] http://www.fishbase.org, 2008-02-18

Hayward, P.J. & Ryland, J.S. (ed.) 1995b. Handbook of the marine fauna of North-West Europe. Oxford: Oxford University Press.

Helfman, G., Colette, B. & Facey, D., 1997. The diversity of fishes. Blackwell Publishing. Oxford, UK.

Howson, C.M. & Picton, B.E., 1997. The species directory of the marine fauna and flora of the British Isles and surrounding seas. Belfast: Ulster Museum. [Ulster Museum publication, no. 276.]

Picton, B.E. & Costello, M.J., 1998. BioMar biotope viewer: a guide to marine habitats, fauna and flora of Britain and Ireland. [CD-ROM] Environmental Sciences Unit, Trinity College, Dublin.

Whitehead, P.J.P. 1985. Clupeoid Fishes of the World: An Annotated and Illustrated Catalogue of the Herrings, Sardines, Pilchards, Sprats, Shads, Anchovies and Wolf-herring; Part 1 - Chirocentridae, Clupeidae and Pristigasteridae. FAO, 125. Rome, Italy.

Whitehead, P.J.P., Bauchot, M.-L., Hureau, J.-C., Nielson, J. & Tortonese, E. 1986. Fishes of the North-eastern Atlantic and the Mediterranean. Vol. I, II & III. Paris: United Nations Educational, Scientific and Cultural Organisation (UNESCO).
Datasets
Citation
This review can be cited as:
Barnes, M.K.S. 2008. Clupea harengus Atlantic herring. In Tyler-Walters H. and Hiscock K. Marine Life Information Network: Biology and Sensitivity Key Information Reviews, [on-line]. Plymouth: Marine Biological Association of the United Kingdom. [cited 11-12-2023]. Available from: https://marlin.ac.uk/species/detail/45
---
Last Updated: 27/03/2008