Angel Shark (Squatina squatina)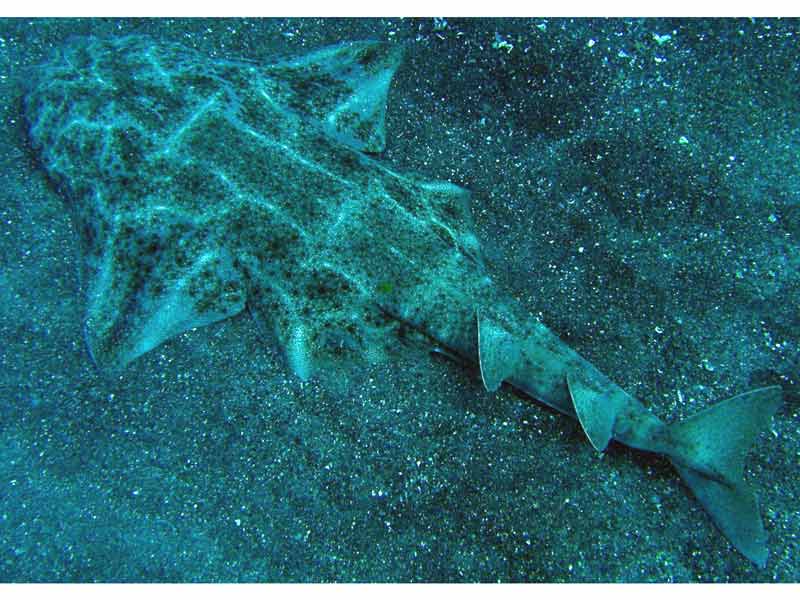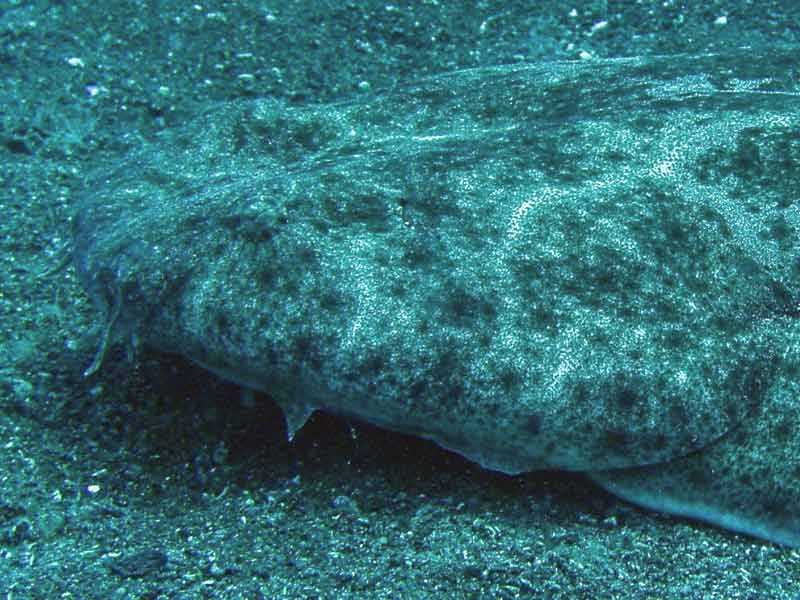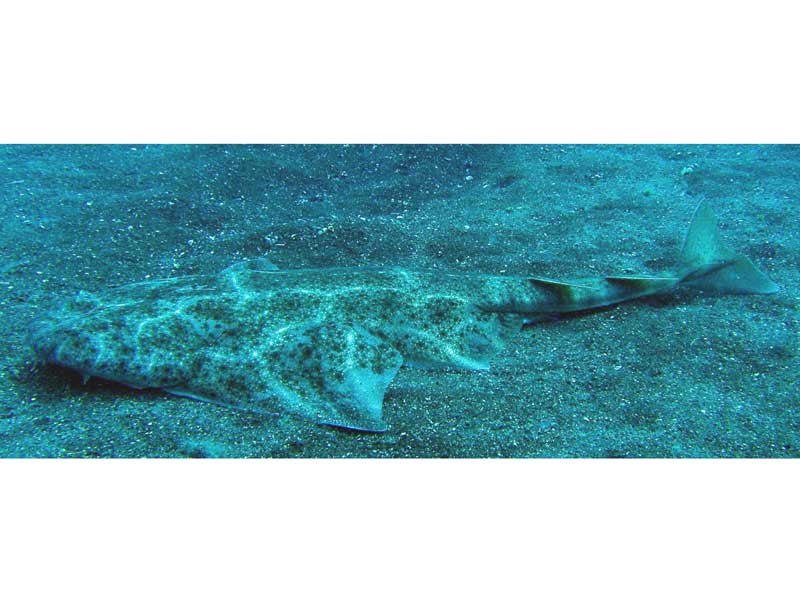 Researched by
Morvan Barnes
Refereed by
Admin
Authority
(Linnaeus, 1758)
Other common names
-
Synonyms
-
Summary
Description
With its flat body, broad trunk and large, very high pectoral fins, Squatina squatina resembles a large ray more than a shark. Its skin is grey to reddish or greenish-brown and is scattered with small white spots and blackish dots. The dorsal fins have a dark leading edge and a pale trailing edge. Whisker-like nasal barbels project from near the nostrils. The monkfish, or angelfish as it is sometimes known, has large, round eyes with vertical slit pupils. It can grow up to 1.8 m in length and 80 kg in weight.
Recorded distribution in Britain and Ireland
Expected distribution all around the offshore coast of Ireland and Britain as far north as the Shetland Isles and as far south as southern Ireland.
Habitat
Found on the continental shelves from close inshore to at least 150 m depth. During day time, found almost buried in a mud or sandy bottom often with hardly more than its eyes protruding. Will often be seen swimming off the bottom at night time.
Identifying features
Flat, ray-like body, broad trunk and large, high pectoral fins.
Grey to reddish or greenish-brown with white spots and blackish dots.
Up to 1.8 m in length.
Nasal barbels and large round eyes.
No ocelli on body.
Additional information
Young angel sharks may also have white net-like markings and large, dark blotches, whilst adults are plainer (Compagno, 1984).
Bibliography
Compagno, L.J.V., 1984. FAO species catalogue. Vol. 4. Sharks of the world. An annotated and illustrated catalogue of shark species known to date. Part 1 - Hexanchiformes to Lamniformes. FAO Fisheries Synopsies, 125, 1-249

Froese, R. & Pauly, D., 2007. Fishbase. A global information system on fishes. [On-line] http://www.fishbase.org, 2008-02-18

Howson, C.M. & Picton, B.E., 1997. The species directory of the marine fauna and flora of the British Isles and surrounding seas. Belfast: Ulster Museum. [Ulster Museum publication, no. 276.]

Whitehead, P.J.P., Bauchot, M.-L., Hureau, J.-C., Nielson, J. & Tortonese, E. 1986. Fishes of the North-eastern Atlantic and the Mediterranean. Vol. I, II & III. Paris: United Nations Educational, Scientific and Cultural Organisation (UNESCO).
Datasets
Isle of Wight Local Records Centre, 2017. IOW Natural History & Archaeological Society Marine Records. Occurrence dataset: https://doi.org/10.15468/7axhcw accessed via GBIF.org on 2018-09-27.

NBN (National Biodiversity Network) Atlas. Available from: https://www.nbnatlas.org.

OBIS (Ocean Biodiversity Information System), 2023. Global map of species distribution using gridded data. Available from: Ocean Biogeographic Information System. www.iobis.org. Accessed: 2023-12-02
Citation
This review can be cited as:
Barnes, M.K.S. 2008. Squatina squatina Angel Shark. In Tyler-Walters H. and Hiscock K. Marine Life Information Network: Biology and Sensitivity Key Information Reviews, [on-line]. Plymouth: Marine Biological Association of the United Kingdom. [cited 02-12-2023]. Available from: https://marlin.ac.uk/species/detail/52
---
Last Updated: 25/03/2008