Tope shark (Galeorhinus galeus)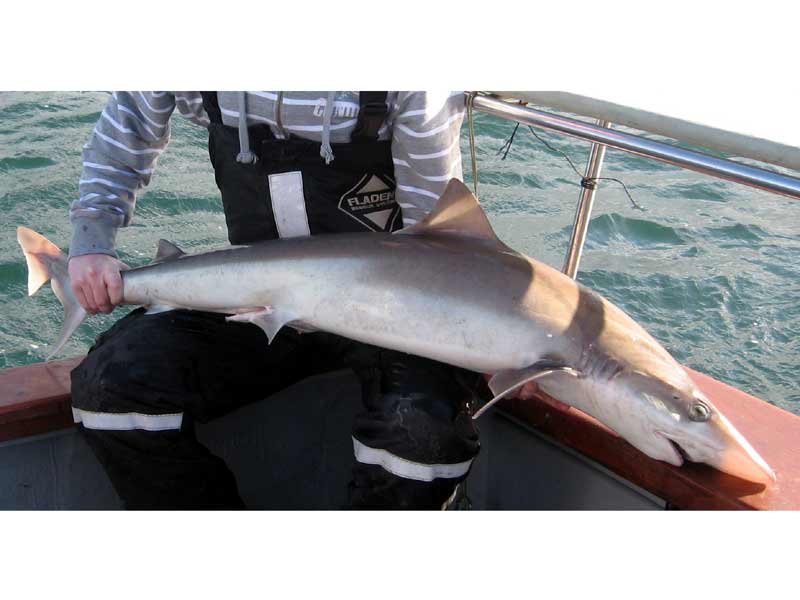 Researched by
Morvan Barnes
Refereed by
Admin
Authority
(Linnaeus, 1758)
Other common names
-
Synonyms
-
Summary
Description
The tope shark Galeorhinus galeus is a slender streamlined hound shark. It can grow up to over 190 cm in length. It has a grey-brown dorsal colouring and a much paler ventral surface. The tope shark has a long and pointed snout and large oval shaped eyes. The second of the two dorsal fins is similar in size to the anal fin. Juveniles may have black markings on their fins.
Recorded distribution in Britain and Ireland
Widely distributed off the coasts of Britain and Ireland.
Habitat
The tope shark is a benthopelagic and demersal species inhabiting the upper continental shelf down to a depth of 550 m.
Identifying features
Slender hound shark reaching up to 190 cm in length.
Shiny greyish-brown dorsal colouring and paler ventral surface.
A long and pointed snout with large, oval, distinctly horizontal eyes.
Similar sized second dorsal and anal fin.
The caudal lobe is as long as the rest of the fin.
Additional information
No text entered
Bibliography
Compagno, L.J.V., 1984. FAO species catalogue. Vol. 4. Sharks of the world. An annotated and illustrated catalogue of shark species known to date. Part 1 - Hexanchiformes to Lamniformes. FAO Fisheries Synopsies, 125, 1-249

Froese, R. & Pauly, D., 2007. Fishbase. A global information system on fishes. [On-line] http://www.fishbase.org, 2008-02-18

Holden, M.J. & Horrod, R.G., 1979. The migrations of tope, Galeorhinus galeus L. in the eastern North Atlantic as determined by tagging. Journal du Conseil Permanent International pour l'Exploration de la Mer, 38, 314-317

Howson, C.M. & Picton, B.E., 1997. The species directory of the marine fauna and flora of the British Isles and surrounding seas. Belfast: Ulster Museum. [Ulster Museum publication, no. 276.]

Vas, P., 1995. A field guide to the sharks of British coastal waters. FSC Publications, Shrewsbury, UK.
Datasets
Citation
This review can be cited as:
Barnes, M.K.S. 2008. Galeorhinus galeus Tope shark. In Tyler-Walters H. and Hiscock K. Marine Life Information Network: Biology and Sensitivity Key Information Reviews, [on-line]. Plymouth: Marine Biological Association of the United Kingdom. [cited 06-12-2023]. Available from: https://marlin.ac.uk/species/detail/66
---
Last Updated: 25/03/2008