Five-bearded rockling (Ciliata mustela)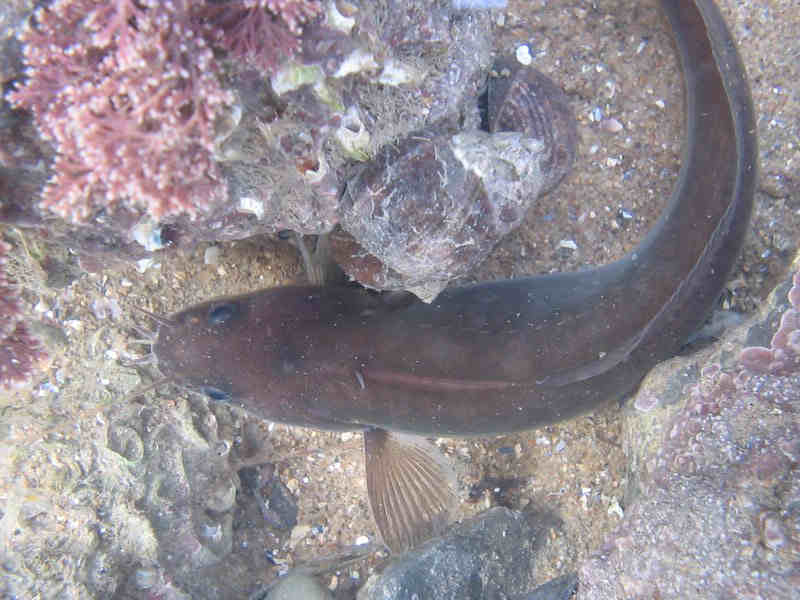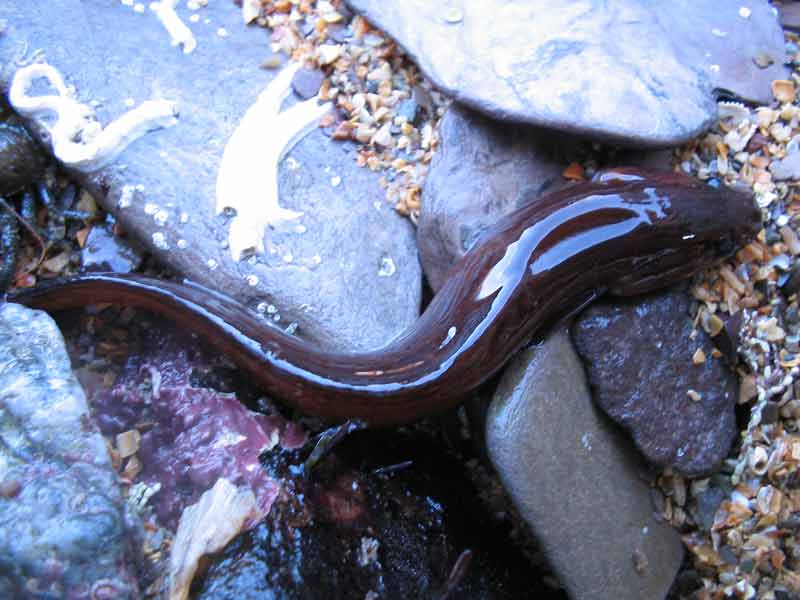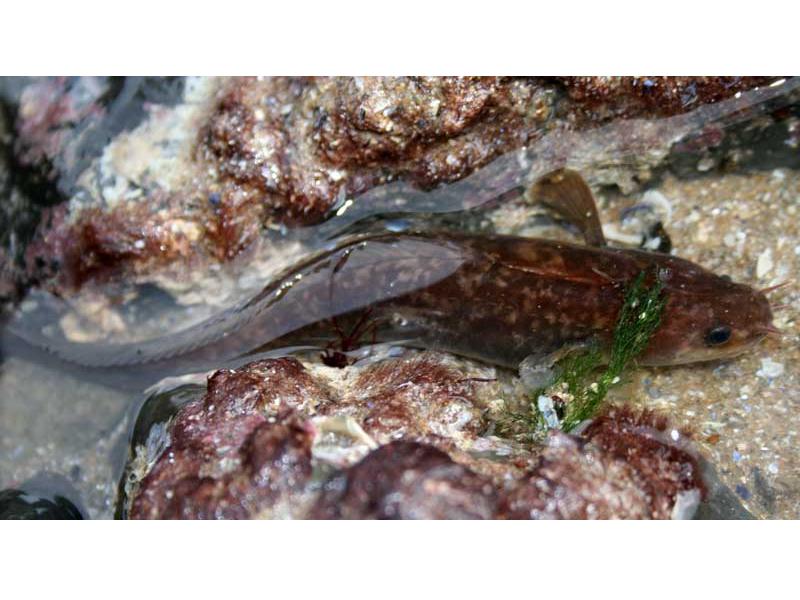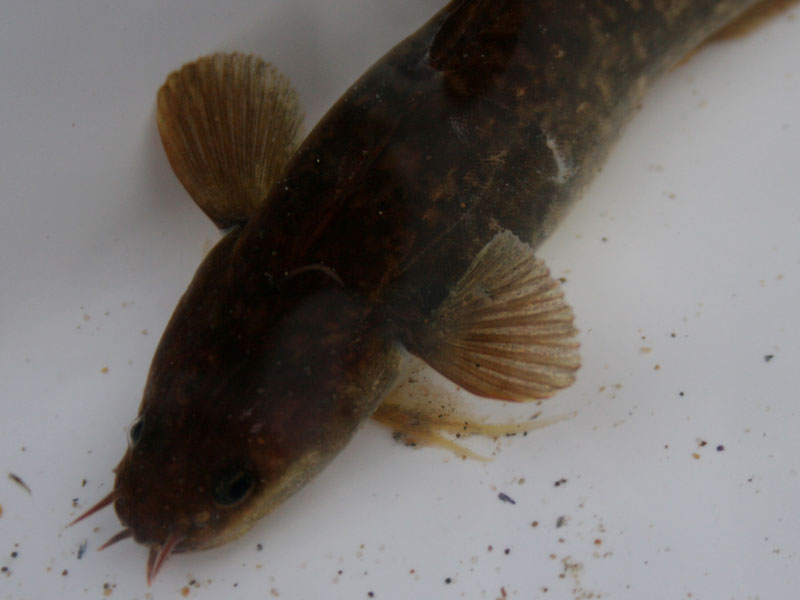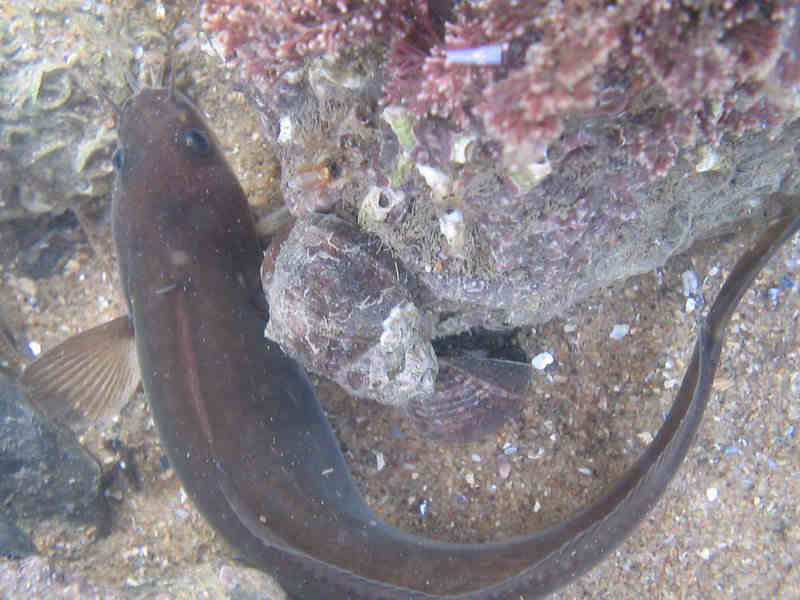 Researched by
Morvan Barnes
Refereed by
Admin
Authority
(Linnaeus, 1758)
Other common names
-
Synonyms
-
Summary
Description
The five-bearded rockling Ciliata mustela is a long, slender fish that may reach up to 25 cm in length. Its body is covered with smooth, scaleless skin. The five-bearded rockling has notably long dorsal and anal fins. It is easily recognisable by the five barbels around its mouth, two above each nostril and one on the lower jaw. The mouth itself is small and the corners of the mouth barely extend past the eyes. It is dark brown in colour.
Recorded distribution in Britain and Ireland
Found all around the coasts of Britain and south-east Ireland.
Habitat
The five-bearded rockling is a demersal species that inhabits shallow water down to 20 m, usually over sand and under intertidal rocks.
Identifying features
Long, slender body up to 25 cm in length.
Five barbels around the mouth.
Two dorsal fins; the first is reduced to a fringe of very short rays that may be seen moving with a continuous wave-like motion.
Second dorsal fin and anal fin extending along most of the body-length.
Uniform dark brown colour.
No lobed fold of skin above the upper lip.
Bibliography
Cohen, D.M., Inada, T., Iwamoto, T. & Scialabba, N., 1990. FAO species catalogue. Vol. 10. Gadiform Fishes of the World. An Annotated and Illustrated Catalogue of Cods, Hakes, Grenadiers and Other Gadiform Fishes Known to Date. Food and Agriculture Organization of the United Nations (FAO) Fisheries Synopsies, 125

Froese, R. & Pauly, D., 2007. Fishbase. A global information system on fishes. [On-line] http://www.fishbase.org, 2008-02-18

Howson, C.M. & Picton, B.E., 1997. The species directory of the marine fauna and flora of the British Isles and surrounding seas. Belfast: Ulster Museum. [Ulster Museum publication, no. 276.]

Muus, B.J. & Nielsen, J.G. 1999. Sea Fish. Scandinavian Fishing Year Book. Hedehusene: Denmark

Whitehead, P.J.P., Bauchot, M.-L., Hureau, J.-C., Nielson, J. & Tortonese, E. 1986. Fishes of the North-eastern Atlantic and the Mediterranean. Vol. I, II & III. Paris: United Nations Educational, Scientific and Cultural Organisation (UNESCO).
Datasets
Citation
This review can be cited as:
Barnes, M.K.S. 2008. Ciliata mustela Five-bearded rockling. In Tyler-Walters H. and Hiscock K. Marine Life Information Network: Biology and Sensitivity Key Information Reviews, [on-line]. Plymouth: Marine Biological Association of the United Kingdom. [cited 10-12-2023]. Available from: https://marlin.ac.uk/species/detail/80
---
Last Updated: 22/05/2008