Red gurnard (Chelidonichthys cuculus)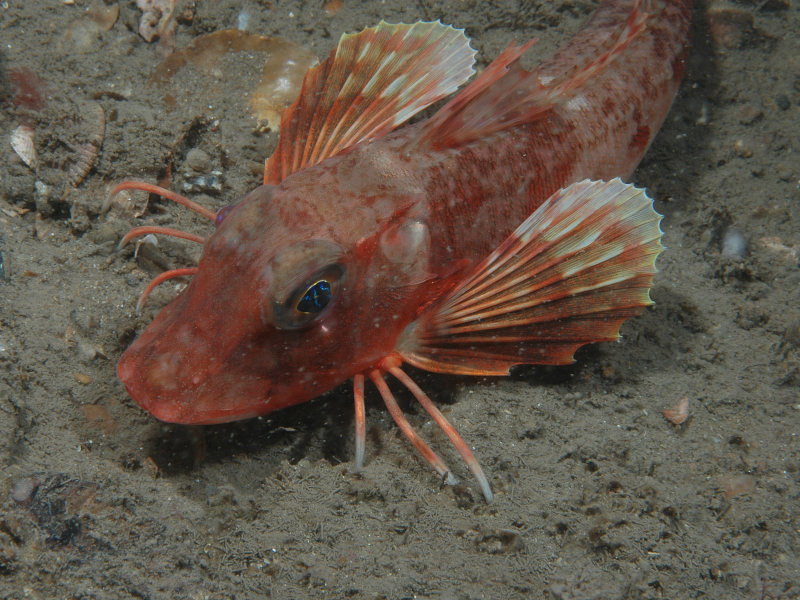 Researched by
Morvan Barnes
Refereed by
This information is not refereed
Authority
(Linnaeus, 1758)
Other common names
-
Synonyms
Aspitrigla cuculus
Summary
Description
The red gurnard Chelidonichthys cuculus is a member of the scorpionfish family and has a charcteristic suborbital stay, a bony extension from below the eye to the preopercle. It may reach up to 50 cm in length. It can be recognised by the enlarged rays off the pectoral fin, used for food detection, and the way the pectoral fins open and close like a bird's wing. The red gurnard is a good sound producer and, when caught, it makes a croaking noise similar to a frog. It is red in colour with pinkish-silver mottling.
Recorded distribution in Britain and Ireland
Widely recorded throughout British and Irish waters.
Global distribution
Abundant around the coasts of the British Isles and the Bay of Biscay, and recorded in the North Sea east into the Kattegat, around the Azores and in the Mediterranean.
Habitat
The red gurnard is a demersal species. It can be found over sand, gravel and rocks on the continental shelf, from 15 m down to a depth of 400 m.
Identifying features
Up to 50 cm in length.
Bony extension from below the eye to the preopercle.
Two to three enlarged rays off each pectoral fin.
Large angular head and steep snout.
Up to 10 dorsal spines.
Scales absent on breast and anterior part of belly.
Additional information
The red gurnard is classified as a generalist. It is characterized by fast growth and early sexual maturity at a relatively large size (Quero et al., 1986).
Bibliography
Froese, R. & Pauly, D., 2007. Fishbase. A global information system on fishes. [On-line] http://www.fishbase.org, 2008-02-18

Howson, C.M. & Picton, B.E., 1997. The species directory of the marine fauna and flora of the British Isles and surrounding seas. Belfast: Ulster Museum. [Ulster Museum publication, no. 276.]

Picton, B.E. & Costello, M.J., 1998. BioMar biotope viewer: a guide to marine habitats, fauna and flora of Britain and Ireland. [CD-ROM] Environmental Sciences Unit, Trinity College, Dublin.

Quero, J-C., Hureau, J-C., Karrer, C., Post, A. & Saldanha, L. (eds.), 1990. Check-list of the fishes of the eastern tropical Atlantic (CLOFETA) JNICT, Lisbon; SEI, Paris; and UNESCO, Paris.

Whitehead, P.J.P., Bauchot, M.-L., Hureau, J.-C., Nielson, J. & Tortonese, E. 1986. Fishes of the North-eastern Atlantic and the Mediterranean. Vol. I, II & III. Paris: United Nations Educational, Scientific and Cultural Organisation (UNESCO).
Datasets
Citation
This review can be cited as:
Barnes, M.K.S. 2008. Chelidonichthys cuculus Red gurnard. In Tyler-Walters H. and Hiscock K. Marine Life Information Network: Biology and Sensitivity Key Information Reviews, [on-line]. Plymouth: Marine Biological Association of the United Kingdom. [cited 11-12-2023]. Available from: https://marlin.ac.uk/species/detail/83
---
Last Updated: 22/05/2008