Whiting (Merlangius merlangus)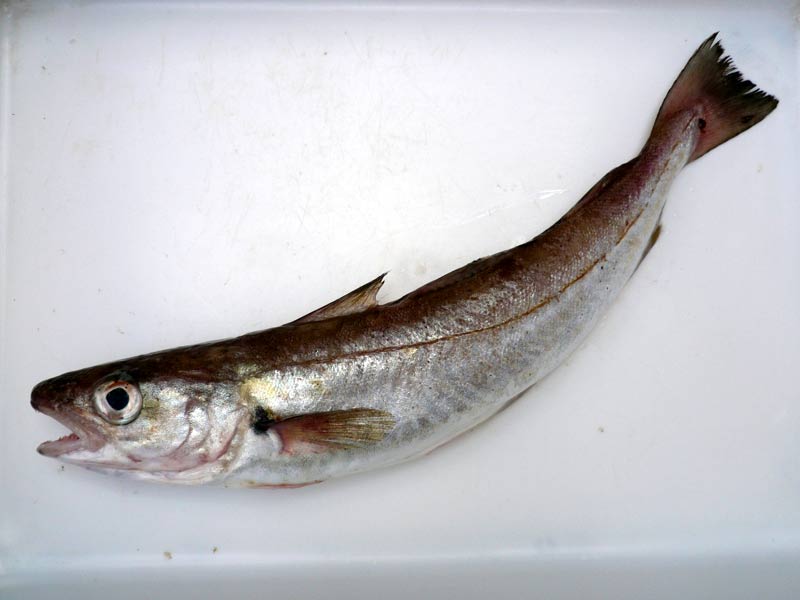 Researched by
Morvan Barnes
Refereed by
Admin
Authority
(Linnaeus, 1758)
Other common names
-
Synonyms
-
Summary
Description
The whiting Merlangius merlangus is a cod-like fish. It has an elongated body with a small head and a pointed snout. It can grow up to 70 cm in length. It has a blue-green upper colouring and is silvery-white underneath. It has three dorsal fins and two anal fins. The pectoral fins are on the side and the pelvic fins are near the gills. The tail is truncate. Its upper jaw projects above the lower jaw. A small dark spot is found at the base of the pectoral fins and the lateral line is brown in colour.
Recorded distribution in Britain and Ireland
Found off western Scotland, south-east England and the English Channel, and in the Irish Sea off the coasts of east England, Wales and Ireland.
Habitat
The whiting is a benthopelagic species usually found as depths of 30-100 m. It can be found near mud and gravel bottoms, but also above sand and rock.
Identifying features
Blue-green dorsal colouring, silver-white underneath.
Three dorsal fins located close together and two anal fins.
First anal fin starts directly below the central rays of the second dorsal.
Black spot at the base of the pectoral fins.
Outer parts of the pelvic and dorsal fins form a white edge.
Brown lateral line.
Lower jaw slightly shorter than upper jaw.
Barbel either rudimentary or absent.
Additional information
It can be differentiated from similar species such as the haddock,
Melanogrammus aeglefinus
, by a small dark spot which is found at the base of the pectoral fins and by the lateral line being brown and not black. It is very similar to the blue whiting,
Micromesistius poutassou
, but can be distinguished by the dorsal fins being close together.
Bibliography
Froese, R. & Pauly, D., 2007. Fishbase. A global information system on fishes. [On-line] http://www.fishbase.org, 2008-02-18

Gordon, J.D.M., 1977. The fish populations in inshore waters of the west coast of Scotland. The distribution, abundance and growth of the whiting (Merlangius merlangus L.). Journal of Fish Biology, 10, 587-596

Hayward, P.J. & Ryland, J.S. (ed.) 1995b. Handbook of the marine fauna of North-West Europe. Oxford: Oxford University Press.

Howson, C.M. & Picton, B.E., 1997. The species directory of the marine fauna and flora of the British Isles and surrounding seas. Belfast: Ulster Museum. [Ulster Museum publication, no. 276.]

Moen, F.E. & Svensen, E., 2004. Marine Fish & Invertebrates of Northern Europe. Southend-on-Sea: Aqua Press.

Whitehead, P.J.P., Bauchot, M.-L., Hureau, J.-C., Nielson, J. & Tortonese, E. 1986. Fishes of the North-eastern Atlantic and the Mediterranean. Vol. I, II & III. Paris: United Nations Educational, Scientific and Cultural Organisation (UNESCO).
Datasets
Citation
This review can be cited as:
Barnes, M.K.S. 2008. Merlangius merlangus Whiting. In Tyler-Walters H. and Hiscock K. Marine Life Information Network: Biology and Sensitivity Key Information Reviews, [on-line]. Plymouth: Marine Biological Association of the United Kingdom. [cited 06-12-2023]. Available from: https://marlin.ac.uk/species/detail/96
---
Last Updated: 22/05/2008