Horse mackerel (or scad) (Trachurus trachurus)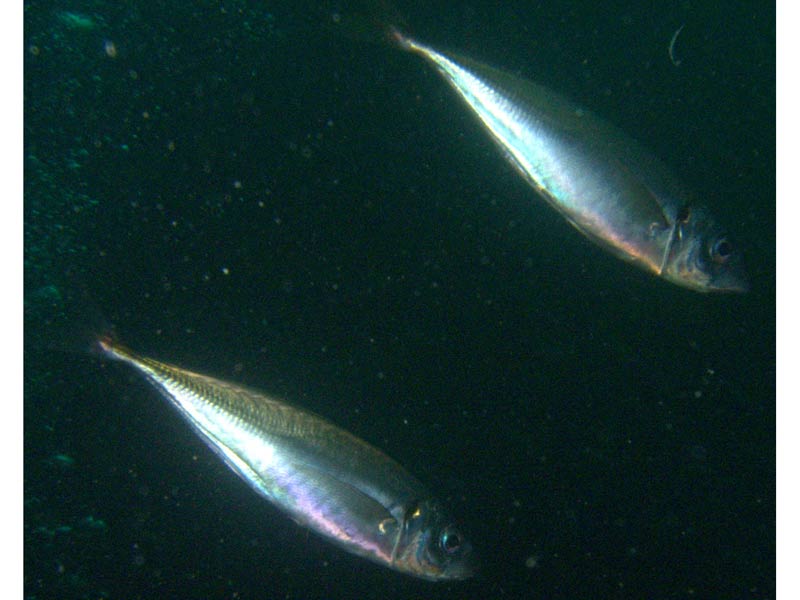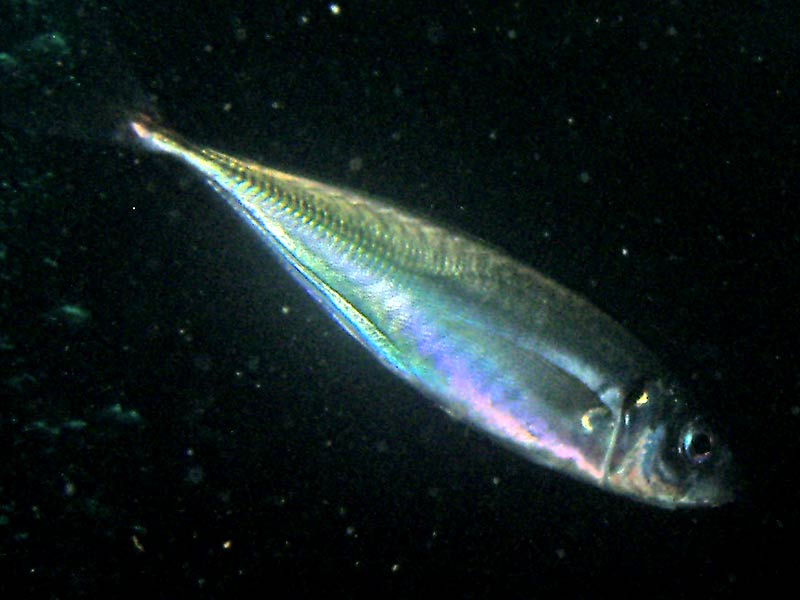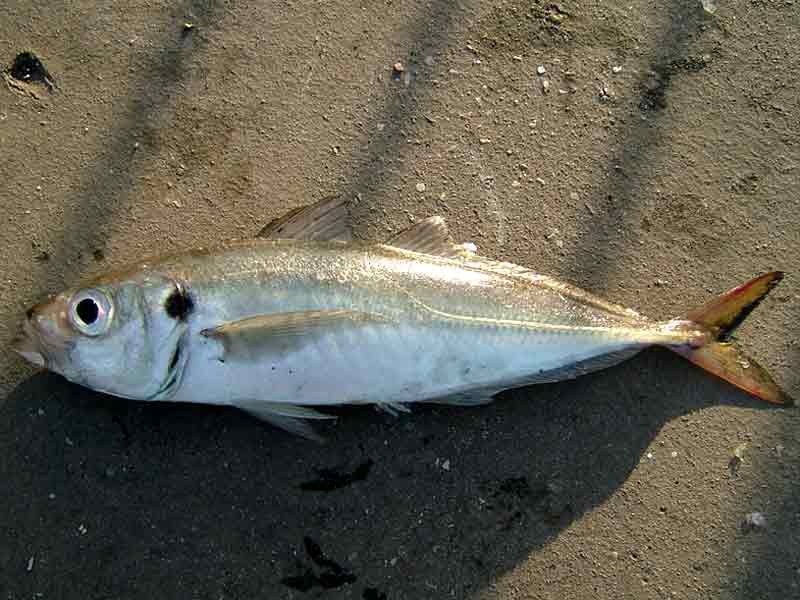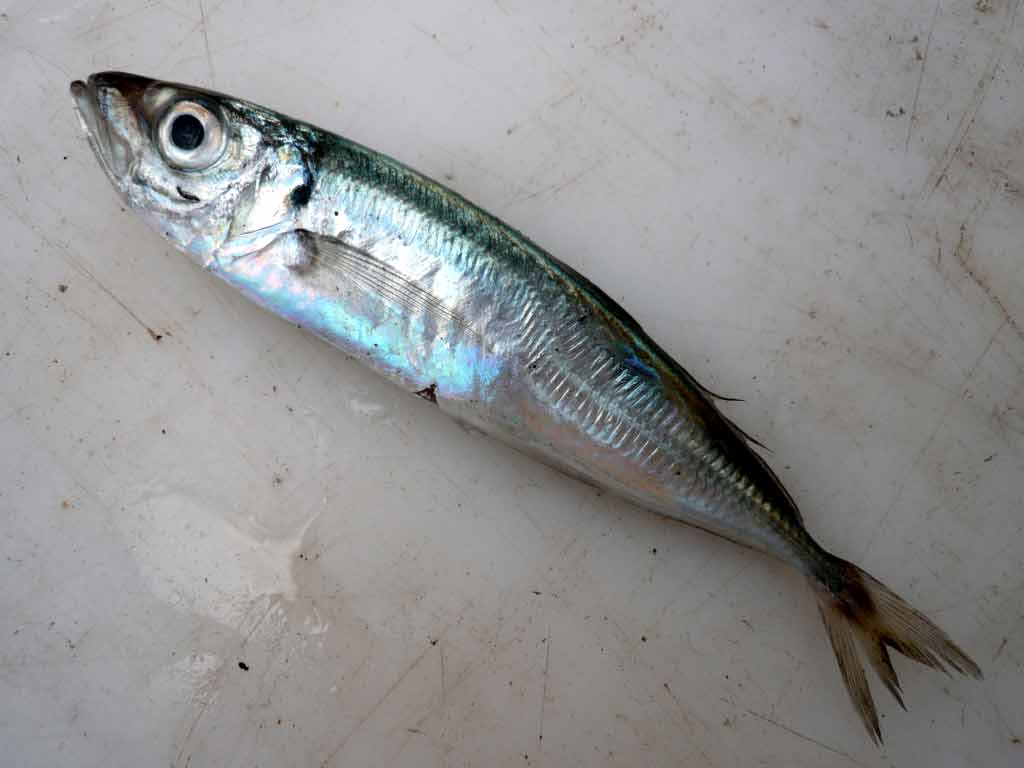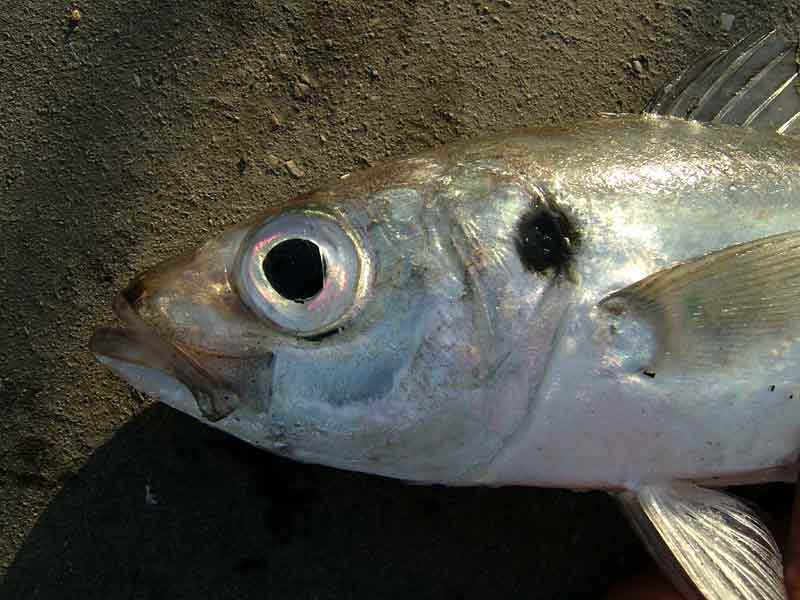 Researched by
Morvan Barnes
Refereed by
Admin
Authority
(Linnaeus, 1758)
Other common names
-
Synonyms
-
Summary
Description
The horse mackerel Trachurus trachurus is a slender schooling species that may reach up to 60 cm in length. The leading rays of its dorsal, anal and pelvic fins have conspicuous spines. It has two dorsal fins, the first of which is short and tall. The second dorsal fin, like the anal fin, is prolonged from the end of the first dorsal almost to the tail. The tail itself is strongly forked. It has a bluish dorsal colouring and silvery sides. It has a large head with large eyes. It has a black spot on the trailing edge of the gill cover, between the pectoral fin and the lateral line.
Recorded distribution in Britain and Ireland
The horse mackerel has a south-western distribution and can be found in throughout the English Channel, in the Irish Sea as far north as Lancashire and off the south coast of Ireland.
Habitat
The horse mackerel is a pelagic coastal species that may be found on continental shelves down to over 200 m in depth.
Identifying features
Fairly compressed elongate body up to 60 cm in length.
Large head.
Lower jaw projected.
First dorsal fin tall.
Second dorsal and anal fins prolonged.
Black spot on the trailing edge of the gill cover.
Additional information
The horse mackerel Trachurus trachurus can be easily distinguished from other mackerel by the black spot on the trailing edge of the gill cover (Knijn et al., 1993).
Bibliography
Froese, R. & Pauly, D., 2007. Fishbase. A global information system on fishes. [On-line] http://www.fishbase.org, 2008-02-18

Howson, C.M. & Picton, B.E., 1997. The species directory of the marine fauna and flora of the British Isles and surrounding seas. Belfast: Ulster Museum. [Ulster Museum publication, no. 276.]

Knijn, R.J., Boon, T.W., Heesen, H.J.L & Hislop, J.R.G., 1993. Atlas of North Sea Fishes. ICES cooperative research reports. ICES 194., Copenhagen

Macer, C.T., 1977. Some aspects of the biology of the horse mackerel (Trachurus trachurus L.) in waters around Britain. Journal of Fish Biology, 10, 51-62

Moen, F.E. & Svensen, E., 2004. Marine Fish & Invertebrates of Northern Europe. Southend-on-Sea: Aqua Press.

Picton, B.E. & Costello, M.J., 1998. BioMar biotope viewer: a guide to marine habitats, fauna and flora of Britain and Ireland. [CD-ROM] Environmental Sciences Unit, Trinity College, Dublin.

Whitehead, P.J.P., Bauchot, M.-L., Hureau, J.-C., Nielson, J. & Tortonese, E. 1986. Fishes of the North-eastern Atlantic and the Mediterranean. Vol. I, II & III. Paris: United Nations Educational, Scientific and Cultural Organisation (UNESCO).
Datasets
Citation
This review can be cited as:
Barnes, M.K.S. 2008. Trachurus trachurus Horse mackerel (or scad). In Tyler-Walters H. and Hiscock K. Marine Life Information Network: Biology and Sensitivity Key Information Reviews, [on-line]. Plymouth: Marine Biological Association of the United Kingdom. [cited 10-12-2023]. Available from: https://marlin.ac.uk/species/detail/97
---
Last Updated: 22/05/2008