European Hake (Merluccius merluccius)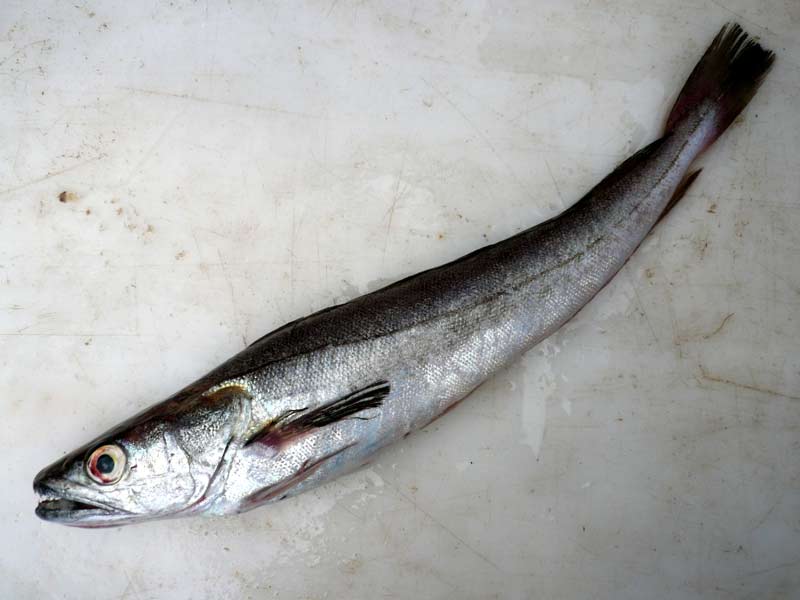 Researched by
Morvan Barnes
Refereed by
Admin
Authority
(Linnaeus, 1758)
Other common names
-
Synonyms
-
Summary
Description
Merluccius merluccius has an elongate body that may reach up to 1.3 m in length. Although superficially similar to the cod-like family, it only has two dorsal fins and one anal fin. The first dorsal fin is short and triangular. The second dorsal fin, like the anal fin, is prolonged. It has a straight lateral line. It has a large and narrow head with a large mouth. It has a dark blue dorsal colouring but is silvery-grey underneath. Merluccius merluccius has been observed using its pectoral and pelvic fins to dig into soft sandy substrates, often throwing sand onto their backs.
Recorded distribution in Britain and Ireland
Found in the western English Channel as far east as Dorset, in the Irish Sea as far north as the Isle of Man and off southern Ireland. One sighting puts it as far north as western Scotland.
Habitat
The European hake is a demersal species that is usually found between 70-350 m. May be observed feeding alone on the bottom or in shoals in the water column.
Identifying features
Elongate and up to 1.
3 m in length.
Two dorsal and one anal fin.
Straight lateral line.
Narrow head and large mouth with large lips.
Lower jaw with two rows of teeth, upper jaw with only one.
Barbel on lower lip is absent.
Additional information
No text entered
Bibliography
Agnew, D.J., 1989. The distribution and biology of hake (Merluccius merluccius) subject to the Northern Ireland spring fishery. ICES Council Meeting Papers, C.M.1989/G:58

Froese, R. & Pauly, D., 2007. Fishbase. A global information system on fishes. [On-line] http://www.fishbase.org, 2008-02-18

Howson, C.M. & Picton, B.E., 1997. The species directory of the marine fauna and flora of the British Isles and surrounding seas. Belfast: Ulster Museum. [Ulster Museum publication, no. 276.]

Moen, F.E. & Svensen, E., 2004. Marine Fish & Invertebrates of Northern Europe. Southend-on-Sea: Aqua Press.

Whitehead, P.J.P., Bauchot, M.-L., Hureau, J.-C., Nielson, J. & Tortonese, E. 1986. Fishes of the North-eastern Atlantic and the Mediterranean. Vol. I, II & III. Paris: United Nations Educational, Scientific and Cultural Organisation (UNESCO).
Datasets
Citation
This review can be cited as:
Barnes, M.K.S. 2008. Merluccius merluccius European Hake. In Tyler-Walters H. and Hiscock K. Marine Life Information Network: Biology and Sensitivity Key Information Reviews, [on-line]. Plymouth: Marine Biological Association of the United Kingdom. [cited 06-12-2023]. Available from: https://marlin.ac.uk/species/detail/98
---
Last Updated: 22/05/2008