A sea slug (Aeolidiella sanguinea)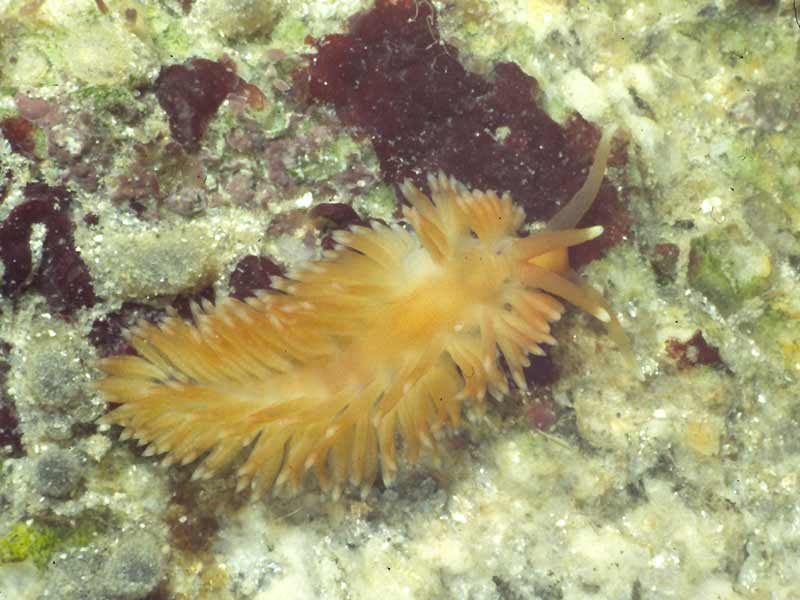 Researched by
Emily Wilson
Refereed by
Admin
Authority
(Norman, 1877)
Other common names
-
Synonyms
-
Summary
Description
A sea slug with an orange brown body which is covered by an extensive fawn or light brown surface pigment, with a rim around the edge of the foot. It has numerous protrusions along its body (cerata) that are also covered with dense flecks of fawn coloured pigment. Aeolidiella sanguinea grows up to 46 mm.
Recorded distribution in Britain and Ireland
A nationally rare species, recorded from Lough Hyne, Galway Bay and Donegal Bay in Ireland and from the Calf of Man, Isle of Man.
Habitat
Typically a sublittoral species but occasionally found on the lower shore in muddy inlets but also on exposed rocky coasts.
Identifying features
Superficial pigment on ceratal surfaces and around edge of foot.
The hear bears sensory tentacles (rhinophores) and oral tentacles with outer portion pigmented.
Rhinophores, cerata and oral tentacles bear white tips.
Additional information
This species feeds on Sagartiid anemones, especially
Cylista elegans
(Picton & Morrow, 1994).
Bibliography
Howson, C.M. & Picton, B.E., 1997. The species directory of the marine fauna and flora of the British Isles and surrounding seas. Belfast: Ulster Museum. [Ulster Museum publication, no. 276.]

Picton, B. E. & Morrow, C.C., 1994. A Field Guide to the Nudibranchs of the British Isles. London: Immel Publishing Ltd.

Thompson, T.E. & Brown, G.H., 1984. Biology of Opisthobranch Molluscs, vol. II. London: Ray Society.
Datasets
Citation
This review can be cited as:
Wilson, E. 2006. Aeolidiella sanguinea A sea slug. In Tyler-Walters H. and Hiscock K. Marine Life Information Network: Biology and Sensitivity Key Information Reviews, [on-line]. Plymouth: Marine Biological Association of the United Kingdom. [cited 11-12-2023]. Available from: https://marlin.ac.uk/species/detail/1260
---
Last Updated: 14/08/2006