Parasitic anemone (Calliactis parasitica)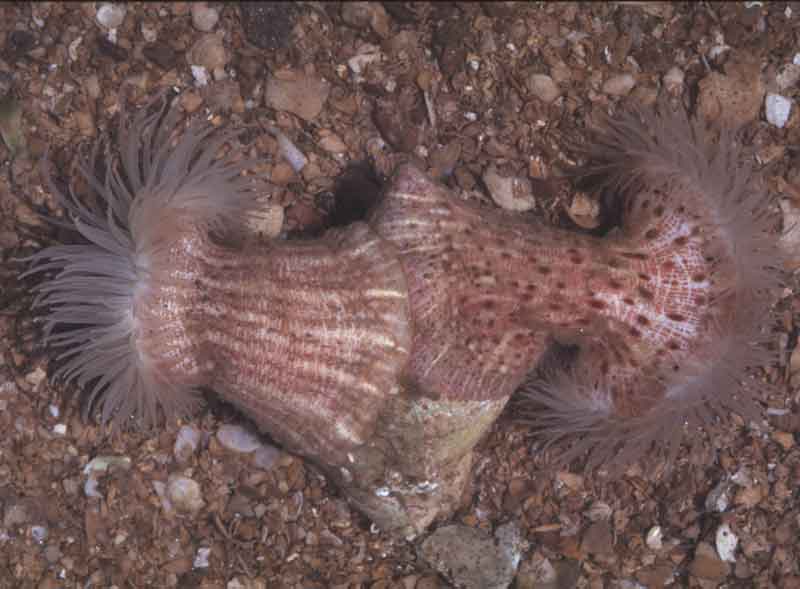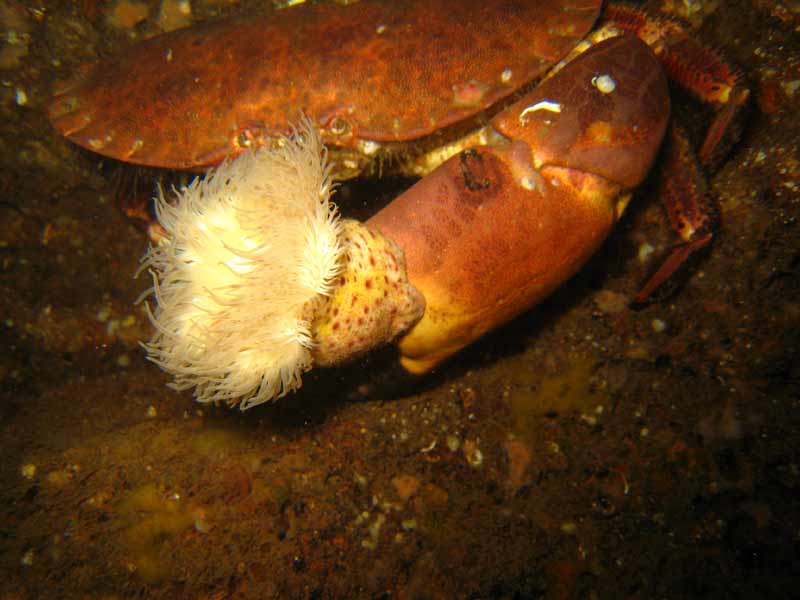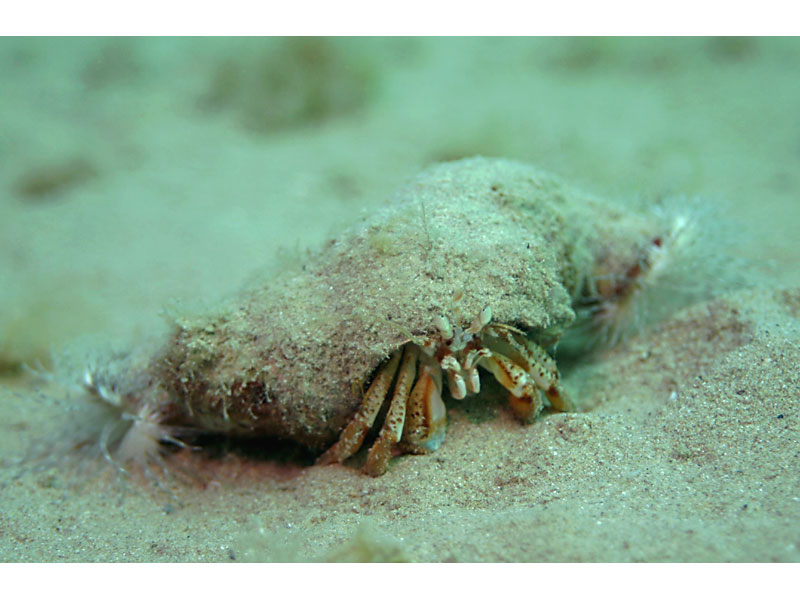 Researched by
John Bleach
Refereed by
Admin
Authority
(Couch, 1842)
Other common names
-
Synonyms
Cribrina rondeletti
Summary
Description
Column taller than wide, may be up to 8 cm high by 5 cm wide, firm and stiff. Numerous slender tentacles, up to 700, of moderate length present. Small blister-like pores (cinclides) present at the base of the animal, through which long thread-like acontia can be expelled. Base colour cream or buff, blotched and streaked with reddish or greyish brown, tending to form vertical stripes.
Recorded distribution in Britain and Ireland
Found from the southwest coast of England, east to the Bill of Portland. It has also been recorded from Tralee Bay on the east coast of Ireland.
Habitat
Typically found in association with a hermit crab,
Pagurus bernhardus
. It occasionally lives alone attached to rock or empty shells. It is rarely intertidal but locally common offshore to depths of about 60 m.
Identifying features
Up to 8 cm high and 5 cm wide.
Column blotched and streaked red or grey brown in colouration.
Up to 700 slender tentacles.
Firm, stiff column.
Blister-like pores at base of column.
Usually found in association with the hermit crab Pagurus bernhardus.
Additional information
No text entered
Bibliography
Crothers, J.H. (ed.), 1966. Dale Fort Marine Fauna. London: Field Studies Council.

Hayward, P., Nelson-Smith, T. & Shields, C. 1996. Collins pocket guide. Sea shore of Britain and northern Europe. London: HarperCollins.

Hayward, P.J. & Ryland, J.S. (ed.) 1995b. Handbook of the marine fauna of North-West Europe. Oxford: Oxford University Press.

Howson, C.M. & Picton, B.E., 1997. The species directory of the marine fauna and flora of the British Isles and surrounding seas. Belfast: Ulster Museum. [Ulster Museum publication, no. 276.]

JNCC (Joint Nature Conservation Committee), 1999. Marine Environment Resource Mapping And Information Database (MERMAID): Marine Nature Conservation Review Survey Database. [on-line] http://www.jncc.gov.uk/mermaid

Picton, B.E. & Costello, M.J., 1998. BioMar biotope viewer: a guide to marine habitats, fauna and flora of Britain and Ireland. [CD-ROM] Environmental Sciences Unit, Trinity College, Dublin.
Datasets
Citation
This review can be cited as:
Bleach, J. 2007. Calliactis parasitica Parasitic anemone. In Tyler-Walters H. and Hiscock K. Marine Life Information Network: Biology and Sensitivity Key Information Reviews, [on-line]. Plymouth: Marine Biological Association of the United Kingdom. [cited 11-12-2023]. Available from: https://marlin.ac.uk/species/detail/1442
---
Last Updated: 13/02/2007