Creeping chain weed (Catenella caespitosa)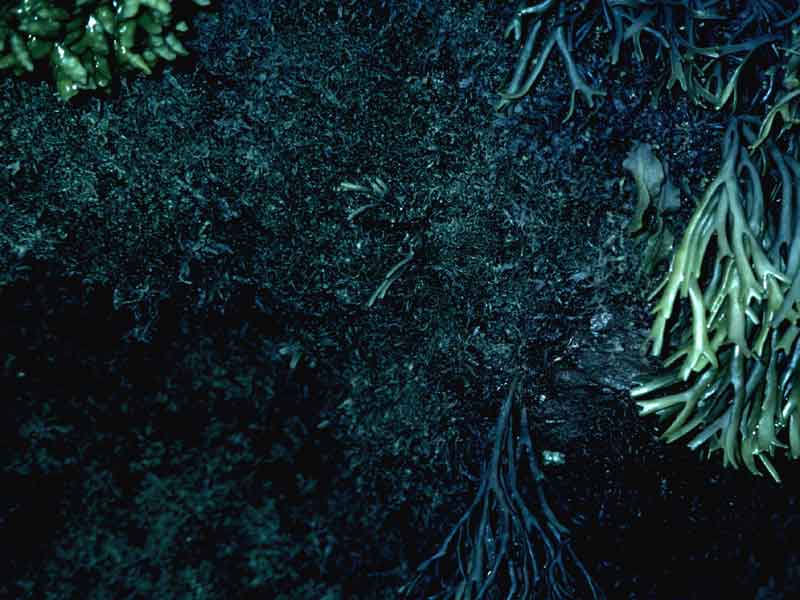 Researched by
Paolo Pizzolla
Refereed by
Admin
Authority
(Withering) L.M.Irvine, 1976
Other common names
-
Synonyms
Catenella repens (Withering) L.M.Irvine, 1976
Summary
Description
A moss-like plant with an irregularly and highly branched frond. The frond is constricted at intervals into different sized segments and the holdfast is a mass of tangled fibres. The plant is small (growing up to 2 cm tall) and is dark purple.
Recorded distribution in Britain and Ireland
Widely distributed and common to rocky shores on all coasts of the UK and Ireland.
Habitat
It is commonly found on the middle to upper levels of rocky shores, but is restricted to sheltered and shaded conditions. It can also sometimes be found in estuaries. It often grows together Gelidium pusillum, with which it can be confused.
Identifying features
Small, up to 2 cm tall.
Dark purple in colour.
Moss-like, with irregularly and highly branched fronds.
Frond constricted at intervals.
Holdfast a mass of tangled fibres.
Additional information
Can be confused with the lichen Lichina pygmaea but is found in damper and less exposed locations, tends to be lower on the shore, and is composed of small dark purple flattened fronds.
Bibliography
Fish, J.D. & Fish, S., 1996. A student's guide to the seashore. Cambridge: Cambridge University Press.

Hardy, F.G. & Guiry, M.D., 2003. A check-list and atlas of the seaweeds of Britain and Ireland. London: British Phycological Society

Hayward, P., Nelson-Smith, T. & Shields, C. 1996. Collins pocket guide. Sea shore of Britain and northern Europe. London: HarperCollins.

Hiscock, S., 1986b. A field key to the British Red Seaweeds. Taunton: Field Studies Council. [Occasional Publication No.13]

Howson, C.M. & Picton, B.E., 1997. The species directory of the marine fauna and flora of the British Isles and surrounding seas. Belfast: Ulster Museum. [Ulster Museum publication, no. 276.]

McLeod, C.R., Yeo, M., Brown, A.E., Burn, A.J., Hopkins, J.J. & Way, S.F. (ed.), 2002. The Habitats Directive: selection of Special Areas of Conservation in the UK. 2nd edn. http://www.jncc.gov.uk/SACselection, 2002-10-04

Picton, B.E. & Costello, M.J., 1998. BioMar biotope viewer: a guide to marine habitats, fauna and flora of Britain and Ireland. [CD-ROM] Environmental Sciences Unit, Trinity College, Dublin.
Datasets
Citation
This review can be cited as:
Pizzolla, P.F 2003. Catenella caespitosa Creeping chain weed. In Tyler-Walters H. and Hiscock K. Marine Life Information Network: Biology and Sensitivity Key Information Reviews, [on-line]. Plymouth: Marine Biological Association of the United Kingdom. [cited 11-12-2023]. Available from: https://marlin.ac.uk/species/detail/1472
---
Last Updated: 26/06/2003