Black lichen (Lichina pygmaea)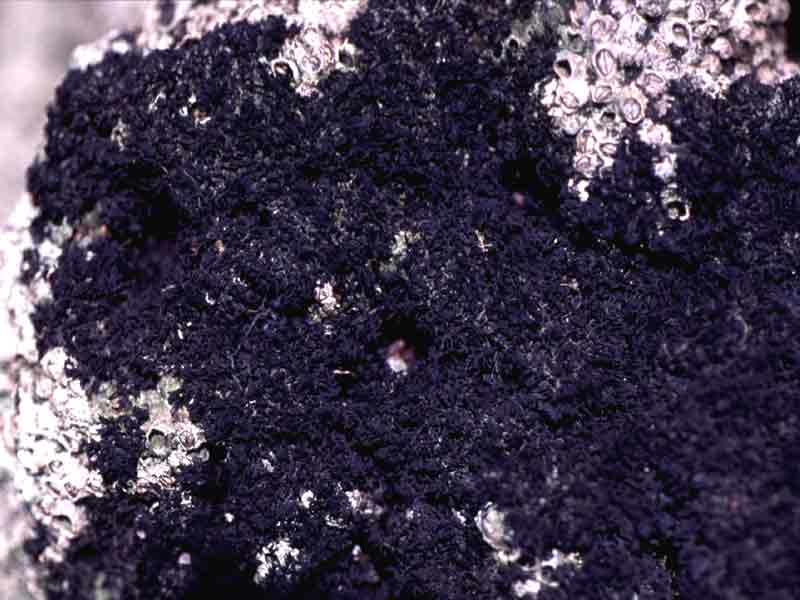 Researched by
Dr Harvey Tyler-Walters
Refereed by
Admin
Authority
(Lightf.) C. Agardh, 1817
Other common names
-
Synonyms
-
Summary
Description
A dark brown to matt black lichen forming branching tufts up to 1cm tall. It occurs as patches or may form extensive mats on rocky shores. Thallus composed of flattened branches (lobes), that become rounded at the tips. Spherical fruiting bodies, up to 2 mm in diameter occur at the tips of the branches.
Recorded distribution in Britain and Ireland
Widely distributed around Britain and Ireland on wave exposed rocky shores but not recorded from the shores of south east England, probably due to a lack of suitable substrata.
Habitat
May form extensive patchy mats at or just below high water level of neap tides on wave exposed rocky shores, especially on well-drained, south-facing surfaces. Usually associated with the upper limit of barnacles. A strictly maritime species.
Identifying features
Thallus dark matt brown or black in colour.
Thallus forms bushy tufts up to 1 cm tall.
Lobes of thallus flattened with apical fruiting bodies.
Found at or below high water of neap tides.
Additional information
Resembles a small seaweed at first glance. It may be confused with
Lichina confinis
, which is smaller (up to 0.5cm in height) with rounded branches and occurs above high water. Commonly confused with the small branching seaweed
Catenella caespitosa
, which has a small, dark purple, irregularly branched frond and is restricted to damp crevices and overhangs on the shore.
Bibliography
CABI Bioscience, 2000. Index Fungorum Database. [On-line] http://194.131.255.3/cabipages/index.htm, 2002-04-23

Dobson, F.S., 1997. Lichens of Rocky Shores. [Foldout pamphlet]. Shrewsbury: Field Studies Council.

Dobson, F.S., 2000. Lichens: an illustrated guide to the British and Irish species. Slough: The Richmond Publishing Co. Ltd.

Fletcher, A., 1980. Marine and maritime lichens of rocky shores: their ecology, physiology, and biological interactions. In The Shore Environment, vol. 2: Ecosystems (ed. J.H. Price, D.E.G. Irvine & W.F. Farnham), pp. 789-842. London: Academic Press. [Systematics Association Special Volume no. 17(b)].

Gibson, R., Hextall, B. & Rogers, A., 2001. Photographic guide to the sea and seashore life of Britain and north-west Europe. Oxford: Oxford University Press.

Hayward, P., Nelson-Smith, T. & Shields, C. 1996. Collins pocket guide. Sea shore of Britain and northern Europe. London: HarperCollins.

JNCC (Joint Nature Conservation Committee), 1999. Marine Environment Resource Mapping And Information Database (MERMAID): Marine Nature Conservation Review Survey Database. [on-line] http://www.jncc.gov.uk/mermaid
Datasets
Citation
This review can be cited as:
Tyler-Walters, H., 2002. Lichina pygmaea Black lichen. In Tyler-Walters H. and Hiscock K. Marine Life Information Network: Biology and Sensitivity Key Information Reviews, [on-line]. Plymouth: Marine Biological Association of the United Kingdom. [cited 11-12-2023]. Available from: https://marlin.ac.uk/species/detail/1803
---
Last Updated: 10/07/2002