Club-headed hydroid (Clava multicornis)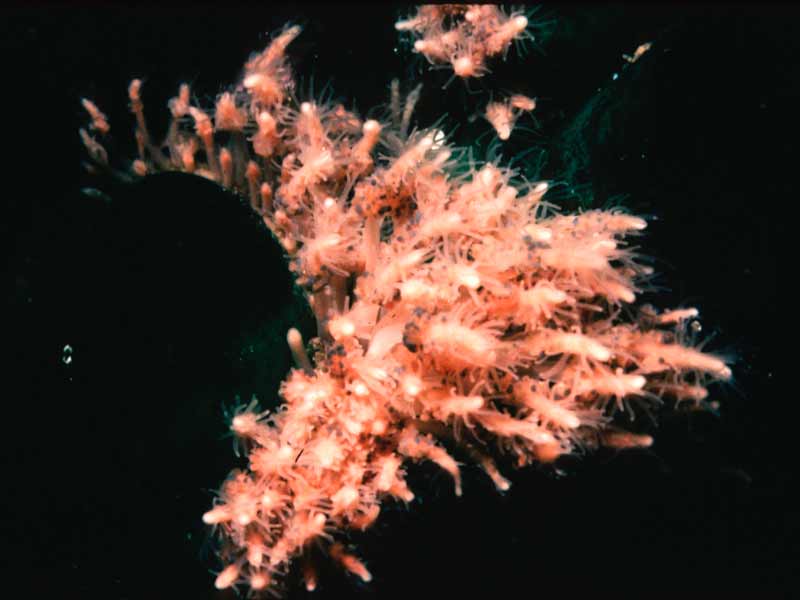 Researched by
Paolo Pizzolla
Refereed by
Admin
Authority
(Forsskål, 1775)
Other common names
-
Synonyms
-
Summary
Description
This colonial hydroid can appear in two forms either as a diffuse network of stolons with scattered polyps or as a dense mat of stolons with many polyps. The stolon is thread-like and the polyps rise directly from it growing up to 25 mm in height. The polyps have 30 to 40 tentacles and have reproductive bodies clustered on short branches below the tentacles. The polyps are pink, white or red. The physical form of the colony is variable and thought to be determined by a range of environmental factors such as substratum type, tidal exposure, food availability and water movement.
Recorded distribution in Britain and Ireland
Found around the north, west and southern coasts of Britain and Ireland.
Habitat
This hydroid is found on middle to lower shore, mainly as an epiphyte growing on fucoid algae, such as
Fucus vesiculosus
,
Fucus serratus
and
Ascophyllum nodosum
.
Clava multicornis
can also be found on rocks or shells and in rock pools and is tolerant of brackish waters.
Identifying features
Occurs in two forms: diffuse or dense networks of stolons.
Stolon thread-like with polyps rising directly from it.
Polyps pink, white or red.
Polyps up to 25 mm in height.
Found mainly growing on fucoid algae.
Additional information
No text entered
Bibliography
Bruce, J.R., Colman, J.S. & Jones, N.S., 1963. Marine fauna of the Isle of Man. Liverpool: Liverpool University Press.

Fish, J.D. & Fish, S., 1996. A student's guide to the seashore. Cambridge: Cambridge University Press.

Hayward, P.J. & Ryland, J.S. (ed.) 1995b. Handbook of the marine fauna of North-West Europe. Oxford: Oxford University Press.

Howson, C.M. & Picton, B.E., 1997. The species directory of the marine fauna and flora of the British Isles and surrounding seas. Belfast: Ulster Museum. [Ulster Museum publication, no. 276.]

JNCC (Joint Nature Conservation Committee), 1999. Marine Environment Resource Mapping And Information Database (MERMAID): Marine Nature Conservation Review Survey Database. [on-line] http://www.jncc.gov.uk/mermaid

Picton, B.E. & Costello, M.J., 1998. BioMar biotope viewer: a guide to marine habitats, fauna and flora of Britain and Ireland. [CD-ROM] Environmental Sciences Unit, Trinity College, Dublin.
Datasets
Citation
This review can be cited as:
Pizzolla, P.F 2002. Clava multicornis Club-headed hydroid. In Tyler-Walters H. and Hiscock K. Marine Life Information Network: Biology and Sensitivity Key Information Reviews, [on-line]. Plymouth: Marine Biological Association of the United Kingdom. [cited 10-12-2023]. Available from: https://marlin.ac.uk/species/detail/1509
---
Last Updated: 11/10/2002