Red speckled anemone (Anthopleura ballii)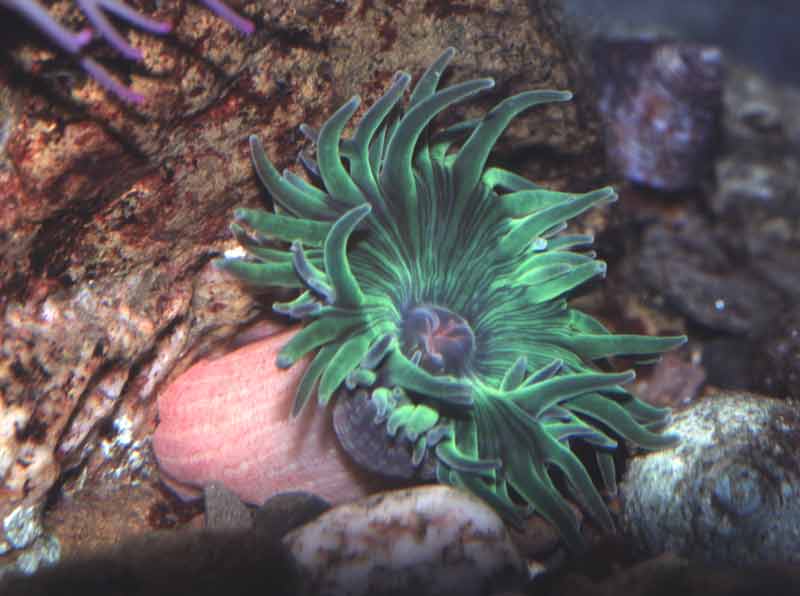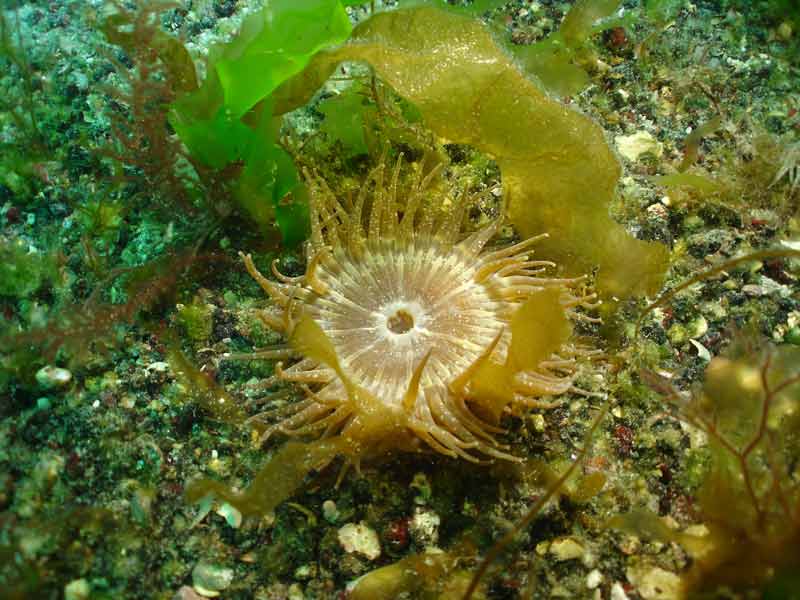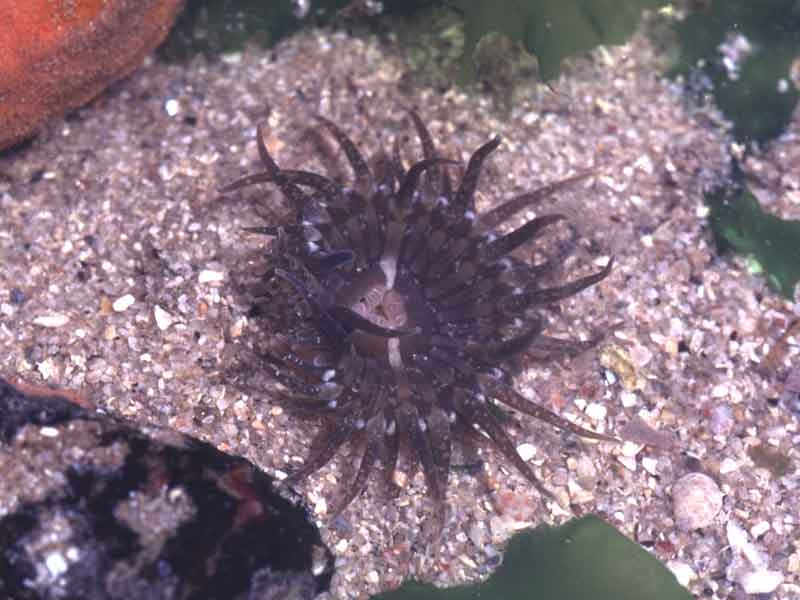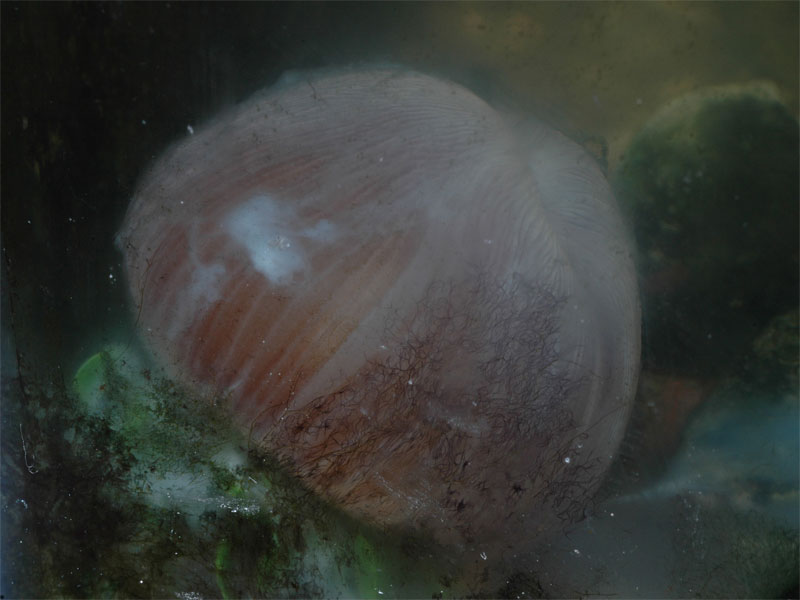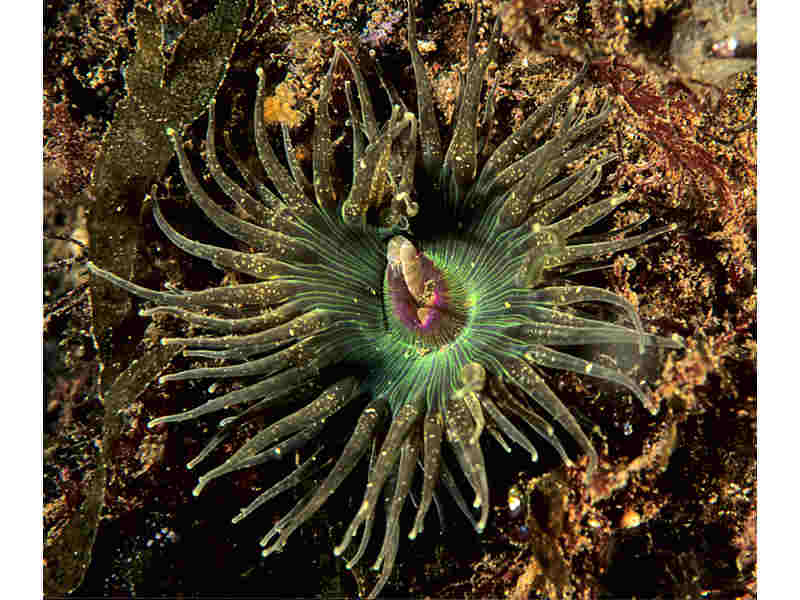 Researched by
Olwen Ager
Refereed by
Admin
Authority
(Cocks, 1851)
Other common names
-
Synonyms
-
Summary
Description
The common names refers to the appearance of the column. This anemone has a broad base, up to 5 cm in diameter, which is lightly to moderately adhesive. The column is up to 10 cm tall and trumpet shaped. The column, is covered with small warts arranged into 48 longitudinal rows. These warts do not have gravel or debris stuck to them. Anthopleura ballii has up to 96 tentacles arranged into 5 circles and can have a brilliant green sheen. The tentacles are stout at the base and can be up to 3 cm in length with a span of about 12 cm. Gosse (1860) describes four varieties of Anthopleura ballii which can be distinguished mainly by the different colours of the tentacles and disc.
Recorded distribution in Britain and Ireland
Anthopleura ballii is found on the south and west coasts of Britain the west coasts of Ireland.
Global distribution
Anthopleura ballii is found from south-west Europe to the Mediterranean.
Habitat
Anthopleura ballii is found in holes or crevices, often in piddock borings. It is found under boulders and can be buried in sand or mud attached to stones or shells. It is found in mid-shore pools and from the lower shore and subtidally to 25 m.
Identifying features
Large anemone up to 10 cm tall.
Large space between mouth and tentacles.
Up to 96 tentacles
Trumpet shaped column.
48 longitudinal rows of warts on column, each tipped with a red spot.
Warts never covered in gravel or debris.
Additional information
The warts on the column of the similar species
Anthopleura thallia
are invariably covered with gravel or debris (Manuel, 1988)
Bibliography
Gibson, R., Hextall, B. & Rogers, A., 2001. Photographic guide to the sea and seashore life of Britain and north-west Europe. Oxford: Oxford University Press.

Gosse, P.H., 1860. Actinologia Britannica: a history of British sea anemones and corals. London: Van Voorst.

Hayward, P.J. & Ryland, J.S. (ed.) 1995b. Handbook of the marine fauna of North-West Europe. Oxford: Oxford University Press.

Howson, C.M. & Picton, B.E., 1997. The species directory of the marine fauna and flora of the British Isles and surrounding seas. Belfast: Ulster Museum. [Ulster Museum publication, no. 276.]

JNCC (Joint Nature Conservation Committee), 1999. Marine Environment Resource Mapping And Information Database (MERMAID): Marine Nature Conservation Review Survey Database. [on-line] http://www.jncc.gov.uk/mermaid

Manuel, R.L., 1988. British Anthozoa. Synopses of the British Fauna (New Series) (ed. D.M. Kermack & R.S.K. Barnes). The Linnean Society of London [Synopses of the British Fauna No. 18.]. DOI https://doi.org/10.1002/iroh.19810660505

Picton, B.E. & Costello, M.J., 1998. BioMar biotope viewer: a guide to marine habitats, fauna and flora of Britain and Ireland. [CD-ROM] Environmental Sciences Unit, Trinity College, Dublin.

Stephenson, T.A., 1935. The British Sea Anemones, vol. 2. London: Ray Society.
Datasets
Citation
This review can be cited as:
Ager, O.E.D. 2008. Anthopleura ballii Red speckled anemone. In Tyler-Walters H. and Hiscock K. Marine Life Information Network: Biology and Sensitivity Key Information Reviews, [on-line]. Plymouth: Marine Biological Association of the United Kingdom. [cited 10-12-2023]. Available from: https://marlin.ac.uk/species/detail/1714
---
Last Updated: 24/04/2008