Strawberry anemone (Actinia fragacea)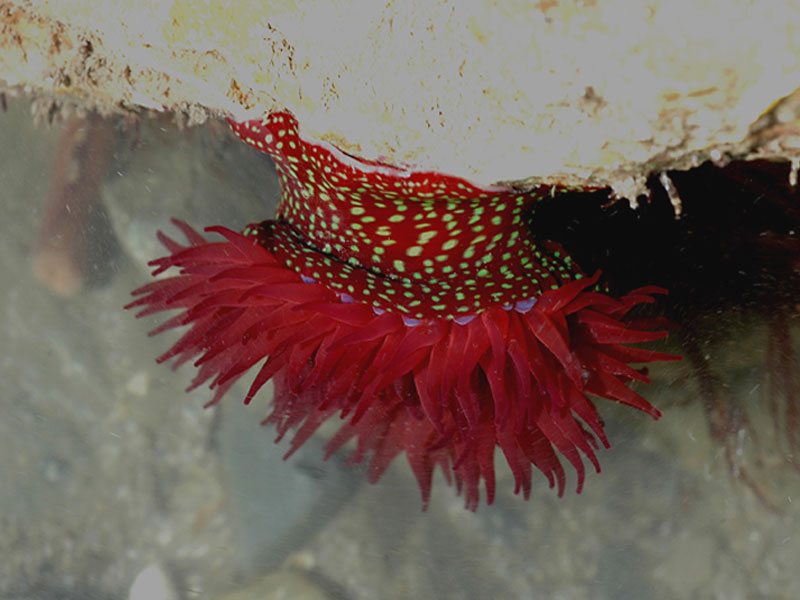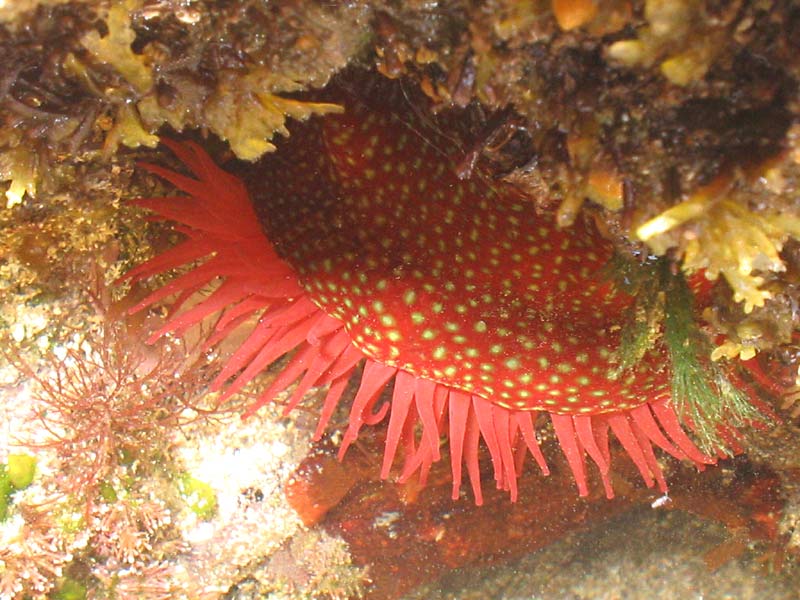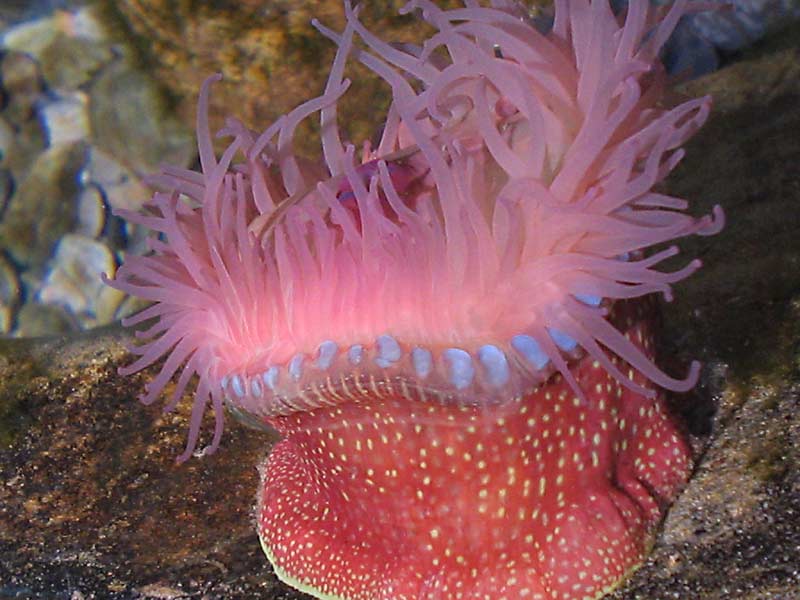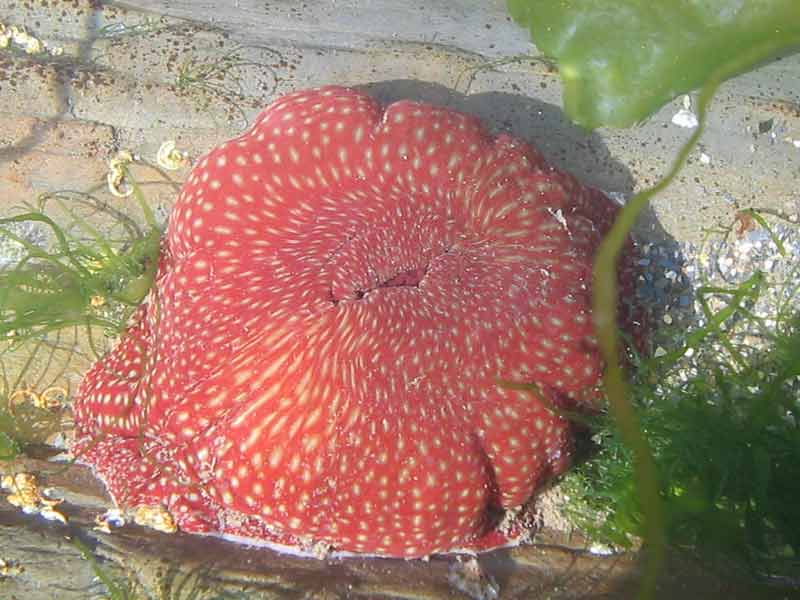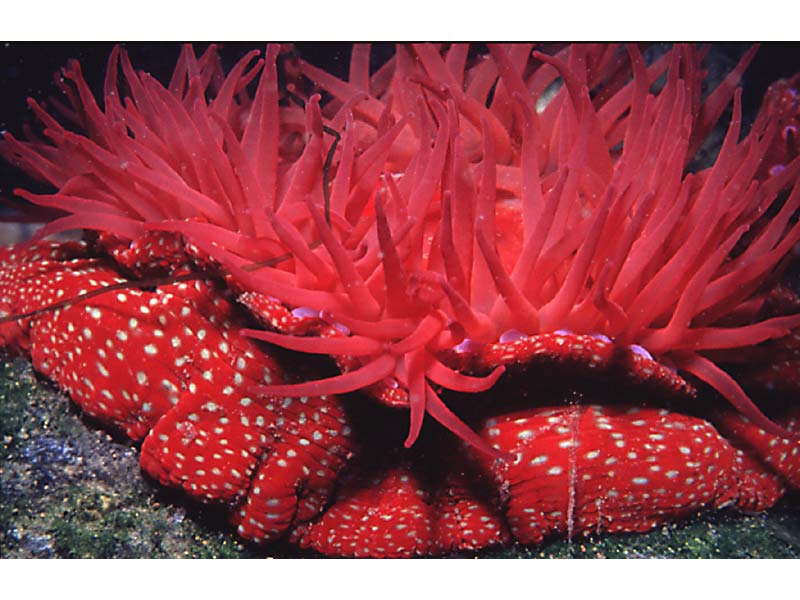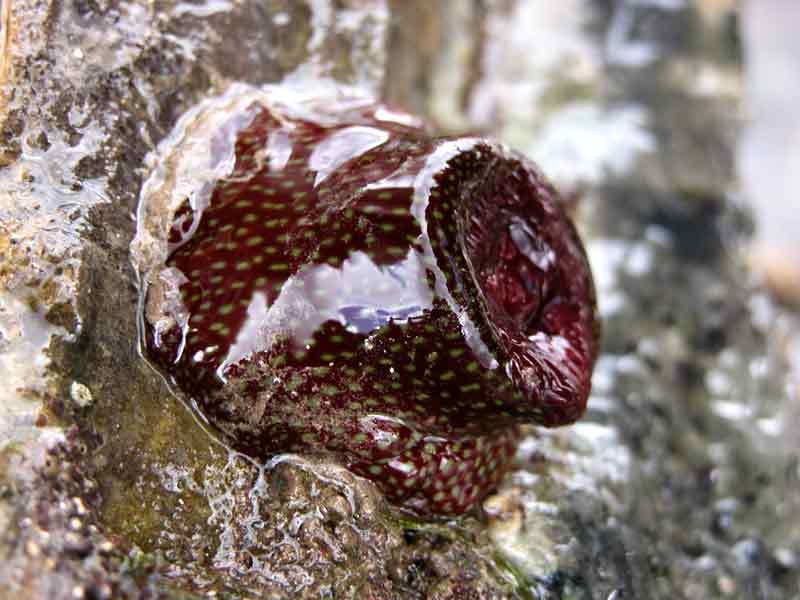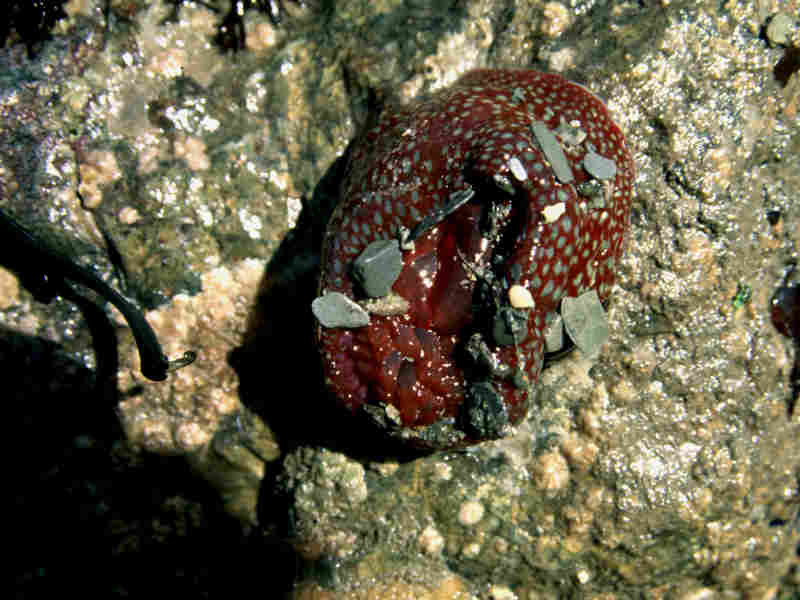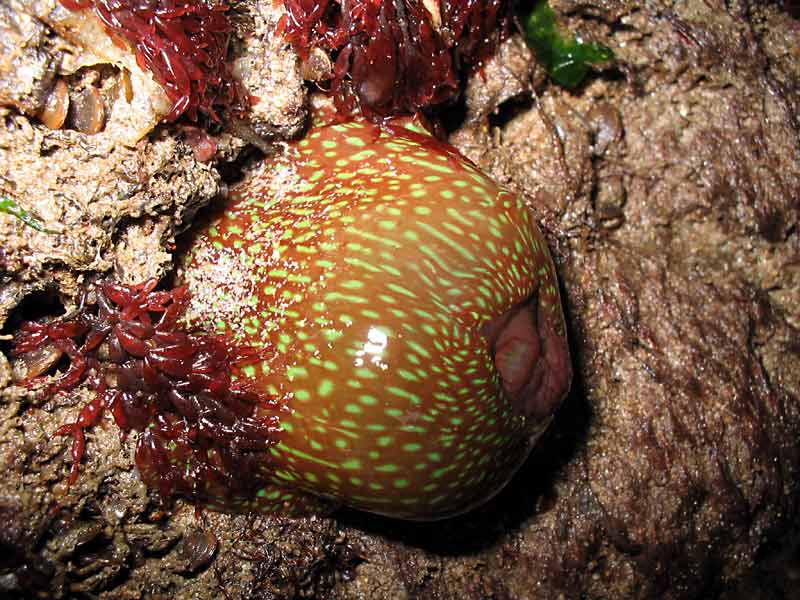 Researched by
Olwen Ager
Refereed by
Admin
Authority
Tugwell, 1856
Other common names
-
Synonyms
-
Summary
Description
Large anemone with a broad base (up to 10 cm across). The column is red, ranging from bright scarlet to deep brownish crimson, and covered with small green spots. The spots give this anemone its common name as they look like strawberry pips. Wart like spots (acrorhagi), to which gravel and stones attach, may be present.
Recorded distribution in Britain and Ireland
Recorded from south and west coasts of Britain, records of Actinia equina (beadlet anemone) may include records of Actinia fragacea which was previously considered a variety of Actinia equina, see additional information below.
Habitat
Recorded on the lower shore attached to rocks and boulders, often found in shaded places. Sometimes found partly buried in sand.
Identifying features
Broad base up to 10 cm across.
Red column with many green spots giving appearance of strawberry.
Acrorhagi blue but may be white or pink, often indistinct.
Additional information
Many authorities though of
Actinia fragacea
as a variation of
Actinia equina
, the beadlet anemone. Carter & Thorpe (1981) demonstrated significant genetic and ecological differences between the two anemones. These differences and the larger size, location on the shore and constant colouration of
Actinia fragacea
are regarded as proof that it is indeed a distinct species.
Bibliography
Hayward, P., Nelson-Smith, T. & Shields, C. 1996. Collins pocket guide. Sea shore of Britain and northern Europe. London: HarperCollins.

Hayward, P.J. & Ryland, J.S. (ed.) 1995b. Handbook of the marine fauna of North-West Europe. Oxford: Oxford University Press.

Howson, C.M. & Picton, B.E., 1997. The species directory of the marine fauna and flora of the British Isles and surrounding seas. Belfast: Ulster Museum. [Ulster Museum publication, no. 276.]

Manuel, R.L., 1988. British Anthozoa. Synopses of the British Fauna (New Series) (ed. D.M. Kermack & R.S.K. Barnes). The Linnean Society of London [Synopses of the British Fauna No. 18.]. DOI https://doi.org/10.1002/iroh.19810660505

Picton, B.E. & Costello, M.J., 1998. BioMar biotope viewer: a guide to marine habitats, fauna and flora of Britain and Ireland. [CD-ROM] Environmental Sciences Unit, Trinity College, Dublin.
Datasets
Citation
This review can be cited as:
Ager, O.E.D. 2008. Actinia fragacea Strawberry anemone. In Tyler-Walters H. and Hiscock K. Marine Life Information Network: Biology and Sensitivity Key Information Reviews, [on-line]. Plymouth: Marine Biological Association of the United Kingdom. [cited 03-10-2023]. Available from: https://marlin.ac.uk/species/detail/1857
---
Last Updated: 29/04/2008