Sandalled anemone (Actinothoe sphyrodeta)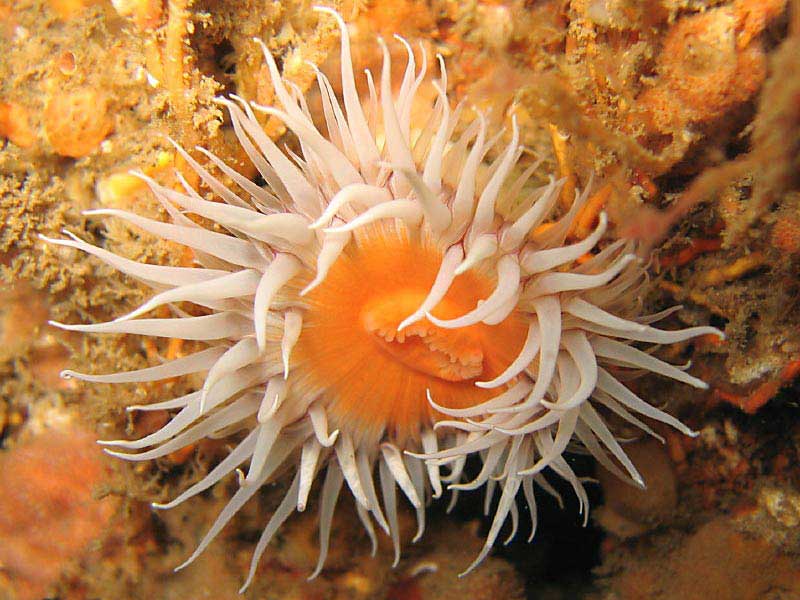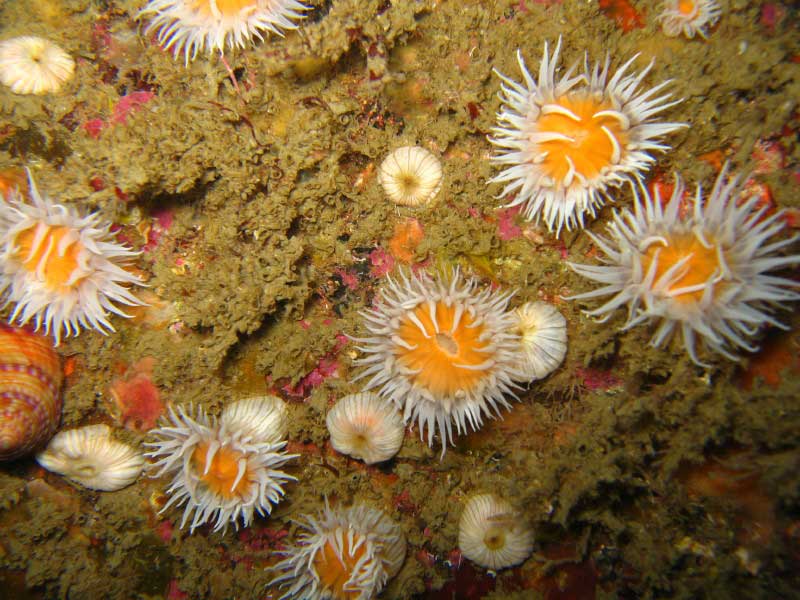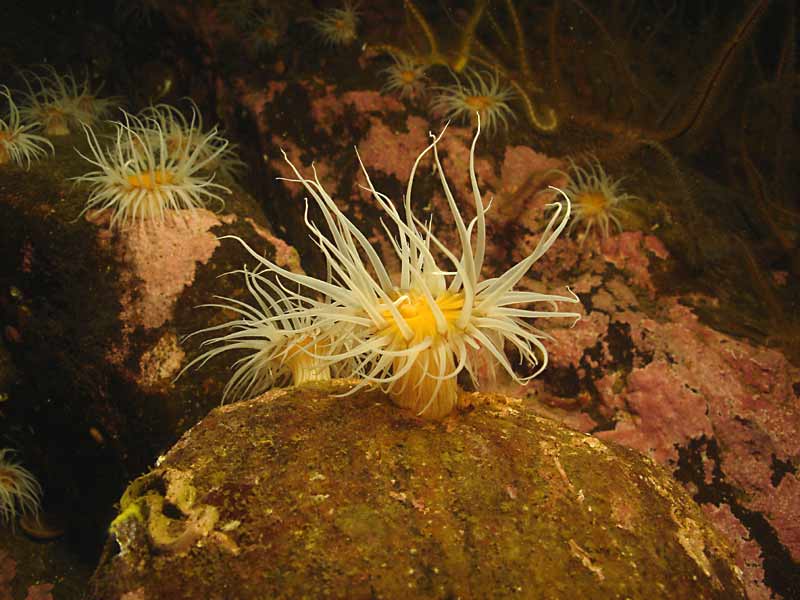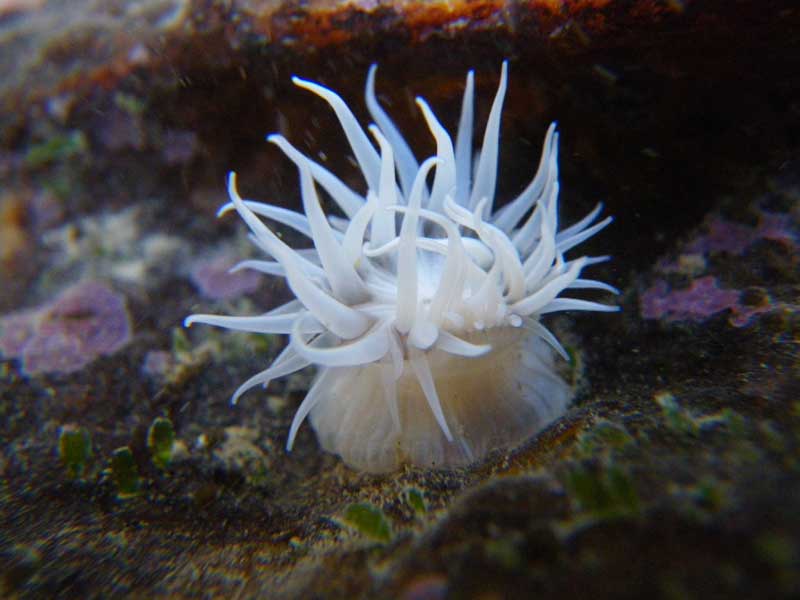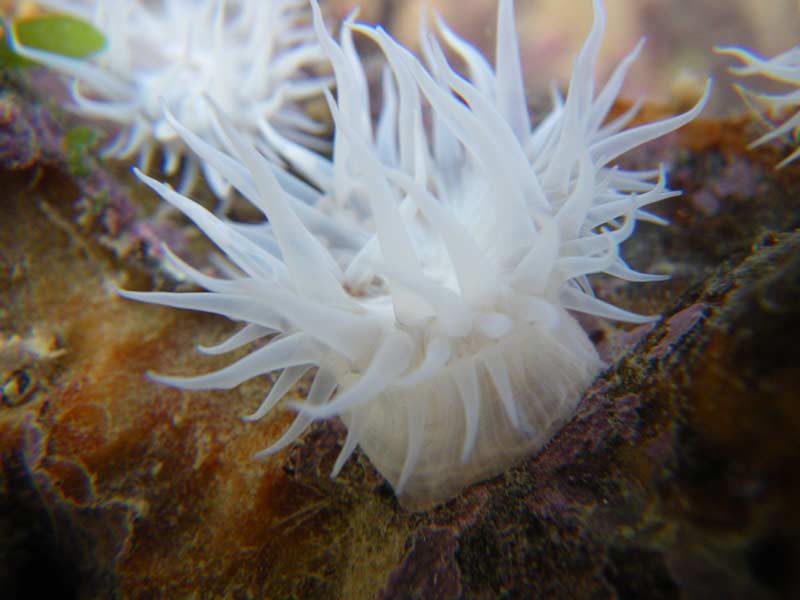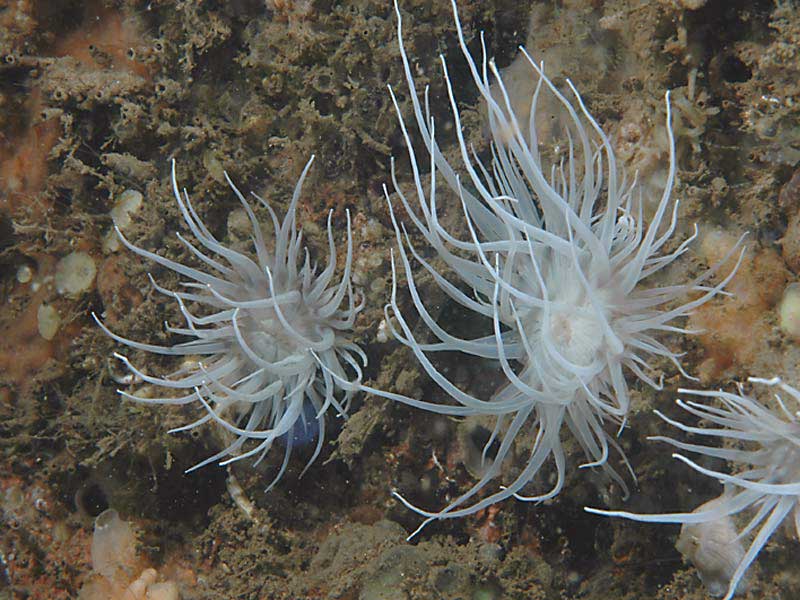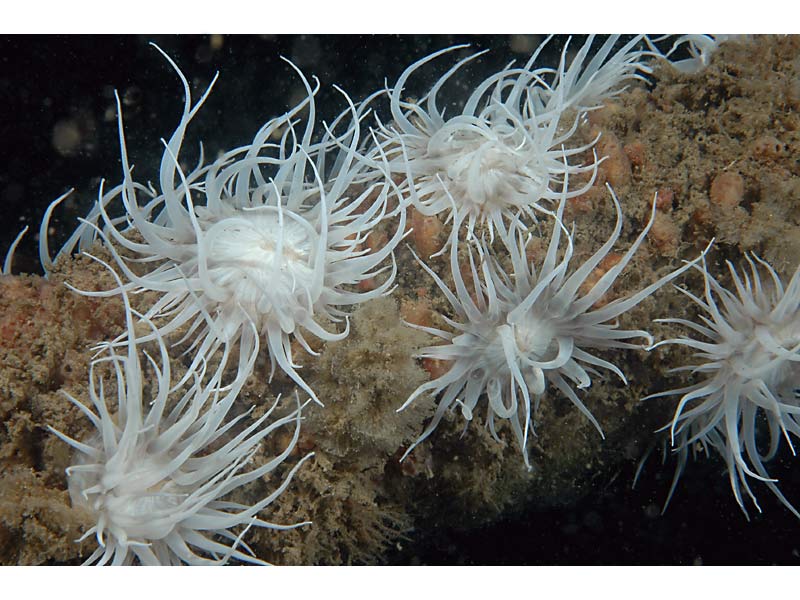 Researched by
Susie Ballerstedt
Refereed by
Admin
Authority
(Gosse, 1858)
Other common names
-
Synonyms
-
Summary
Description
Actinothoe sphyrodeta is a soft, delicate, small anemone. The column is usually short with the base being wider than the column, but the column can also form a tall, neat pillar. The tentacles are translucent white, stout at the base, tapering to fine points, and are irregularly arranged numbering up to 120. The diameter of the base can reach 2 cm, whilst the span of the tentacles may reach up to 3 cm across the disc. Shore specimens may only be half this size. The disc may be either a patchy white or bright yellow/pale orange in colour and usually has vague dark markings surrounding the tentacle bases. The column is smooth and an uneven translucent, dirty white or greyish colour with longitudinal patches of pure white tending to form stripes (giving the common name). Dark dots (cinclides) occur on the upper part of the column.
Recorded distribution in Britain and Ireland
Common around the British Isles with the exception of the east coast of Britain.
Global distribution
Occurs around the Channel Islands and on the Atlantic coast of France. Probably does not occur further north than the southern part of the North Sea. Southern limits also uncertain but occurs at least to Biscay.
Habitat
Occurs on rocks or other hard substrata, usually on flat surfaces rather than in holes or crevices. Also occurs on various algae such as
Laminaria
or
Himanthalia
buttons, and is frequently found in the company of algae,
Caryophyllia smithii
and the sea anemone
Corynactis viridis
. Occasionally occurs on the shore in shaded situations but is more commonly found sublittorally down to a depth of about 40 m.
Identifying features
Uneven translucent dirty white or grey column with longitudinal stripes.
White, translucent tentacles.
White or bright yellow/pale orange disc with vague dark markings at tentacle bases.
Up to 120 tentacles.
Tentacles span up to 3 cm across the disc.
Diameter of column base up to 2 cm.
Additional information
May be confused with
Cylista elegans
but
Actinothoe sphyrodeta
lacks the adhesive spots (suckers) on the column present on
Cylista elegans
. The suckers should not be confused with the cinclides (see Manuel, 1988).
Bibliography
Howson, C.M. & Picton, B.E., 1997. The species directory of the marine fauna and flora of the British Isles and surrounding seas. Belfast: Ulster Museum. [Ulster Museum publication, no. 276.]

JNCC (Joint Nature Conservation Committee), 1999. Marine Environment Resource Mapping And Information Database (MERMAID): Marine Nature Conservation Review Survey Database. [on-line] http://www.jncc.gov.uk/mermaid

Manuel, R.L., 1988. British Anthozoa. Synopses of the British Fauna (New Series) (ed. D.M. Kermack & R.S.K. Barnes). The Linnean Society of London [Synopses of the British Fauna No. 18.]. DOI https://doi.org/10.1002/iroh.19810660505

Stephenson, T.A., 1935. The British Sea Anemones, vol. 2. London: Ray Society.
Datasets
Citation
This review can be cited as:
Ballerstedt, S. 2007. Actinothoe sphyrodeta Sandalled anemone. In Tyler-Walters H. and Hiscock K. Marine Life Information Network: Biology and Sensitivity Key Information Reviews, [on-line]. Plymouth: Marine Biological Association of the United Kingdom. [cited 10-12-2023]. Available from: https://marlin.ac.uk/species/detail/1872
---
Last Updated: 08/06/2007