Garland sea fir (Dynamena pumila)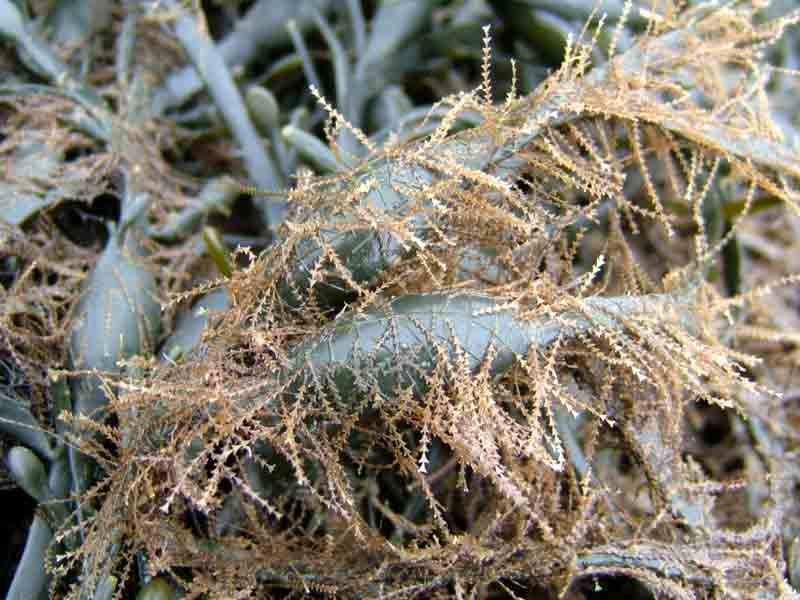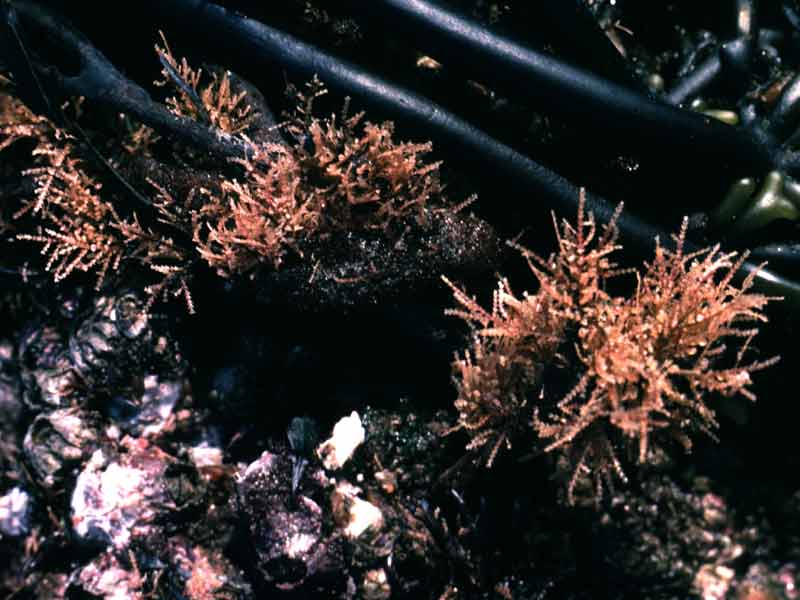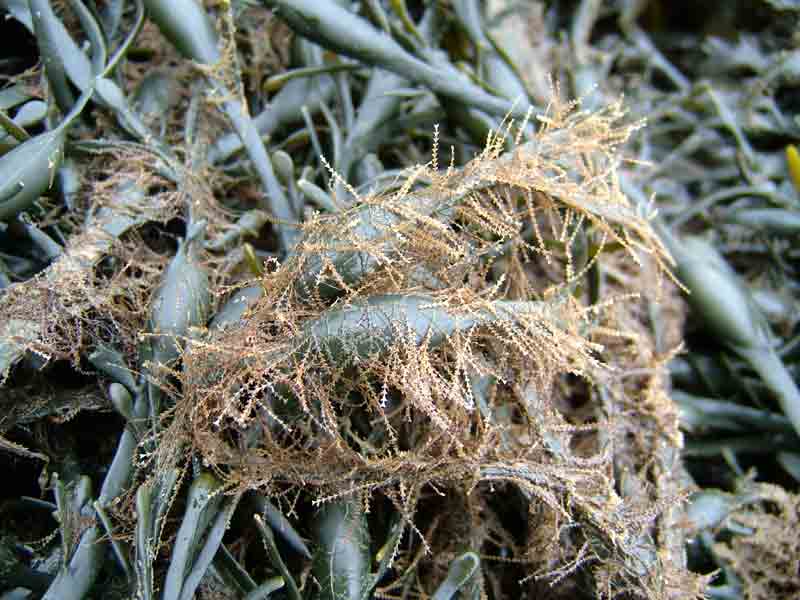 Researched by
Charlotte Marshall
Refereed by
Admin
Authority
(Linnaeus, 1758)
Other common names
Minute hydroid, Minute garland hydroid, Garland hydroid
Synonyms
-
Summary
Description
A small hydroid rarely exceeding 7 cm in height. Erect stems rise from a branching stolon. Stems occasionally branched. Branched stems reach greater heights than non branched stems with a maximum of ca 7.5 and 3 cm respectively (Cornelius, 1995b). Hydrothecae are small and variable in shape. Gonothecae are large and pear shaped.
Recorded distribution in Britain and Ireland
Common on all rocky coasts of Britain and Ireland.
Global distribution
Dynamena pumila is recorded from Arctic Norway to the Atlantic coast of France.
Habitat
Dynamena pumila is an intertidal hydroid found primarily on kelp and fucoid species where it can form dense populations. It can also be found growing on rock.
Identifying features
Paired hydrothecae that, combined, look like downward pointing arrows.
Proximal side of hydrothecae partly attached to stem, distal half free and out-turned.
Hydrothecae aperture has a cusped margin with two approximately equal cusps.
Horn coloured perisarc.
Additional information
Dynamena pumila is found on wave sheltered to moderately wave exposed shores down to the shallow sublittoral. The microhabitat that Dynamena pumila occupies relates to the level of wave exposure of the habitat (Cornelius, 1995b). In sheltered habitats, it may be found on the tips of Ascophyllum nodosum fronds. In slightly more wave exposed habitats, the hydroid may be found lower down on the stipes of Fucus vesiculosus and, on wave exposed coasts, between the holdfasts of Fucus serratus (Cornelius, 1995b). Dynamena pumila is tolerant of brackish conditions.
Dynamena pumila may be confused with Amphisbetia operculata or Tridentata distans, both of which also have paired hydrothecae. However, both species are less common than Dynamena pumila. Amphisbetia operculata is a more delicate species with longer cusps, while the stem of Tridentata distans bears several oblique or triangular nodes/joints (Cornelius, 1995b). Dynamena pumila have no free swimming medusae and planula larvae are brooded in an extension of the gonothecae (acrocyst).
Bibliography
Cornelius, P.F.S., 1995b. North-west European thecate hydroids and their medusae. Part 2. Sertulariidae to Campanulariidae. Shrewsbury: Field Studies Council. [Synopses of the British Fauna no. 50]

Fish, J.D. & Fish, S., 1996. A student's guide to the seashore. Cambridge: Cambridge University Press.

Hayward, P.J. & Ryland, J.S. (ed.) 1995b. Handbook of the marine fauna of North-West Europe. Oxford: Oxford University Press.

Howson, C.M. & Picton, B.E., 1997. The species directory of the marine fauna and flora of the British Isles and surrounding seas. Belfast: Ulster Museum. [Ulster Museum publication, no. 276.]
Datasets
Citation
This review can be cited as:
Marshall, C.E. 2005. Dynamena pumila Garland sea fir. In Tyler-Walters H. and Hiscock K. Marine Life Information Network: Biology and Sensitivity Key Information Reviews, [on-line]. Plymouth: Marine Biological Association of the United Kingdom. [cited 06-12-2023]. Available from: https://marlin.ac.uk/species/detail/2119
---
Last Updated: 07/04/2005