Northern starfish (Leptasterias (Leptasterias) muelleri)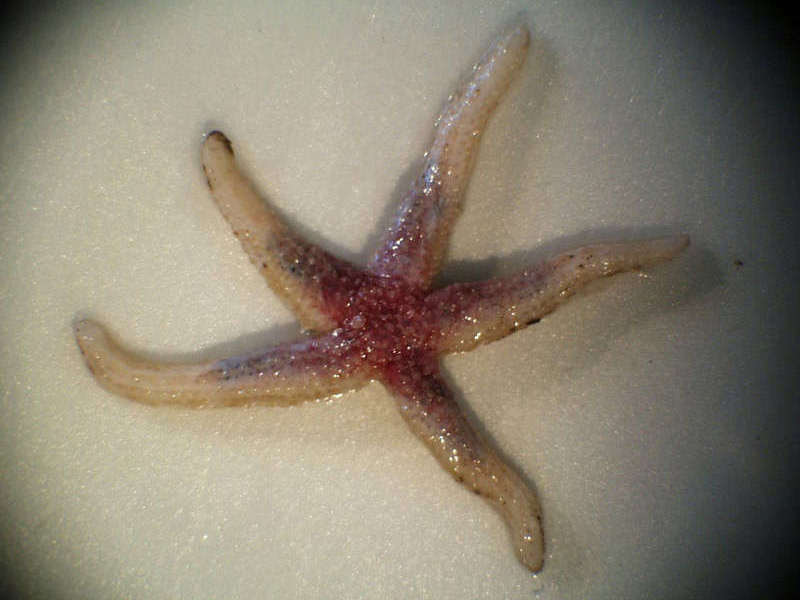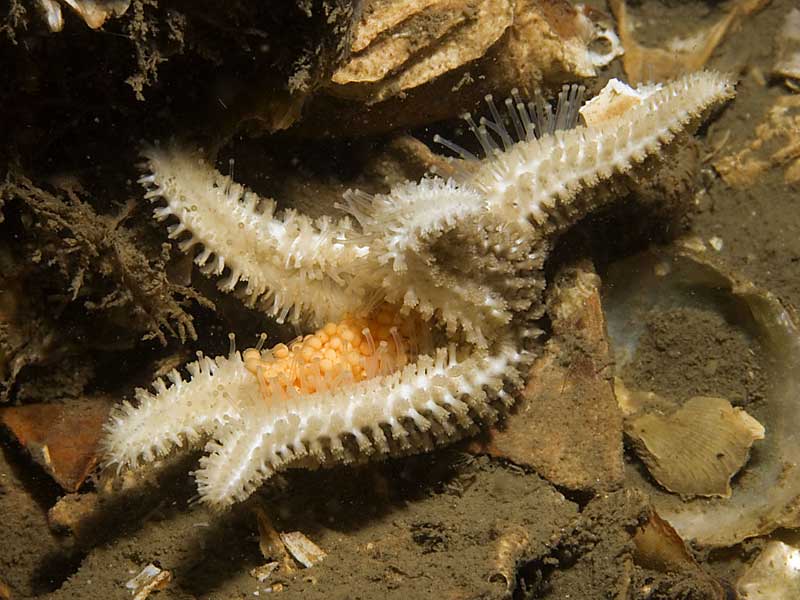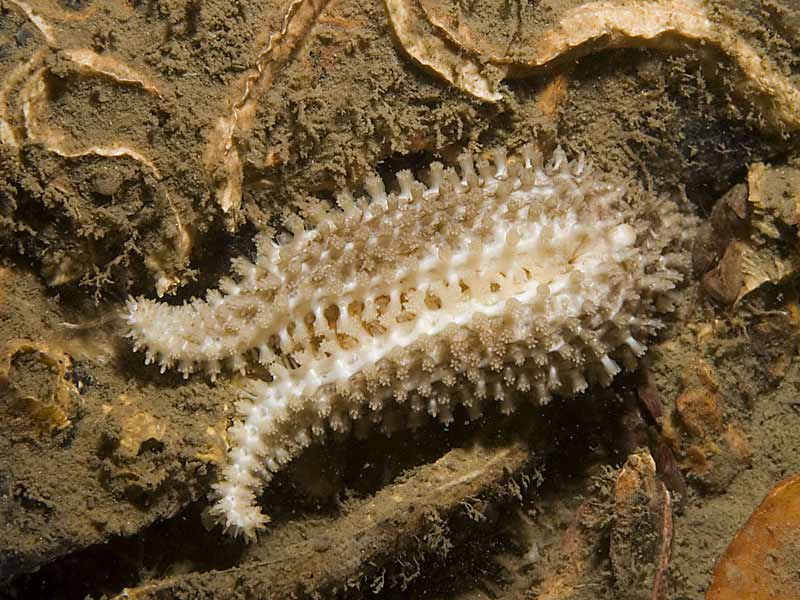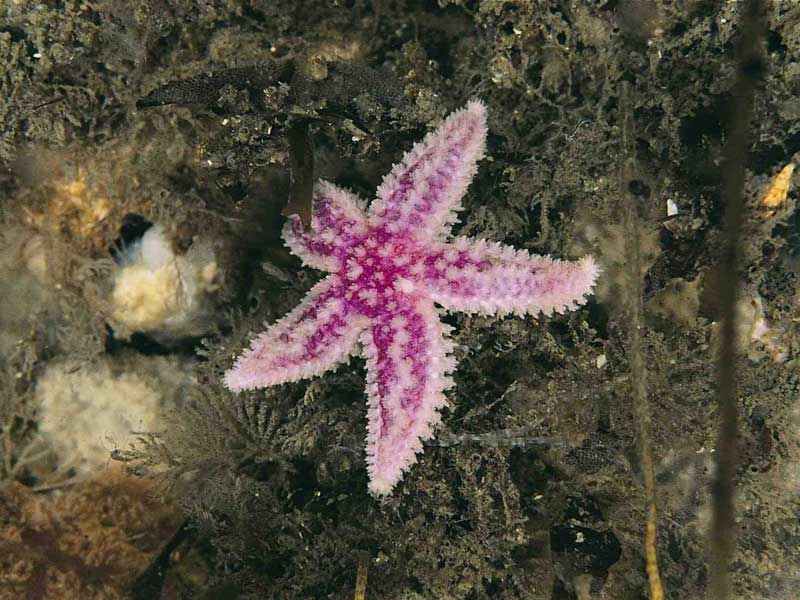 Researched by
Sonia Rowley
Refereed by
This information is not refereed
Authority
(M. Sars, 1846)
Other common names
-
Synonyms
-
Summary
Description
Leptasterias (Leptasterias) muelleri is a small spiny starfish commonly 6 cm in diameter, but a few may reach up to 20 cm. It has five medium length arms that are broad at the base, taper towards the tip and are clearly marked from the small disc. This species has four rows of tube feet with sucking discs. It may be pink, violet or green in colour with pale arm tips. Green morphs obtain their colour through the presence of single-celled algae within the starfish's upper tissue. Green individuals are invariably found on the shore and shallow sublittoral. The upper surface is covered by regular, longitudinally arranged spines, which increase in irregularity in larger specimens. The spines are distinctly knob-shaped, especially on the mid-dorsal line. The spaces between the spines are occupied by single papulae (soft projections of respiratory function). This species may have one or two rows of ambulacral spines present on its ventral surface and two regular rows of spines along the side of the arms.
Recorded distribution in Britain and Ireland
Common around most western British coasts with a few recordings on the east and south coasts of England.
Global distribution
Found in the North Sea below Norway, north Atlantic between Iceland and Greenland as well as the northeast coast of America.
Habitat
The green morph of this species can be found intertidally under rocks and in rock pools on moderately or very exposed shores. This species can be found down to 800 m.
Identifying features
A spiny starfish, typically 6 cm in diameter.
Five arms, broad at the base but taper towards the tip.
Four rows of tube feet bearing sucking discs.
Colour pink, violet or green with pale arm tips.
Additional information
Leptasterias (Leptasterias) muelleri
breeds during March-April and the mother does not feed during this time. She puts her arms together and raises her back to provide a protective space to place her eggs. There is no larval stage as the embryos develop and leave the mother after the first three pairs of tube feet have appeared.
This speceis may be mistaken for small individuals of Marthasterias glaciallis or Asterias rubens. However, it is distinguished from Asterias rubens by densely packed spines and a single papulae, in the spaces between the spines, on its upper surface.
Bibliography
Bruce, J.R., Colman, J.S. & Jones, N.S., 1963. Marine fauna of the Isle of Man. Liverpool: Liverpool University Press.

Gibson, R., Hextall, B. & Rogers, A., 2001. Photographic guide to the sea and seashore life of Britain and north-west Europe. Oxford: Oxford University Press.

Howson, C.M. & Picton, B.E., 1997. The species directory of the marine fauna and flora of the British Isles and surrounding seas. Belfast: Ulster Museum. [Ulster Museum publication, no. 276.]

Mortensen, T.H., 1927. Handbook of the echinoderms of the British Isles. London: Humphrey Milford, Oxford University Press.

Picton, B.E. & Costello, M.J., 1998. BioMar biotope viewer: a guide to marine habitats, fauna and flora of Britain and Ireland. [CD-ROM] Environmental Sciences Unit, Trinity College, Dublin.

Picton, B.E., 1993. A field guide to the shallow-water echinoderms of the British Isles. London: Immel Publishing Ltd.

Southward, E.C. & Campbell, A.C., 2006. Echinoderms. The Linnean Society of London. Avon: The Bath Press. [Synopses of the British Fauna No. 56.]
Datasets
Citation
This review can be cited as:
Rowley, S.J. 2008. Leptasterias (Leptasterias) muelleri Northern starfish. In Tyler-Walters H. and Hiscock K. Marine Life Information Network: Biology and Sensitivity Key Information Reviews, [on-line]. Plymouth: Marine Biological Association of the United Kingdom. [cited 30-11-2023]. Available from: https://marlin.ac.uk/species/detail/2193
---
Last Updated: 17/04/2008